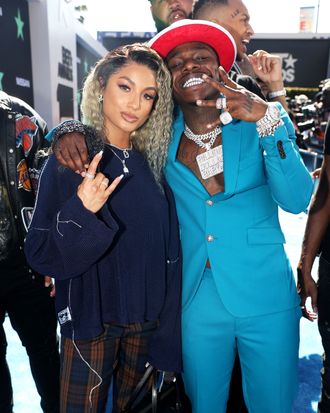 Photo: Johnny Nunez/Getty Images for BET
On Sunday night, an argument between rapper DaBaby and the mother of his child, singer DaniLeigh, played out live on Instagram, with both parties livestreaming various parts of the fight. The incident, which involved DaBaby filming DaniLeigh as she bottle-fed their 3-month-old, seemed to revolve around the fact that DaBaby wanted her out of his Charlotte, North Carolina, apartment, where she says she has been living since their baby was born. The two have been rumored to be dating since March 2020. The following afternoon, TMZ reported that DaniLeigh had been charged with two counts of misdemeanor assault.
DaBaby, you may recall, has had a pretty controversial few months. In July, he faced major backlash from fans and other high-profile musicians after making homophobic comments onstage at Rolling Loud Miami. After posting and then deleting an apology on Instagram, he addressed the comments in person during his next live set a few weeks later, saying, "I never, ever meant to offend anybody or say anything to make anybody feel any type of way." Although his so-called cancellation became a central tenet of Dave Chappelle's own controversial set and the rollout of Ye's new album, DaBaby has made a number of recent appearances, including onstage alongside alleged abuser Marilyn Manson at a Donda listening party. Two weeks ago, he returned to the Rolling Loud stage in New York when 50 Cent brought him on in what TMZ reports was a preapproved appearance.
This weekend's argument led both DaBaby and DaniLeigh to post explanations to their Instagram Stories, though it's still hard to work out exactly what happened. DaBaby, whose post popped up first, expressed his desire to "swiftly remove myself from any of the 'hostile' behavior put on display moments ago." He wrote, "This here thing has gone far enough for shawty to crash out on her own and it saddens me because I still got a queen to raise" (presumably a reference to his daughter with DaniLeigh). He says he recorded their argument for his own safety and compared his predicament to Fatal Attraction, writing, "I done been beat on and yelled at and chased around like one if them fatal love attraction type girls." He went on to promote his new tour before affirming, "I'm a father first always, and always will be."
After DaBaby's post went up, DaniLeigh aired her own explanation of events, claiming DaBaby had suddenly kicked her out of the apartment because she'd had Plan B delivered there. "All he wanna do is cum in me with no responsibility," she wrote, saying he woke her up after she made him dinner to tell her to leave. In her own livestream of the events, police can be seen in the background; she claims DaBaby called them in an attempt to remove her from the apartment.
Charlotte-Mecklenburg police officers confirmed to TMZ that they were called on Sunday night when DaBaby accused DaniLeigh of striking him. On Monday morning, the couple showed up arguing on DaBaby's Instagram Live again. According to police, DaBaby made a second claim of domestic abuse at 9:30 that morning, at which point they arrived at the condo and charged DaniLeigh with two counts of misdemeanor assault. DaniLeigh has not been arrested, and she posted an Instagram Story on Monday afternoon showing the ceiling of a plane and writing, "I left and me and my baby safe."