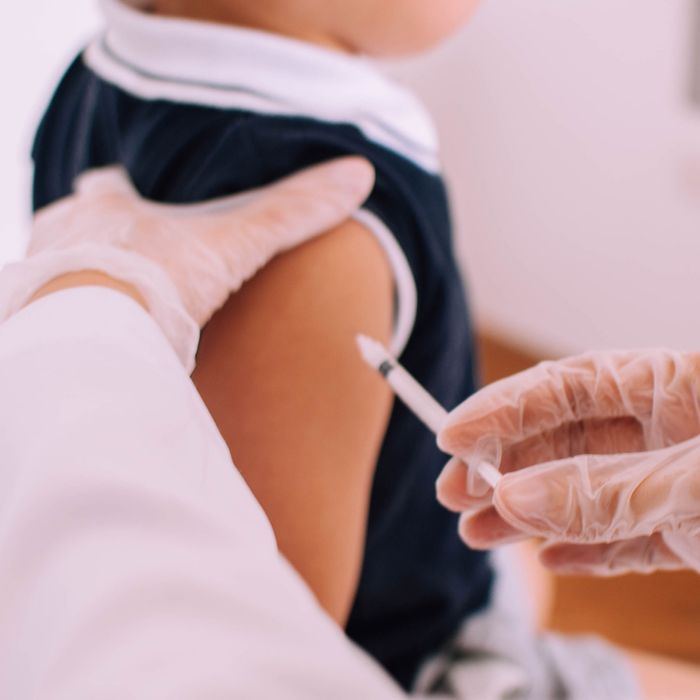 Photo: Courtesy H&M/Getty Images
Though many vaccinated adults have been able to return to some semblance of a normal life, kids under 12 still haven't been eligible for vaccines — even while they go back to in-person schooling. Now, after months of delays, the FDA has finally approved Pfizer's vaccine for kids between 5 and 11, which means doses are currently being shipped to vaccination sites around the country.
Still, we likely won't see vaccines for kids under 5 until next year, and though coronavirus cases are currently much lower than they were in September, it's possible we could see yet another surge from holiday travel. Parents are anxious to know when they'll be able to get shots for their kids — and why it's taking so long.
Here's what we know about when younger children will be able to get vaccinated.
Vaccines for children 5 to 11 are finally available.
Last month, Pfizer and BioNTech completed their revised trial, which found that a 10-microgram vaccine dosage was effective and safe for children between 5 and 11. On October 29, the FDA authorized emergency use of Pfizer's dose, and the CDC recommended it for this age group a few days later. Now that the official approval is in, the White House is rolling out a master plan to bring shots to the 28 million kids now eligible for immunization, along with a revamped campaign to educate parents and kids. The Biden administration isn't expecting the same shot shortage the country experienced when adults first became eligible — federal officials say that 15 million doses are currently being shipped to vaccination sites around the country. Those shipments also include smaller needles required to give the shot to younger kids. Instead of the large vaccination centers used in the initial rollout, the administration is setting up clinics in easily accessible locations, like children's hospitals, doctors' offices, pharmacies, and possibly schools.
Meanwhile, Moderna has gotten promising results from its trials with kids between 6 and 11 and says it's planning to submit the data for FDA review soon.
Children age 12 to 15 have been eligible to receive the Pfizer vaccine since May.
At the end of March, Pfizer reported that its trial of kids between ages 12 and 15 found the vaccine to be 100 percent effective, without any abnormal side effects among participants. In May, the FDA granted authorization for kids in this age group to receive the two-dose vaccine, which was quickly followed by CDC approval. So far, AAP has reported that only about 43 percent of kids between 12 and 17 are fully vaccinated, mainly due to vaccine hesitancy on the part of parents. Both the CDC and the American Academy of Pediatrics have confirmed that the vaccine is safe and recommend it for everyone over the age of 12.
Adolescents may soon be able to receive the Moderna vaccine as well. Moderna is expected to be authorized for this age group any day now after announcing at the end of May that their vaccine was safe for children between 12 and 17. Meanwhile, Johnson & Johnson is currently in the middle of an adolescent trial that started in April.
We probably won't have vaccines for kids under 5 until 2022.
The studies for children under 5 have been delayed, with results expected later this year, which means those vaccines likely won't be approved until 2022. A big factor that's adding to the delay is figuring out what dose will be safe but effective in smaller bodies, which will respond faster to less vaccine. The FDA is also concerned about rare side effects like heart inflammation, which is why they asked both Pfizer and Moderna to expand their trials and track an extra four months of follow-up safety data to account for those issues, further delaying approval. Pfizer announced trial results for children aged 5 to 11 in September. Results for children between 2 and 5 are expected "shortly after," followed by kids between 6 months and 2 years old.
We need kids to be vaccinated to reach herd immunity.
In general, kids are a low-risk group for COVID, but it's still important that they get vaccinated as soon as possible. Though most kids do not get very sick from COVID, some do, and they also can spread the virus. Now that the rapidly spreading Delta variant accounts for most COVID-19 cases in the U.S., large groups of unvaccinated kids are much more likely to infect each other. On top of that, pediatric hospitalizations for COVID-19 were higher in August than any other time this year. According to state-reported data, about one percent of children who are infected with COVID end up in the hospital, and .01 percent die.
To reach herd immunity — the point at which enough of the population is inoculated against the coronavirus to stop its spread — we need children, who make up a quarter of the U.S. population, to be vaccinated too. And even though many experts now say they don't believe we'll reach herd immunity in the U.S. because of vaccine hesitancy and highly transmissible variants, vaccinating kids is nevertheless crucial to stop the spread of COVID.
"It's unlikely we could get community protection without immunizing children," Drexel University pediatrics professor Dr. Sarah Long told the AP. "This is the lynchpin to getting everything back to some kind of normalcy."
This post has been updated.