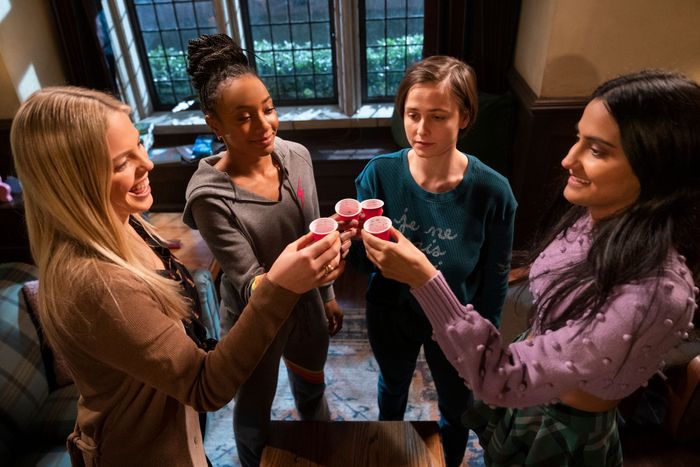 Photo: Jessica Brooks/HBO
There are very few shows that start with a college move-in day — and for good reason. As a recent college girl myself, I know how awkward those first few months of college are. They are weird and scary and pretty embarrassing to look back on, which is exactly what I feel watching HBO Max's new comedy The Sex Life of College Girls.
The series, created by Mindy Kaling and Justin Noble, centers around four freshman roommates at a prestigious college in Vermont. As someone who went to a Big 12 school in Texas and transferred to a school in New York, the picturesque campus of the fictional Essex College is enough to keep me entertained. Better yet, the four girls have identities and qualities that feel relatable — like a nervousness about college or an eagerness to have sex — while somewhat remaining caricatures instead of fully fleshed-out people. One character's immense wealth and harsh attitude feel right out of Mean Girls, and another's extreme horniness seems too intense to be real, which is truly entertaining.
There's Whitney (Alyah Chanelle Scott), the soccer player who is having sex with her coach and is the daughter of a prominent Black senator. Bela (Amrit Kaur) is an SNL wannabe who came to Essex for its prestigious comedy club but told her parents she was a neuroscience major. Kimberly (Pauline Chalamet, the sister of Timothée) is an awkward girl from Arizona who is on scholarship. And Leighton (Broadway's Reneé Rapp) is a rich girl from New York who is a closeted lesbian. The four become close friends quickly, like anyone would dream of with their freshman-year roommates, and they deal with typical difficulties like a stinky fridge and boy drama. They go to frat parties, have one-night stands, and talk too loudly in the library. It all feels very real, very Gen Z. The main plot hole I couldn't believe, though? They didn't use Find My Friends.
Every 20-something knows this app is the holy grail, especially for the people you live with. All iPhones come with it built in, and it allows you to share your location with friends for an hour or a day or forever on a cute little map that updates constantly. Since, in the first episode, Leighton ditches the girls at a frat party and wakes up to texts from Kimberly worrying she got sold into human trafficking, I think it's a reasonable question. Where is the very app I know these Essex girls would love and cherish? Even without the app, the resurgence of Snap Maps or Instagram Stories hints at the idea that there should be a better way to be plugged into one another's lives. Considering that three of the four girls are having secret hookups, using the app would've led to fewer secrets and more drama. The girls would ask Whitney why she spent so much time in a utility closet after practice or see that Leighton was sneaking off to fancy hotels and beg to know why. And Leighton would probably notice that Kimberly and Leighton's brother, Nico (Gavin Leatherwood), sure do spend a lot of time together.
As someone who uses Find My Friends daily, I know just how much it can pinpoint the FOMO you have as a college student — like seeing two of your friends together or noticing everyone is outside their dorm room but you. Though it seems silly, that is college life. There are many other moments that feel real, though, like when Kimberly realizes classes are way harder than she imagined and Bela feels embarrassingly nervous about getting into her dream comedy club. It's enjoyable to watch these girls navigate some of the aspects of college life that everyone deals with like creepy older guys or breaking up with long-distance boyfriends and bad friends. I just wish they used Find My Friends; it would certainly help Kimberly relax a little.