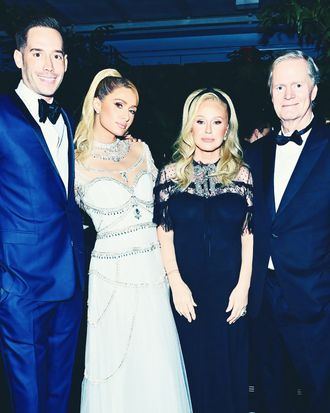 Before the family honeymoon.
Photo: Stefanie Keenan/Getty Images for LACMA
Imagine, if you will: You are Paris Hilton. You've just finished your multiday wedding extravaganza, complete with a handful of different wedding dresses and a Peacock docuseries about planning the event. What do you do next? If you said "Bring my parents on my honeymoon," you are correct! Because Paris Hilton did, in fact, bring her parents on at least part of her honeymoon with husband Carter Reum. With all due respect, I would rather cancel my honeymoon altogether.
Per "Page Six," Hilton and Reum's honeymoon in Bora Bora included snorkeling, swimming with stingrays, and wearing a $345 wetsuit screen printed with huge jeweled necklaces. It also included a handful of Hilton's family members: her brothers, Conrad Hilton and Barron Hilton; her sister-in-law, Tessa Hilton; her 1-year-old niece, Milou; and her parents, Rick and Kathy Hilton. Inviting your parents on your honeymoon? A very White Lotus thing to do.
Is this just a part of rich-people culture to which I am not privy? Do the wealthy usually have their family tag along on their honeymoon? Is the assumption that if your parents are paying for any and all wedding celebrations, they are allowed to attend whichever they please? Does the honeymoon become a group excursion? A family reunion? A continuation of the wedding reception where you have to figure out who sits where? Again, I would rather stay home.
Regardless, Paris, her husband, and the rest of the Hiltons seemed to enjoy themselves on their collective honeymoon in Bora Bora. And it appears that's just the couple's first stop. Will the whole family be joining them on their around-the-world honeymoon? I suppose time and Instagram photo dumps will tell.