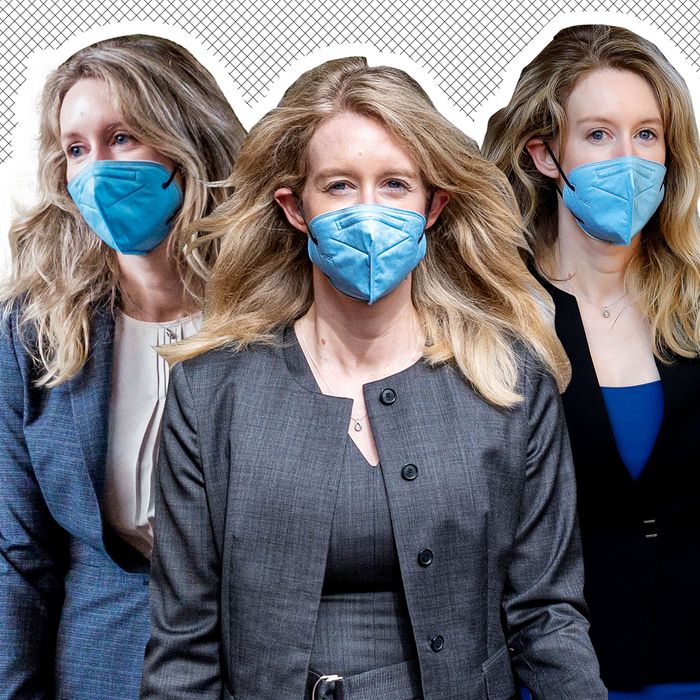 Disgraced Theranos founder Elizabeth Holmes was once known for wearing heavy eyeliner, red lipstick, a black turtleneck, and bleached-blonde hair. But in the past year, she ditched her signature turtleneck and started wearing less makeup. Her hair has been styled into loose curls. This week, as she takes the stand, her hair is noticeably more wavy and coiffed.
"Her new look is less controlled," said Jackie Conlin, a San Francisco–based personal stylist. "It's softened her edges substantially. It doesn't look like she is trying to cause trouble."
For as long as we've been fascinated by Holmes, we've also been fascinated by her hair: in particular, its blondness and texture. Because we live in America, a country long-obsessed with blondness, it became an inextricable part of her identity. Her name appears with the descriptor "blonde" in 19.2 million Google results (this is 5 million more than for "Elizabeth Holmes net worth"). Nick Bilton's Vanity Fair article breathlessly recounted her transformation from a 2003 dark-haired undergrad to a 2009 "bleached blonde" Steve Jobs–idolizing, turtleneck-wearing entrepreneur.
Blondness was always part of her grift. In 2016, a study conducted by professors at the University of British Columbia's Sauder School of Business, found that 48 percent of female CEOs at S&P companies are blonde. In contrast, consider that only 2 percent of the world's female population is blonde. As doubts about Theranos continued to increase, many (often female) writers pointed out that Holmes wasn't just blonde, she was not a very believable or "good" blonde.
Holmes, who has naturally curly hair (as childhood pictures appear to confirm), would flat-iron her hair to the point of looking brittle. Think pieces attempted to answer what it meant that Holmes, a wealthy woman, had conspicuously dry and unconditioned hair, often described as "bad"? We should have been immediately suspicious that someone like her would have such destroyed-looking hair, TheOutline.com argued, writing that her hair was as off-putting as the fried "wild tangle" of Anna Delvey, another rich-person scammer.
It is also notable that as a white woman, Holmes would be exempt from the racial discrimination against natural and curly hair, but chose to flat-iron it anyway. "Straight hair is very geometric. That, along with something like pointy shoes, makes you look more authoritative," says Lili Henry, a San Francisco–based image consultant and personal stylist, of Holmes's Theranos look.
Since her fall from grace, Holmes's hair has looked healthier, bouncier, and curlier. Her polished beach waves are so noticeably smooth that Olivia Nuzzi, New York Magazine's Washington correspondent, tweeted, "Congrats to Elizabeth Holmes on her keratin treatment."
"Going from straight to curvy, with curvy hair, prints, and soft shapes makes you look more approachable," says Henry. "She's a new mom. She looks more friendly. She wants to bring sympathy and put the public eye on her side and understand where she is coming from."
Almost everyone on TV has a version of Holmes's beach waves, including plenty of Bachelor cast members. It's so ubiquitous, that it's usually a menu option at any blow-dry bar (at Drybar, "Maitai" comes closest).
"It's femme and unassuming, yet deliberate," says Diana Tsui, a freelance style and former Cut editor. "It says, 'Who me? I'm just a normal girl.' It's code-switching." It's also generic. "Whereas before, she was so distinct, now she just looks like a news anchor on TV or could be anybody," observes Rebecca Jennings, a senior reporter at Vox. (Three women, who were look-alike Holmes fans, showed up at the beginning of her trial in September with blonde hair tightly pulled back in a bun.)
Henry says of Holmes's previous look, "She was in control, the face of her company, the boss, the CEO. She had to show this confidence." Like it or not, for women, image is always paramount. "For women, people always have expectations to look nice and put-together. Image isn't the most important thing, but it does send a message. It's why I have a job."
"I totally would have recommended the same thing to Holmes if she were my client," Conlin adds. "With 12 people deciding your fate, you have to."