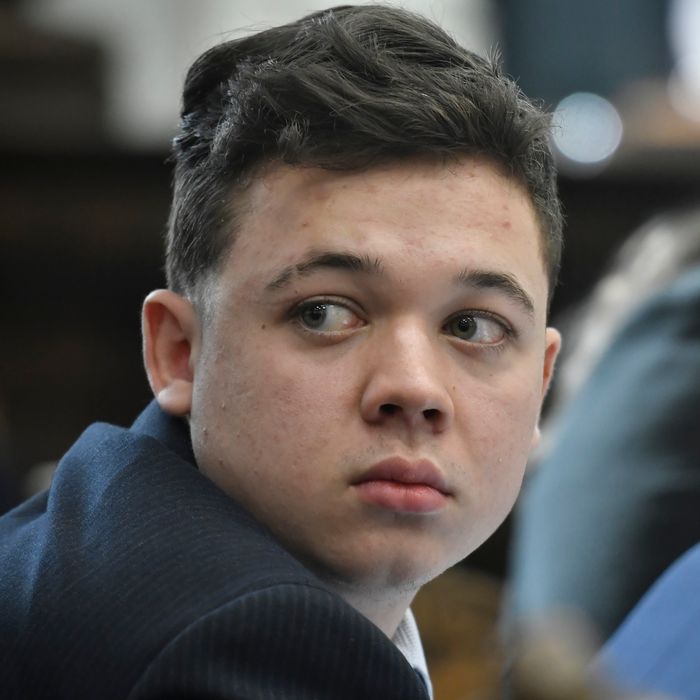 Photo: Sean Krajacic-Pool/Getty Images
Two days after being acquitted of five felony charges stemming from the August 25, 2020, shooting in Kenosha, Wisconsin, Kyle Rittenhouse was out making political connections. The 18-year-old was on trial for shooting and killing Joseph Rosenbaum and Anthony Huber, as well as injuring Gaige Grosskreutz, during a Black Lives Matter protest last year, and his case garnered international attention.
Now the trial is over, and Rittenhouse has been making the rounds, filming a TV interview with Tucker Carlson and even meeting with political operatives, which appears to be how Rittenhouse ended up getting lunch with former Bachelor contestant Jillian Anderson.
Anderson is best known for competing for Chris Soules's heart on season 19 of The Bachelor in 2015. (Her bikini bottom was famously censored with a black box on the show, something she has since called a "humiliation," per Us Weekly.) She also briefly appeared on season two of Bachelor in Paradise, but has since stayed off of reality TV.
It's unclear how, exactly, Anderson and Rittenhouse know each other. The photo was shared by Florida governor Ron DeSantis's press secretary Christina Pushaw, and appeared to have been taken at a group gathering. A local lawyer and vocal opponent of DeSantis, Daniel Uhlfelder, later reshared the photo on his own Twitter and identified Anderson as Rittenhouse's "new publicist." Anderson's Instagram bio confirms that she works as a "media booker" and "producer," but she hasn't clarified her relationship with Rittenhouse. Though she did definitively answer a commenter on Twitter who asked if she was Rittenhouse's mom. "No but thanks," she wrote. So, there's that.
After the photo of the two went viral on Monday, Anderson shared another photo of her hanging out with Rittenhouse on her Instagram Story. The photo appears to have been taken place on a set. "Tune into Fox News at 8pm ET tonight. Kyle will be sharing the truth of what happened, and his experience following the events in Kenosha," she wrote.
After Fox News, Rittenhouse's next stop might be Washington, D.C. Republican representatives Paul Gosar and Matt Gaetz have both publicly offered him internships in their offices. But it looks like they'll have to get through Anderson first.