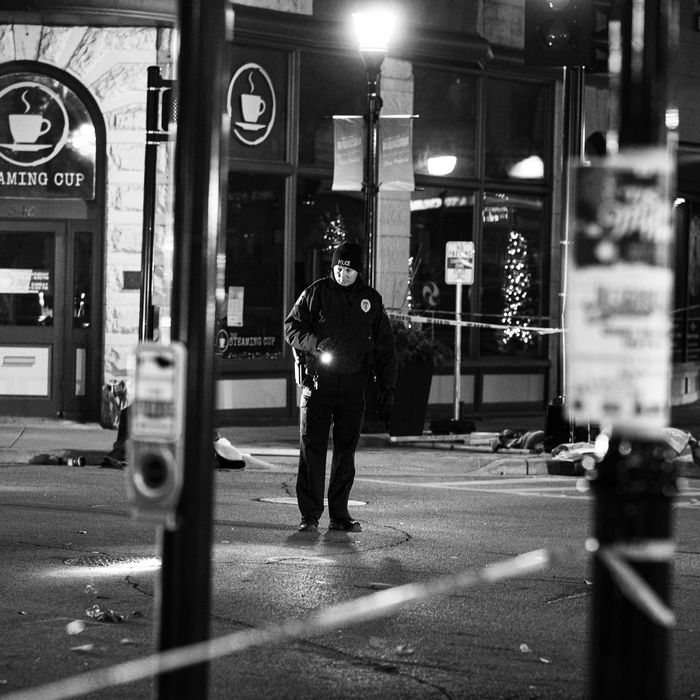 Photo: Jeffrey Phelps/AP/Shutterstock
On Sunday, residents of Waukesha, Wisconsin, gathered for an annual local Christmas parade when a driver in a red SUV drove into the crowd, killing at least six people and injuring dozens more, the New York Times reports.
According to the Times, at around 4:40 p.m. local time, a driver barreled past barricades and drove straight into the parade route, hitting dozens of people. The driver has since been identified as 39-year-old Darrell Brooks. Before the attack, witnesses said they saw Brooks outside the local Rotary building, engaged in what appeared to be a knife fight. By the time officers arrived, Brooks was already parade-bound. Waukesha police chief Daniel Thompson said police fired shots at the driver after he drove into the crowd, though they stopped to avoid injuring bystanders. Following a struggle, police took Brooks into custody Sunday night. He has been charged with five counts of intentional homicide, and his bail is currently set at $5 million. 
Brooks has a criminal history that spans 22 years. His prior charges include battery, domestic violence, cocaine possession, a sex crime, and resisting arrest. Brooks had previously served two jail sentences and participated in mandatory anger-management programs, and at the time of the parade attack, there were active warrants for his arrest in Nevada and Georgia. The Times reports that six days before the parade attack, Brooks was released on bail from a criminal case in which he was accused of trying to run over a woman with a maroon Ford Escape.
Thompson has confirmed that the six victims who were killed range from age 8 to 81. Two were members of the Milwaukee Dancing Grannies, a dance group for grandmothers that's long been a staple of the Christmas parade. In addition to the six confirmed deaths, more than 60 people have been injured. The victims reportedly include parishioners, a priest, and students from a Waukesha Catholic school. At least 12 children are reported to be among the injured, including a 3-year-old. The death of an 8-year-old boy was confirmed on Tuesday.
"Today our community faced horror and tragedy in what should have been a community celebration," Mayor Shawn Reilly said following the attack. "I'm deeply saddened to know that so many in our community went to a parade but ended up dealing with injury and heartache."
"It seems everywhere we turn, it's just another violent day in the U.S.," an eyewitness told the Times. Waukesha public schools were closed Monday and Tuesday following the tragedy.
This post has been updated.