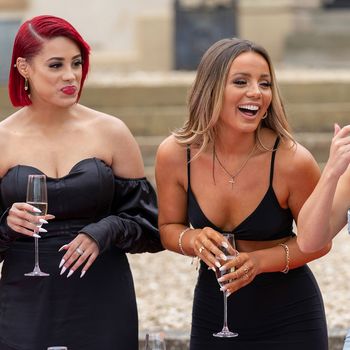 There is no doubt in my mind that the most innovative thinking of our time is happening in the realm of deranged reality dating shows. The newest gem from this fount of creativity is The Love Trap, a dating show in which women are eliminated through a literal trap door. Is it safe, you ask? Has anyone gotten injured?
What you should really be asking is, does the host assure the other contestants that the woman who falls through the trap door is not dead? That one, I can answer: absolutely, yes he does.
The premise of Love Trap, which premiered at the end of October, is that a group of women compete for a man's affections, except that some of them don't care at all about this man (go off, queen!) and are instead vying for a cash prize that they'll win if they're selected by the bachelor. At the end of every episode, in place of a rose ceremony, there is what I'll call a trap-door ceremony, during which — once more — a woman falls through a trap door upon being eliminated.
One clip from the show, a shorter version of which has been circulating on Twitter, is especially surreal. In the video, our trio of contestants descends to the "trap room," which is explained by the host only as a "very special room in the depths of the house" where they're living. The contestants, actually, DON'T KNOW why this aggressively gilded basement is called the trap room. No, not until they are standing over their little traps is it revealed to them that they could be dropped into oblivion at any moment. Inexplicably, they all stay standing on their spots.
Then, a man we'll call "main bachelor guy" selects which woman he believes is competing for a cash prize instead of his enormous heart. The woman, in case you still don't believe me, immediately falls through a trap door. Someone gasps. We pan to a series of reactions from the two other contestants who've been spared. Behold:
Emmys for all of them, every single one.
Once the fact that this eliminated woman has, indeed, vanished through a trap door settles in, the host takes a moment to assure our two other contestants, "She's not dead."
Luckily, neither are we, which means we are fortunate enough to have the out-of-body experience that is watching a woman fall through a trap door on reality TV. In the immortal words of the surviving contestants, "Cheers to not falling through the floor tonight!"