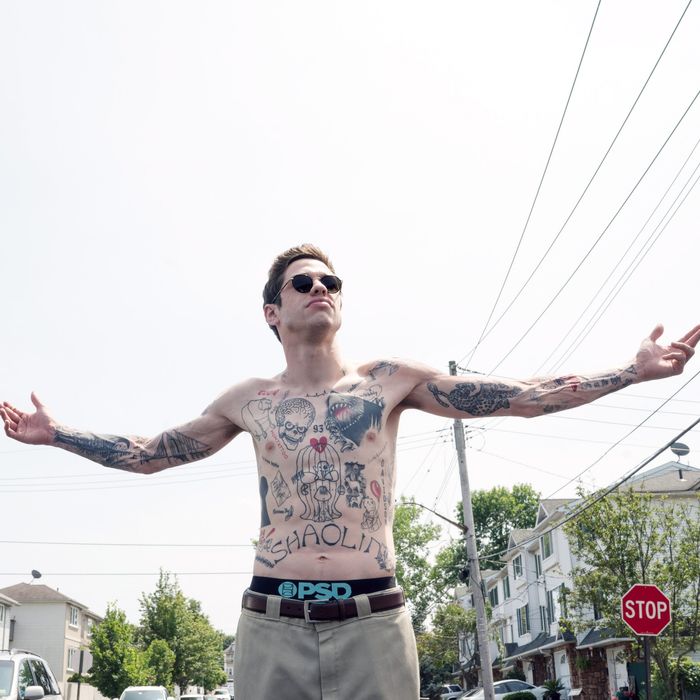 Photo: Universal/Courtesy Everett Collection
Kim Kardashian West and Pete Davidson have a little secret, can you keep it? I can't. Kim and Pete went on a little dinner date at a pizzeria in Staten Island on Tuesday. A secret dinner date, you say? In … Staten Island? Yes, according to TMZ, Kim took her Balenciaga gloves on the hour-long drive (or maybe the ferry??) to New York's least accessible borough, where I can only assume she shared a romantic bowl of spaghetti and meatballs with a man notorious for dating extremely attractive women while living in his mother's basement.
Kardashian West and Davidson have been publicly flirting for what feels like eons but has actually just been a few days. After a photo of them holding hands on a roller coaster surfaced, a source told People they were "just friends." But "Page Six" reports that Kim is "intrigued" by Pete, and Gawker claims they shared a hotel room, which certainly sounds seductive to me.
You know what else sounds seductive? Meatballs in Staten Island. On Tuesday, Kardashian West was spotted leaving the Ritz-Carlton in Manhattan, only to arrive an hour later at Campania, purported to be one of Davidson's favorite casual Italian establishments in his home borough. Because he is, naturally, the king of this borough, Pete was able to arrange a private rooftop dinner at the restaurant, which, per "Page Six," they were able to enjoy without security. One of the benefits of dining away from the masses of Manhattan, I suppose?
Kim is not the first woman to hop on the metaphorical ferry for Pete Davidson. His former fiancée Ariana Grande once had what she called "the most fun I've ever had" on a date night the two enjoyed in Staten Island, which she geotagged on her Instagram Stories for good measure. Though she didn't specify what restaurant they went to, is that some pizza I spy in the lower left-hand corner of one photo? Looks suspiciously like Campania's margherita pie …
What is in Staten Island that is so alluring, you ask? True love, and also Davidson's, uh, immense charm. It's unclear if his other recent paramours, who include Kate Beckinsale, Phoebe Dynevor, and Kaia Gerber, have been invited on the home visit, which I take to mean he's really pulling out the stops for Kim. One week is pretty serious in this guy's book.
It appears that Staten Island outlets are pretty psyched about Kim Kardashian West setting foot on their turf, especially considering Pete isn't exactly the borough's most supportive ambassador: Things he has said about Staten Island include calling it a "terrible borough filled with terrible people" and hoping it will "fall into the sea." However, he did shoot a whole movie there, and now that he's delivered America's most beloved shapewear designer to its shores, I have a feeling all will be forgiven.
So how did the date go, you ask? Great, apparently, because "Page Six" reports that the two met up again for dinner the next night. I have a feeling it was Kim's turn to choose, because they found themselves in slightly more upscale surroundings — Zero Bond, to be specific, a members-only Manhattan nightclub that recently hosted Mayor-elect Eric Adams's victory party.
So maybe Kim has had enough of Staten Island for one lifetime. Still, I'd certainly make the trek over there for these garlic knots before stepping foot in a nightclub frequented by Elon Musk — even if it was for a date with a self-proclaimed red flag.
This post has been updated.