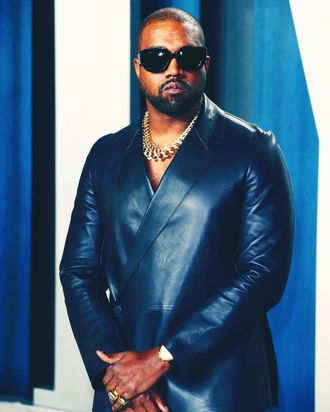 Photo: Jean-Baptiste Lacroix/AFP via Getty Images
Despite his best efforts, Ye (formerly Kanye West) apparently failed to steer his former partner Kim Kardashian's Saturday Night Live appearance in the direction he wanted. The artist appeared in a two and a half hour episode of Revolt TV's show Drink Champs, where he dropped an astounding (even for Ye) number of confusing and/or controversial takes. Among the highlights: He revealed that he recently purchased 1,200 sheep, called himself "halfcinated" because he's had his first COVID-19 shot (he did not specify when), and said that walking around with his new haircut is harder than wearing his "Make America Great Again" hat.
Ye also discussed his relationship with Kim Kardashian, who filed for divorce in February, almost seven years after their wedding. He referred to Kim as his wife, pointing out that there "ain't no paperwork" and made it clear that he's not onboard with the breakup. Ye apparently also wasn't happy that Kim said she "divorced him" during her recent SNL appearance. "That ain't no joke to me," he said. "My kids want their parents to stay together, I want us to be together." He reiterated, "I never even seen the papers. We're not even divorced." According to ET, Ye filed his response to Kim's papers in April and the two appear to still be in divorce proceedings.
Kimye's relationship since the divorce papers emerged seems to have been friendly, at least publicly. Kim showed up to a Donda listening party for some romantic performance art in which the two re-created their wedding, down to Kim's Balenciaga dress, prompting some confusion as well as reconciliation rumors. And then, of course, there was her hosting stint on SNL, which Ye was supposedly … art directing? I'm not sure he had quite as much influence as he thought, though, due to the aforementioned D-word, and also the fact that Kim shared a little kiss with Pete Davidson during a skit that night — possibly the catalyst for what is rapidly becoming 2021's most unexpected relationship.
Over the course of the two and a half hour podcast, Ye managed to cover an impressive amount of ground, which also included providing some bewildering background on his choice to include DaBaby and Marilyn Manson in his newest album, Donda, and to feature them in a performance at one of his album listening parties. To recap: DaBaby has been criticized in recent months for homophobic comments he made onstage during a music festival in August, while multiple women have come forward accusing Marilyn Manson of emotional, physical, and sexual abuse, including in an L.A. Times report published Friday morning. During a lengthy discussion about being a leader, Ye found himself bringing up both musicians, saying, "There's women who've been through very serious things, pulled in alleys against they will. That's different than a hug, but it's classified as the same thing." Ye didn't clarify where he feels DaBaby and Marilyn Manson's behavior falls on this spectrum, but he did liken the Me Too movement to "power-hungry maniacs" and "1984 mind control."
Other topics that somehow made their way into Ye's interview included unsubstantiated claims about abortion (he reiterated his position as anti), the notion that Shakespeare created of 30 percent of our language, and more details on his current haircut. You can listen to the full interview here.