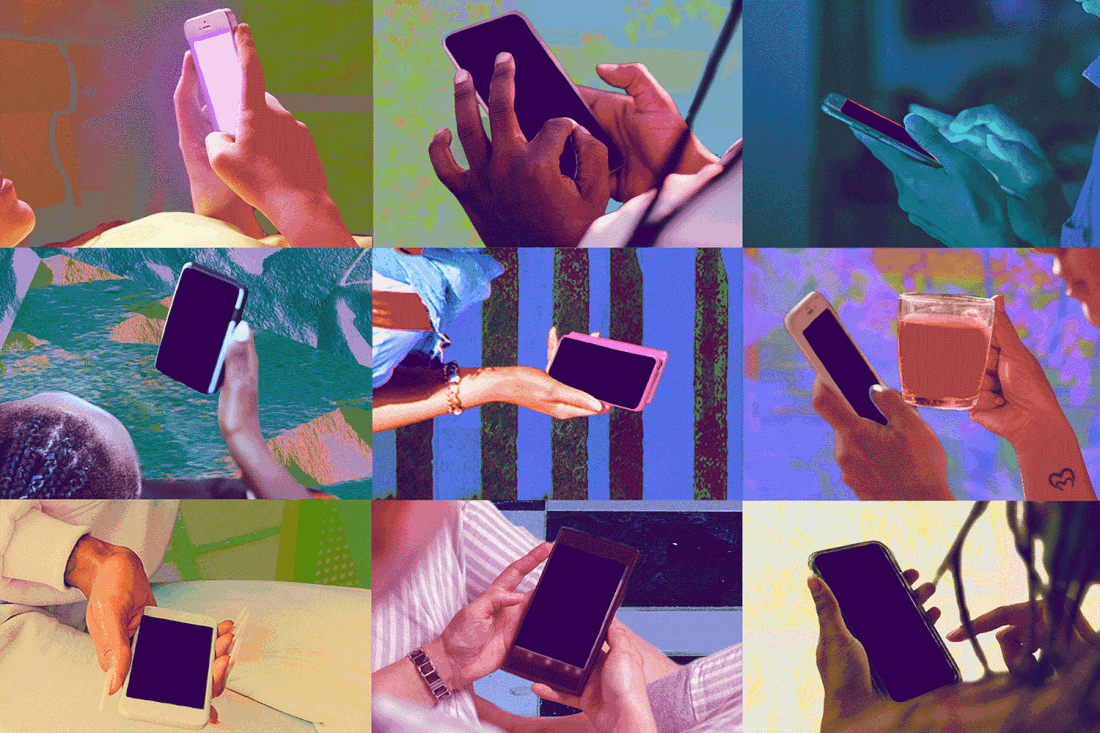 Illustration: Isabella Mellado; Photos: Getty Images
It felt as if someone had set off a bomb in a small corner of the island. "Está circulando una lista de tipos en P.R.," read the text I received. Attached was a link to a since-deleted Facebook page called Yo Te Creo, which named alleged abusers in Puerto Rico.
No one knew who Yo Te Creo's organizers were, but everyone knew why the account was created. In the last week of April this year, not too long before I found out about the page, two horrifying murders took place on the island. Andrea Ruiz Costas was killed, and her remains were burned. She had been denied a protective order against her ex-boyfriend despite telling a judge she had evidence that he had stalked and threatened her. Two days later, the body of a 27-year-old pregnant woman named Keishla Rodríguez Ortiz washed up in a lagoon. Her partner, former Olympic boxer Félix Verdejo, and another man had allegedly drugged her, assaulted her, and dumped her body over a bridge. (They've pleaded not guilty.) Another weekend, another devastating reminder that a femicide occurs in Puerto Rico every seven days. For decades, the island has been battling an epidemic of gender violence fueled by equal parts machismo and complete impunity for perpetrators.
Yo Te Creo spread quickly among a certain class of Boricuas — those who are primarily young, in the metro San Juan area, and working in white-collar or creative jobs. The page posted the full names of people accused of a broad range of sexual misconduct, from sending unsolicited dick pics and engaging in workplace sexual harassment to committing intimate-partner violence and rape. Those listed came from every facet of Puerto Rican life: university professors, doctors, politicians, artists, entrepreneurs, business owners, even Governor Pedro Pierluisi. (He was also accused of sexual harassment last fall by his personal trainer and has denied all allegations.) Commenters fought among themselves about the account's merits. Some survivors said their abusers (mostly men but not all) were on the list even though they hadn't added the names themselves. A handful of the accused posted lengthy apologies.
Critics reported the page for violating Facebook's community standards so many times it was taken down in less than a week. But the collective behind it came back several days later on Instagram. The account quickly gained a modest following of about 5,000 and continued posting a weekly list, eventually publishing the names of more than a thousand alleged abusers. For victims who felt helpless before a system and society that hadn't taken seriously enough the harm they have faced, there was power in naming their abusers. Even if done anonymously, a weight was lifted from their shoulders. That all came to a screeching halt in late August when José "Fofito" Morales, a staple of the island's independent arts scene, died by suicide. Six days earlier, Yo Te Creo had posted an allegation that he had sexually harassed employees at his nightclub, La Respuesta.
The backlash was swift and brutal. Angry users called for defamation lawsuits and cybercrime investigations. Morales was a good man, critics said, a father and Boricua who had given so much to develop Puerto Rico's cultural spaces. In their view, his blood was on Yo Te Creo's hands (and on those who believed the accusations). Small anonymous accounts sprung up on Instagram, hell-bent on uncovering the organizers' identities. One falsely accused a young mother and widow named Pamela of creating Yo Te Creo because of a few tweets she had posted after its Facebook page was taken down in May. "Feminists are like cats, they have nine lives!" she wrote, sharing screenshots of the list. "They thought they could shut us up, but that dream didn't last long! Here is THE LIST, once again!" Pamela, who requested we withhold her full name to protect her identity, faced a weeklong harassment campaign; her accusers posted pictures of her child, threatened to dox her, and encouraged others to pile on. She ended up seeking help from the police.
Almost since day one, Yo Te Creo has been subjected to a continuous stream of legal, doxing, and death threats. This is one of the main reasons the collective initially decided to remain anonymous. "We're conscious of the risks we're taking. We don't act out of fear," Gabriela, one of the organizers, told me over the phone in mid-August. "We're assuming this huge responsibility voluntarily," she said. "There's no reward other than protecting one another." Still, she was paranoid. (Gabriela is, of course, not her real name.) This was Yo Te Creo's first interview — for which Gabriela had bought a burner phone — and it took place weeks before Morales's death. She refused to say much about her own life, asking to be identified only as a survivor. For her security, I can't tell you more, such as how many people run the account, how they protect themselves and their sources, and even some of the other work they're doing to support survivors offline. For the organizers, this project was an act of desperation but also of survival.
When Yo Te Creo would post a new name, there were some rules: The accusations, collected via DM, had to be firsthand accounts. No allegations could be made without the survivors' explicit consent. Names would be reposted with a note if the group received several more accusations against a person. And as a general rule, the specific acts that landed an alleged perpetrator on the list were not published, except for a few men deemed dangerous or powerful; the details were then posted with evidence like pictures, texts, and voice messages. This was one of the biggest points of contention among Yo Te Creo skeptics, who believed it was deceptive not to distinguish between whether someone had been named for sending unsolicited dick pics or for sexual assault. In a June post, the account said withholding such details was meant to protect victims from being identified and retaliated against by their abusers, since "not everyone exhibits the same behavior with each of their victims." But the collective didn't verify its stories, and evidence wasn't always provided. "We choose to believe people who come to us because statistics and our own experiences confirm that the probability these stories are true is extremely high," Gabriela said.
Bringing the whisper network to the public sphere is a tool survivors have used to protect one another for decades. The most notable was the Brown University Rape List protest of the early 1990s, in which students wrote the names of their abusers in the school's restrooms, but social media ushered in a new, louder era. Even before Me Too, there were Facebook groups about abusers in the L.A. comedy scene and a Tumblr account dedicated to predators in the music industry. Afterward, we saw the Shitty Media Men List, a "shitty men" in academia list, a "shitty men" in architecture list — you name it. In Puerto Rico, however, publicly naming abusers was a radical step.
Unlike other places that have taken a whisper network public, the island remains a fundamentally machista and conservative place; it's not rare to hear that a sexual-assault victim should have known better than to dress like a puta. But there was precedent for breaking the silence, like last year, when a Twitter user named Thémis issued a challenge. "Waiting for the day they expose the sick old men of Yatea. Or are you not going to do it because you'll lose your ticket to Palomino?" they posted, referring to the parties held at the uninhabited island off Puerto Rico's east coast. Almost immediately, underage girls and young women flooded social media with allegations of sexual misconduct against the owner of the yacht company Yatea Puerto Rico, Jorge Javier Marrero Gerena. Some of the accusations were made anonymously, but many more were not. Most accusers said his behavior had been well known in certain circles for years. Some victims took their complaints to the authorities, and Marrero Gerena was charged with four counts of child exploitation. (He's currently in negotiations with federal prosecutors to try to reach a plea deal.)
As the largest Boricua effort so far, Yo Te Creo's crusade has been ethically and politically fraught. Believing all victims is the beating heart of the project; this is not a space for questions about due process. Organizers have gone as far as to say that witnesses to assault and harassment are as guilty as abusers if they don't intervene. Theirs is a black-and-white world, but the platform itself floats in a sea of gray. Some big questions remain unanswered: Do the sources fully understand the risks of outing their abusers online? Should creepy men be lumped in with violent predators? Can organizers prevent the platform from being misused by bad actors?
The starting position of most Yo Te Creo critics is that the page is a witch hunt. They say the account reeks of cancel culture, of exes mordías seeking revenge, of hysterical women who can't distinguish between the awkwardness of a badly delivered compliment and the violence of rape. Most concerns are about the possibility that innocent names are being dragged through the mud. If victims' claims are true, they argue, then the women should do things "the right way" and bring their allegations through "the proper channels." Some critics even saw echoes of las carpetas, a decades-long secret police project that kept lists of Boricuas who were connected to the independence movement. Someone would get hurt, Yo Te Creo's critics insisted, suggesting the hundreds of cisgender men named by the account could suffer the same fate as Alexa Negrón Luciano, a homeless transgender woman who was murdered after a viral post falsely accused her of spying on a woman in a McDonald's bathroom.
In a post on August 9, the organizers responded to the criticism: "Number of men who've died due to appearing in a list: 0." The number of women who had been killed up until that point this year? Thirty-one. That number has since gone up to 43. "The consequences that men who have been reported in our forum have faced are not even a small part of the violence that women face every day," the group wrote. Three weeks later, Morales took his own life.
He had first been named by the account back in May in the list's first Instagram post. But on August 25, Yo Te Creo went a step further by posting a Notes-app account from a woman who claimed Morales had called her into his office at La Respuesta and started masturbating in front of her. "Like so many victims, I froze up, and all I felt was fear because I was alone in that place," the woman wrote. In its post, Yo Te Creo instructed its followers to boycott the establishment. It was a new strategy it had been deploying in recent weeks with mixed results. The first boycott was against a nightclub called Club 77 for allegedly failing to protect women from being sexually harassed by staffers and patrons. After being DM'd with "stories about the accusations," the club said in a since-deleted Instagram post, it had terminated an employee and cut ties with a DJ. Yo Te Creo had also called for a boycott of a string of performances by a local comedian, which led to one of his performances seemingly being canceled as a result. In a statement on August 27, La Respuesta said it was monitoring the allegations and announced Morales would retire amid a restructuring. On August 29, he was dead.
Within 24 hours, Yo Te Creo's following doubled. (At the time of this writing, it has 14,000 followers.) Major news outlets mentioned the project for the first time in reports of Morales's death, leading to debates in newspaper columns and on radio shows and TV segments. Most of the reporting focused on how the account's anonymity made it untrustworthy and how being on the list could negatively impact men. One newspaper columnist accused the collective of using a "technological burka" that allowed its organizers to hide themselves and sidestep the justice system.
Morales's online supporters have said Yo Te Creo is responsible for his death. "Anonymous groups" who think they "have the right to judge without confronting the accused or offering him adequate space for his defense," the writer Juan López Bauzá posted on Facebook, "claimed the life of one of my closest friends and godson." Other friends posted similar sentiments, referring to the collective as "terrorists" and calling for people to stop supporting it. A makeshift memorial remains in front of La Respuesta, and Morales's funeral service was livestreamed on the club's Facebook page. (Morales's family did not respond to interview requests and has yet to speak publicly about his death.)
One of the men named on a Yo Te Creo list appeared on local news to speak about the toll it had taken on him. "I fear for my security, the security of my family and acquaintances, for my reputation, my employment opportunities, my studies," he said on the show, which disguised his voice to protect his identity. "I've never faced a situation or had a single complaint, either formal or informal." Puerto Rico's gender-violence crisis was concerning, he said, but the page was not "the right forum" to address it. He said he had contacted Yo Te Creo and encouraged the collective to formally report him, claiming that whatever allegations it had would not be sustainable in court. He also said he had reported the page to the police and the FBI. (An FBI spokesperson said they couldn't confirm or deny whether there is an active investigation, and the Puerto Rico Police Bureau did not respond to our requests for comment.)
Two days after Morales's suicide, Yo Te Creo said in a statement that while it mourned his death, it was not their fault. "We haven't done anything that wasn't exposing truths that existed prior to the creation of this grassroots platform," they wrote. "Our conscience is clear." The group also announced it would take a break from posting names. "This is exclusively a decision of self-care," Gabriela told me later that day. "For all women of Puerto Rico, the events of these weeks have been emotionally exhausting and a reminder of the machismo that surrounds us." Since then, the group has focused on sharing resources for victims and posting feminist educational materials, though recently it has started sharing a few names now and then. In early October, the organizers said the lists might return soon.
Although Puerto Rico's right-wing leaders have spent years pushing a vitriolic campaign against gender equality, its most visible conservative zealots paid no mind to Morales's death. Instead, his suicide largely became a flashpoint among progressives who agree with Yo Te Creo's politics in theory but disagree with its methods. "Women can't replicate the same violence that we've been objects of," wrote sociologist Madeline Román in El Nuevo Día, the island's largest newspaper. "Saying the state failed us can't be used as a justification to replicate exactly what we've historically criticized." Many critics also feared the account would help roll back whatever progress had been achieved in recent years to make Puerto Ricans recognize the scope and depth of the gender-violence epidemic.
That the system routinely fails Puerto Rican survivors is a reality more people have begun to accept. In a previous investigation, I found that in the year after Hurricane Maria, the intimate-partner murder rate spiked to 1.77 out of 100,000 — more than double that of the entire U.S. In 2020, Puerto Rico had the highest rate of trans homicides in the U.S. Experts say official statistics don't fully account for how many people have faced gender violence. "We know that for every case that's reported, there's possibly more than two victims that stay silent," says Elithet Silva-Martínez, co-founder of the survivors' advocacy group Siempre Vivas Metro and a professor of social work at the University of Puerto Rico.
Police are slow to respond to gender-violence claims, and last year I found a crisis of alleged abusers within the force itself: Nearly 450 complaints of domestic violence were lodged against police officers between 2015 and 2019, and only one case ended in a trial and conviction. A recent report found that just 34 percent of applications for protective orders were successful. "That women don't find absolutely safe spaces to report violence — that they see traces of impunity — forces them to seek out alternative means," says Silva-Martínez. "Those alternative means point at the system's failures. Survivors cannot be blamed for trying to find a way to make their voices heard."
The crisis led Governor Pierluisi to declare a state of emergency over gender violence in late January. The Financial Oversight and Management Board for Puerto Rico, which oversees the island's finances, freed up $7 million in funding to deal with gender violence starting this past July. The government had already established a committee tasked with reviewing current public policy and holding public hearings. The state of emergency also called for the creation of a mobile app to assist victims, a program to check in with survivors who have filed protective orders, and a gender-focused curriculum in public schools, among other steps in the process of being implemented.
Despite these recent acts of urgency, change has been insufficient and too slow, according to advocates. To them, the weight on survivors' shoulders remains the same: You're on your own.
Pamela, the woman falsely accused of helping create Yo Te Creo, is still in the depths of mourning her husband, who died unexpectedly last year. While trying to keep her head above water for her child's sake, Pamela was harassed by trolls who threatened to release her home address unless she apologized for Morales's suicide.
So Pamela did what Yo Te Creo's critics encouraged victims to do: She asked the authorities for help. "In the court, they had me like a ping-pong ball going from one desk to another," she told me. "They finally told me to go to a precinct but didn't give me a referral. I asked for a counselor, but they didn't want to find one. This is why the page exists. Because we're so easily dismissed."
Pamela had met Morales and says he's not the only person she knows who ended up on a Yo Te Creo list. She says her own rapists are on it. And like many other Puerto Rican women, so are some of the people closest to her. That hasn't shaken her resolve. "So many men are angry because we're 'fucking up' their reputations, but they don't realize they fucked up our lives. Are there names there that maybe shouldn't be in it? Perhaps. But who am I to say who belongs and who doesn't?" she said. "People I love are in the lists. It broke my heart." She paused. "I don't know their past. I can just recognize that they have not been that person with me."
Abusers "are not monsters, necessarily," said Deborah Tuerkheimer, a law professor at Northwestern University who has extensively studied issues of reporting sexual violence. "They're our friends. They're our neighbors. They're our coworkers, our family members." She added that survivors can change the way we think of certain crimes. "By coming forward and putting stories into the public domain, accusers can reshape popular understandings in ways that will, down the road, benefit other victims and may even bring about cultural transformation." Survivors can also find catharsis in naming a perpetrator publicly, she said. They connect with others who may have been hurt by the same individual or in a similar way, and they feel as if they are protecting potential victims from the same trauma. And in a place like Puerto Rico, survivors may believe they can help end the misconceptions and taboos around the issue of sexual violence that persist today.
If you ask prosecutor Ileana Espada, who heads the committee established by the gender-violence state of emergency, victims who feel empowered to speak out online should consider bringing their claims to the authorities to get justice. That's what happened last year in the case of the Yatea yacht company, she pointed out. "Survivors and victims need these spaces to heal, to talk about their situations, to become stronger," she said. "Our plea is that they come forward with complaints to the authorities. We can't expect the mistrust to disappear from one day to the next, but give us an opportunity. We are committed. I've been a prosecutor for 20 years, and I've always believed." But when I asked Gabriela whether the Puerto Rico Police Bureau had reached out to her to connect with victims and investigate their allegations, she said no.
In Gabriela's view, women in Puerto Rico had to beg for nearly three years before a state of emergency was even declared. So now they focus on grassroots efforts and are intent on saving themselves. "Like Audre Lorde said, 'The master's tools will never dismantle the master's house,'" Gabriela said. "Silence enveloped us for too long. We had to live with seeing our dead in the newspapers, seeing friends burying friends. We can't go back." The group believes Yo Te Creo will keep evolving and remain until there is no longer a need for it. If it ever shut down, Gabriela told me, other people would step forward and create their own spaces.
But the collective's work carries profound risks. The most obvious is that alleged abusers can seek retribution against their victims whether they were the ones who reported them or not. There could also be defamation lawsuits, with which the group has been threatened multiple times. Nationally, we're seeing a trend in which an alleged perpetrator sues his accuser for sharing her story online. "It has a silencing effect," Tuerkheimer said. "Truth is a defense to a defamation suit. Ultimately, if you can show that the statement is true, you're going to win in the end. But the costs of litigating any lawsuit, including a defamation suit, are significant. There's an emotional toll; there's certainly a financial toll."
Today, Yo Te Creo is an avatar onto which its supporters and detractors project their hopes and fears. But dealing in absolutes is a fool's errand for either side. At its core, the project is inevitably flawed — which leaves room for more fallout and litigation in the court of public opinion — because it attempts to fill the void left by a system that's broken by design. Yet so much energy has gone into debating the account's merits, instead of actually attending to these gaps. In the meantime, Yo Te Creo will continue to offer a glimmer of liberation for survivors who have only been able to panhandle the crumbs of justice for decades. The question is whether we will accept that as enough.
If you are in crisis, please call the National Suicide Prevention Lifeline at 800-273-8255 for free, anonymous support and resources.