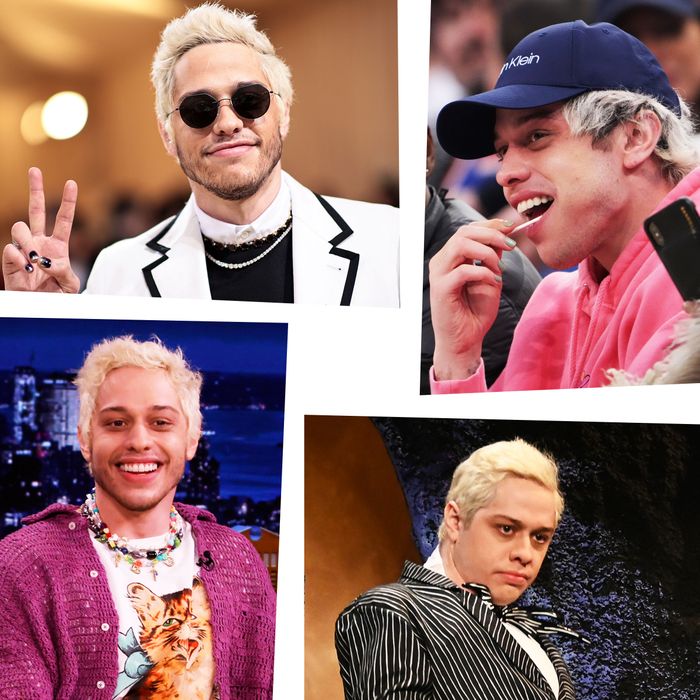 Pete Davidson (top left), Pete Davidson (top right), Pete Davidson (bottom left), and Pete Davidson (bottom right).
Photo-Illustration: by The Cut; Photo: Getty Images
How do you measure a year? In daylights? In sunsets? In the various escapades of one Peter Davidson? It is nearly impossible to process the passage of time anymore — 2021 was somehow 37 months long, and yet, I don't remember autumn happening. Fortunately, we can look to our favorite tall boy from Staten Island to try to remember what even went on this year.
The Beginning
2021 started off as all years do: in January. The month was relatively chill. Pete kissed John Krasinski. Later, he and BFF/biological twin brother Machine Gun Kelly took an unintentional tumble off the Saturday Night Live stage. A relaxed month for our busy guy!
February was equally calm. Rising pop sensation Olivia Rodrigo said Pete is her celebrity crush — a noteworthy moment for some, another Thursday for Pete. This revelation came after Pete and his SNL castmates performed a gorgeous rendition of "driver's license" with host Regé-Jean Page, or, as he's better known as, the hot duke from Bridgerton. Speaking of which …
The Bridgerton Era
In late March, there were rumors Pete was spending time with Bridgerton's Phoebe Dynevor. Wink-wink and, furthermore, nudge-nudge. In April, the Daily Mail published a gratuitous 66 photos of the two romping through the English countryside. Despite their pastoral romp as well as their Wimbledon appearance in July, the two of them reportedly broke up a few months later. Alas!
Miscellaneous Months (Or: Remember Suicide Squad?)
In April, Pete reportedly moved out of his mom's basement into a $1.2 million luxury condo in Staten Island. Proud of you, Pete! Later, there were rumors he was leaving SNL and removing his tattoos. While the former was untrue — Pete has returned to SNL for season 47 — he is, in fact, getting some of his tattoos removed. Amid news that Pete had been cast to play Joey Ramone in a forthcoming Netflix biopic, he shared that he's having some of his ink removed partly due to the amount of time it takes for makeup to cover things like "Stewie Griffin smoking a blunt." Our little guy is growing up! In August, we were graced with Pete's presence in Suicide Squad … for about ten minutes before his character Blackguard, a.k.a. Dick Hertz, got his face blown off.
Introducing Pete Davidson, 'Slutty Nun'
In September, Pete went to the Met Gala. He did a great job. Everyone clap.
The Kim Kardashian West of It All
Remember way back to October 29? The day before we saw footage of Kim and Pete holding hands on a roller coaster? It's hard to imagine that time even existed. In a matter of weeks, we've been gifted photos of Kim hanging out with Flavor Flav, Kim leaning into dirtbag fashion, Kim in — and I cannot stress this enough — Staten Island, and the suggestion of a hickey, all thanks to Pete.
Though neither Pete nor Kim have spoken explicitly about their relationship as of yet, they have certainly teased us plenty. And you know what? Good for them! I'm not sure the public could emotionally, mentally, sexually, etc. handle any more than the smidgen of confirmation they have given us thus far.
The Inevitable Pete Davidson Sex Toy
In November, amid news of his rumored romance with Kim, the world was blessed with a vibrator inspired by Pete's, um, Davidson. Though we remain too cowardly to publish photos of the faux phallus, Paper Magazine is not. Use this information wisely.
The Continued Shenanigans of Pete and Colson
Some relationships may come and go, but the bromance between Pete and Colson Baker, a.k.a. Machine Gun Kelly, will be forever. They were able to make it past the aforementioned moment where they ate shit on live television and rounded out the year with an Instagram takeover for Calvin Klein.
They playfully ate popcorn! They talked about their dicks! A charmingly uncomfortable time was had by all.
What Will 2022 Pete Davidson Bring Us?
It's truly impossible to know. With less than a month left in the year, we learned that Pete got (and then removed) matching tattoos with Miley Cyrus. For any other celebrity, this would be among the most newsworthy stories of their year. But for Pete? Just another late-night-show revelation.
I leave you now with some Pete Predictions for 2022: We will get to witness at least one (1) double date with Kim, Pete, MGK, and MGK's equally horny half Megan Fox; Pete will release his debut single, in which he puts his purported vocal lessons to good use; Pete will get a tattoo homage to his time with Kim Kardashian, perhaps even a Skims ad appearance; and, ultimately, he will rule and ruin us all. A merry Pete-mas to all and to all a good Pete!