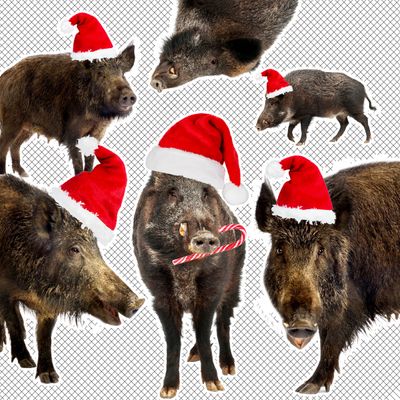 You have been visited by the holiday hogs
Photo-Illustration: by The Cut; Photos: Getty Images
It's the most wonderful time of the year: the time when large teams of feral hogs cavort up and down the banks of Texas's Brazos River, their revelry ultimately spilling out into residential areas nearby. Residents of Fort Bend County may not find this wonderful, given that a band of roving hogs wreaked havoc on their lawns last week, but please keep in mind that feral hogs are coming for us all. And the feral hogs aren't like the other hogs; they are "seasonal" hogs, per local news outlets. Which is to say: They are festive.
How many hogs? Hard to tell for sure, when they stampede by so quickly, but one witness estimate tracks with previously reported numbers for feral hog cabals, generally speaking: "I was thinking to see two, three or four … not 25 or 30," Glen Garner, who stepped outside his Sienna home just after sunrise to find his yard mangled by questing snouts and stamping hooves. Surprising, considering Garner heard nothing in the moment — and you would think, so many clomping cloven feet, what a racket, right? But no, quiet as "thieves in the night," KHOU-11 reports. Garner only confirmed the porcine invasion when he checked the footage from his home security camera: There, he watched as "a whole family troupe" filed down the sidewalk and onto his property to dig their little hearts out. One, then another, then a whole swarm of beefy guys — like watching rats flee a Bushwick dining shed for a pile of freshly tossed trash bags.
Garner called the incident "bizarre," but KHOU's newscaster explains that roving sounders (the technical term for a pack of feral swine, a useful addition to the lexicon considering the rate at which North American hog numbers are growing) have become a "seasonal problem." Oooh, holiday hogs!
Only apparently, the locals do not feel blessed by these visits from Santa's swine, one Sienna trapper telling KHOU that the only way to get the population under control would be to catch and kill 75 percent. (Feral hogs can kill, people and animals alike.) But also according to KHOU, the Houston area's "watered yards and golf courses are a beacon for the invasive animals," who enjoy rooting around for bugs and grubs that get washed up to the surface. Hogs will be hogs, as they say. At least these hogs don't have access to cocaine — yet.