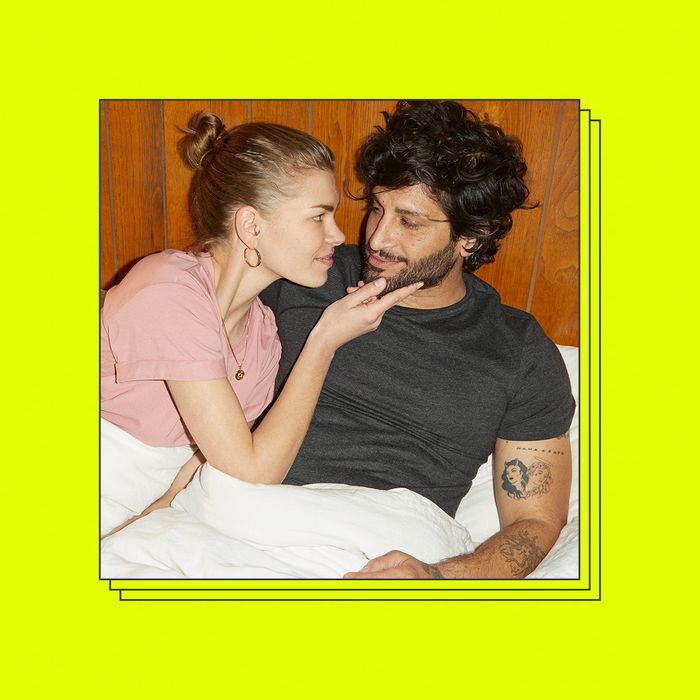 Photo: Courtesy of Client
The holidays rarely live up to the hype. Instead of laughing over a spiced cider with presents open at your feet, your aunts are fighting over the last glass of wine and your mom can't stop asking you when she'll have grandchildren.
When there's only so much a champagne cocktail can do, turn to one of the best de-stressers: great sex. We all want it. When it's great, it's fun, freeing, and one of the best feelings out there. And studies have shown that it can improve your mood and even increase your lifespan. Who wouldn't want more of that? But we all know it's not so simple.
When holiday stress hits, your libido can fizzle out fast. According to psychologist and Rae Wellness expert, Rachel Goldman PhD, "stress and overthinking can impact your desire to be, and feel, sexual." We can't have that when there's mistletoe waiting! Use the tips below for getting out of your head and into the bedroom, for some of the best sex you'll have all year.
Focus on your root chakra
Dr. Revée "Ray" Barbour, ND MS, says, "Our genitals are in the root chakra region of the body and high stress can often block the flow of energy to this area. Switch up your foreplay game and try giving your partner a traditional yoni or lingam massage to help activate energy and release any blockages."
Take a supplement
If you're open to a holistic approach, supplements such as DeStress from Rae Wellness may help. It has ingredients like ashwagandha, which can help enhance the body's resilience to stress, and rhodiola rosea root which may be helpful for alleviating mental fatigue.
Schedule intimacy
Just like you squeeze in 20-minute power naps, sneak in 15-minute intimacy meetings with yourself or your partner between now and the end of the year. This can be something as simple as cuddling up on the couch or a quickie between meetings — whatever you want and need. Try throwing a spontaneous meeting on your calendar, and see what happens.
Be creative
Find new toys, places, and positions to try, and use the advent calendar for inspiration. Each day in December, try something new with your partner. This will keep you both guessing as to what will happen next. And if you're visiting family for the holidays, don't be afraid to bring those tricks into your childhood bedroom.
Go back to basics
Breathwork and hydration are two very simple ways to help prepare your mind and body for sex. Drinking water helps with blood flow and stimulation, energy levels and alertness, and may even help with vaginal lubrication. Breathwork on the other hand, is known to decrease stress and lower blood pressure. Try it fireside to elevate the atmosphere.
Create the mood
Try cooking your favorite meal, lighting sensual aromatic candles, creating a playlist, or role playing. If you find yourself needing a little more support to feel sensual, Rae's In The Mood capsules were formulated with L-arginine which may help blood flow, ginseng, and ashwagandha which may help reduce stress, so you can feel less in your head and more in the moment.
Put your connection first
"Don't worry about end-goals like achieving orgasms or trying to perform because those thoughts and behaviors often distract from the healing aspect of sex," says Dr. Ray. "Instead, focus on deepening your connection with your partner, giving strong eye contact, and basking in each other's energy."
We all want to have great sex. Share what's worked for you and your partner, and join the conversation at @raeforwellness.
This advertising content was produced in collaboration between Vox Creative and our sponsor, without involvement from Vox Media editorial staff.