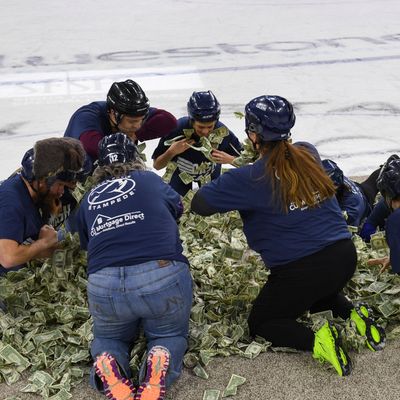 Photo: Erin Woodiel / Argus Leader / USA TODAY NETWORK
Today in dystopian news, a South Dakota hockey league apologized for scattering 5,000 dollar bills on the rink at a junior-league game, and then having teachers scramble on their hands and knees for it — all in the name of classroom improvements.
Though it sounds like it could be a plotline on Squid Game, I regret to inform you that this actually happened. The "Dash for Cash" was organized by the United States Hockey League's Sioux Falls Stampede and CU Mortgage Direct, a mortgage-lending company, which promoted the event as a way for classrooms to get the supplies they needed. "We know in this day and age schools are in need of funding, and we're just trying to play a small part to help them out and have some fun while doing it," said Jim Olander, the hockey league president, in an interview.
But since video footage of this depressing contest spread over the weekend, critics have slammed the event as degrading to the teachers involved. Reynold F. Nesiba, a Democratic senator from Sioux Falls, called the incident "insulting," "absurd," and "disrespectful." The whole affair seems especially ill-conceived considering the fact that, according to the National Education Association, South Dakota teachers receive the second-lowest wage for educators in the country. Not to mention the fact that the pandemic has exacerbated a national teacher shortage, with more teachers than ever resigning and retiring over safety concerns, stress, and burnout.
On Monday, Stampede and CU Mortgage Direct released a joint apology statement, writing that they intended for the event to be a "positive and fun experience for the teachers," but now see "how it appears to be degrading and insulting" to the profession as a whole. However, they then proceeded to defend the giveaway, insisting that the ten participants won "a minimum of $500 each." It seems worth noting that this is actually less than the reported average that public-school teachers — who are notoriously underpaid and overworked — spent out-of pocket on classroom supplies this year, which came out to be around $750. Which is all to say, add literally scrambling for cash to the long list of things that they should not have to put up with.