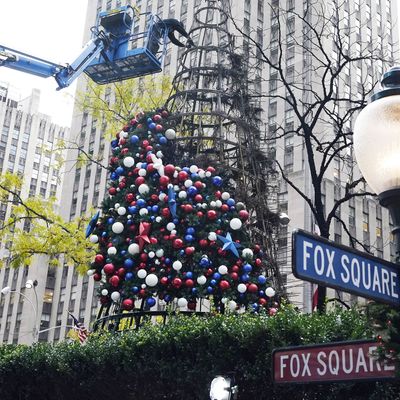 Photo: Richard Drew/AP/Shutterstock
I don't know about you, but after a series of pandemic shitshows, I'd been looking forward to a holiday season that felt a bit more normal, booking tickets for trips and party-hopping through mulled-wine-charcuterie gatherings. But of course, just as things were starting to look almost good, a new, very-contagious variant arrived, and now we're spending our holidays second-guessing social plans and shoving rapid-antigen tests up our noses.
Which is all to say, if you feel like your holiday plans have been lit on fire, you're not alone. That literally happened last night in New York, when, shortly after midnight, a man set fire to the Fox News "All-American" Christmas tree. The blaze worked its way up the fifty-foot tree, burning away the fake greenery and some 10,000 red-white-and-blue Americana ornaments and hanging stars.
The FDNY put out the fire, and thankfully, no one was hurt. A suspect has been arrested and charged with arson, though his motive is currently unknown. Fox Media News CEO Suzanne Scott has declared that it will install another "All American" tree in place of the burned one. A bold stance in the face of such an apparent omen, but then I wouldn't expect any less from the people who spend most of December talking about the "War on Christmas."