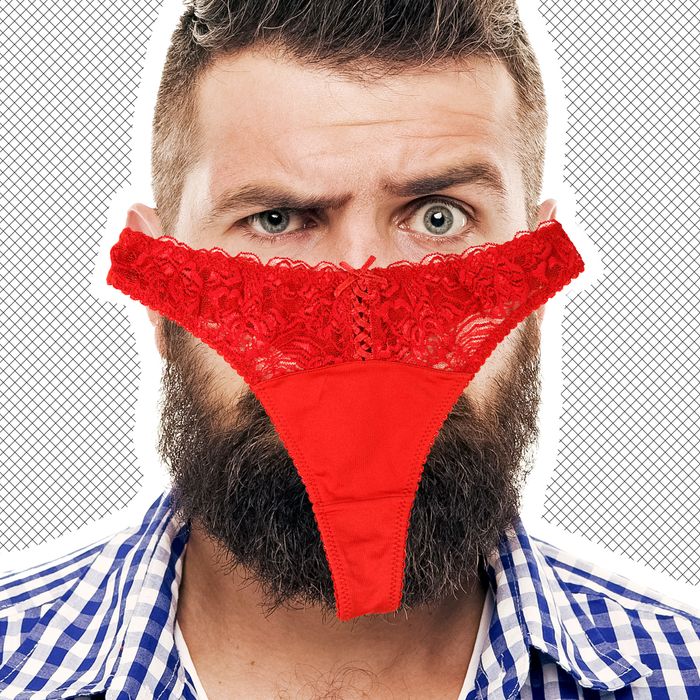 Photo-Illustration: The Cut. Photo: Shutterstock
Distressing news for anyone hoping to travel for the holidays: An anti-masker was kicked off a United flight this week for wearing a thong on his face instead of an FDA-required face mask. The man, Adam Jenne, boarded a flight out of his home state of Florida on Wednesday wearing a bright red thong that was "covering" his nose and mouth, in what he facetiously claimed was compliance with the airline's mask mandate.
In a video of the incident, Jenne is told by a flight attendant that his mask isn't considered an actual face covering and eventually gets kicked off the plane after refusing to wear a real one. "So I can't fly because this doesn't work?" he asks, gesturing at the web of bright red lace covering his airways. A handful of other passengers seem to have joined his little uprising, walking off the plane to protest (?) United's restrictive definition of the word "mask." United refunded his ticket, which seems quite gracious, but banned him from flying with them again.
You will be even more distressed to know that this man is not the first anti-mask renegade to use lingerie as a form of protest. Putting a thong on one's face is apparently a popular way to stick it to public-health regulations. Last year, one anonymous man (maybe the same one?) wore a thong on a Spirit flight, and earlier this year one revolutionary woman went so far as to take her own thong off in the middle of a grocery store and put it on her face when she was asked to wear a mask.
But seriously, as if traveling wasn't stressful enough right now, with holiday crowds and Omicron and whatever else. Imagine boarding your plane, and this guy is there?