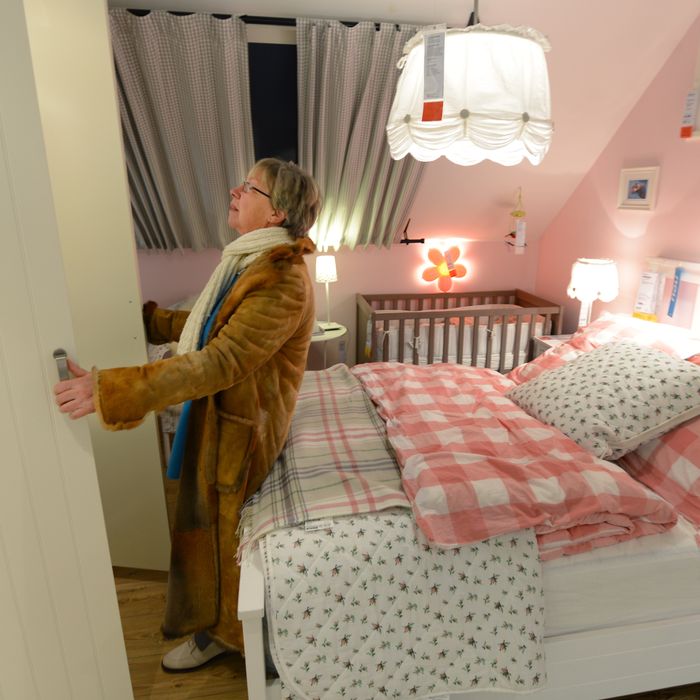 Photo: Arne Dedert/picture alliance via Getty Image
Winter is coming, which means the chances of finding yourself unexpectedly snowed-in in a public place are higher than ever. That's what happened to 61 people in Britain last month, when a blizzard left an Oasis cover band and its fans snowed in together for four days. They apparently made the most of it, drinking pints and tucking into proper Sunday roasts — but just speaking personally, listening to "Wonderwall" covers on repeat sounds like an uncharted circle of hell.
On the other hand, being snowed in at Ikea sounds like it could be … actually sort of nice? Last week, a snowstorm in Aalborg, Denmark, left 31 people — 25 workers and six customers — stranded at a local Ikea, forcing them to have an "impromptu sleepover," which should definitely be the premise for a Hallmark movie. It actually sounds quite cozy, with the group playing cards and watching Christmas movies. At dinner, they gathered in the Ikea cafeteria, reportedly dining on hot chocolate, rice pudding, and beer (we hope there were also meatballs). Then they apparently got to wander around the showroom and sleep in beds of their choice.
Peter Elmose, the store manager, called the sleepover a "once-in-a-lifetime experience," explaining, "Our values are to take care of each other and so we had a nice time and enjoyed the evening." Well, just something to keep in mind the next time it flurries.