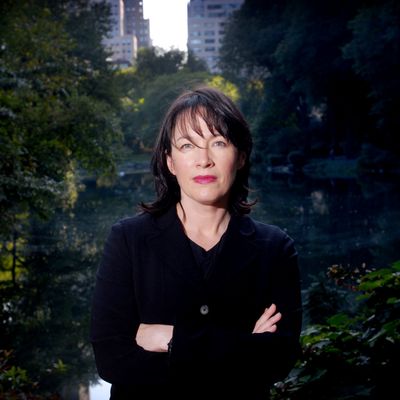 Photo: Neville Elder/Corbis via Getty Images
Author Alice Sebold has issued a public apology to Anthony Broadwater, the man who was wrongly convicted of raping her in 1981, when she was a freshman at Syracuse University. At her 1982 trial, Sebold identified Broadwater — who at the time was 20 years old and on leave from the Marine Corps — as her attacker in court. The assault and ensuing trauma went on to become the subject matter of Sebold's 1999 debut memoir, Lucky. Sebold would later explore themes of sexual assault in her best-selling 2002 novel, The Lovely Bones. 
In Lucky, Sebold writes about the inconsistencies in her rape case. For example, she says she identified a different man from a police lineup and that a composite sketch didn't resemble Broadwater. She also wrote about her fears that the defense would perceive her as "a panicked white girl who saw a Black man on the street" and was "accusing the wrong man."
Prior to the latest development in the case, Lucky was in the process of being filmed when an executive producer began to scrutinize the flaws in the original trial. The producer dropped out of the production over his doubts about Broadwater's guilt and hired a private investigator, who brought on a defense team to represent Broadwater. Last week, a state court overturned Broadwater's wrongful conviction, and he was exonerated. It has since come out that plans for a Lucky film adaptation had been scrapped.
Following his conviction, Broadwater spent 16 years in prison and registered as a New York sex offender upon his release in 1998. According to the New York Times, Broadwater insisted upon his innocence for years. He repeatedly tried hiring lawyers to prove his case and was denied parole several times for refusing to admit his guilt.
Sebold's apology, posted to Medium on Tuesday, opens with a direct address to Broadwater: "I deeply regret what you have been through," she wrote. "I am sorry most of all for the fact that the life you could have led was unjustly robbed from you, and I know that no apology can change what happened to you and never will."
She continued, "My goal in 1982 was justice — not to perpetuate injustice. And certainly not to forever, and irreparably, alter a young man's life by the very crime that had altered mine." While "grateful" that Broadwater has been exonerated, Sebold said that she will "forever be sorry" for what "was done to him." She acknowledged the undercurrent of systemic racism in the case, which she claims was "unfortunately … not a debate … or even a whisper" in 1981. She also spoke to the fact that, nearly 40 years ago, Broadwater became "another young Black man brutalized by our flawed legal system," and that her semblance of justice came at his expense. Sebold wrote that she'll continue to "struggle" with how she unknowingly played a part in putting an innocent man in jail.
"I will also grapple with the fact that my rapist will, in all likelihood, never be known, may have gone on to rape other women, and certainly will never serve the time in prison that Mr. Broadwater did," Sebold said.
Broadwater told the Times that he was grateful for Sebold's apology. "To make that statement, it's a strong thing for her to do, understanding that she was a victim and I was a victim too," he said.
Scribner, Sebold's publisher, announced on Tuesday that it would pull Lucky from distribution and consider the possibility of revising it, contradicting a statement it released last week saying that it had no plans to revise the text in light of the overturned conviction. The case will be the subject of a new documentary, Unlucky, which will be produced by Red Badge Films. Broadwater and his lawyers have said they will participate in the documentary, but there's no word yet as to whether Sebold will be involved.