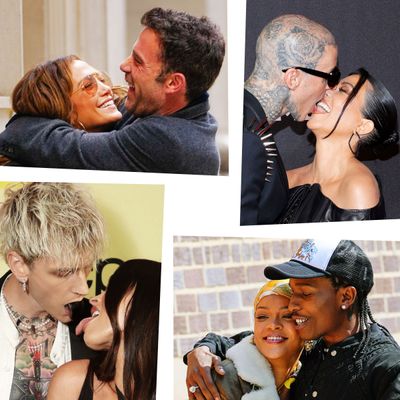 As we go on, we remember.
Photo-Illustration: by The Cut; Photos: Getty Images
I don't know if you noticed this, but the celebs really went for it this year. Or maybe "at it" would be more precise phrasing: Not since the early aughts have so many famous couples felt so comfortable indulging in cringe-inducing behavior in front of the cameras. Mostly we are happy for them and applaud their boundless love, but as the horny police, we have also identified a few repeat offenders in the gratuitous-PDA category.
Although many new couples debuted this year, not all of them will make this list. Here are my criteria for inclusion in the roundup:
The couple must be relatively new. What we are looking for here is a resounding horn that either sounded for the first time within the past 12 months or feels like it was somehow the song of the year. So while Justin Bieber is out there saying haunting things about how he wants to "squish out a nugget" with wife Hailey, this type of sexual oversharing is in no way specific to 2021 and is therefore disqualifying.
The couple must be touchy in public. As much as 2021 marked the return of the cringe couple, it was also the year of unexpected pairings. However! Some of the new items — Zoë Kravitz and Channing Tatum; Harry Styles and Olivia Wilde; Zendaya and Tom Holland; sweeties Phoebe Bridgers and Paul Mescal — typically opt to exist in public without heavy petting. Therefore I must exclude them, affectionately, from my little list.
If the couple is not touchy in public but do drop routinely conspicuous hints about their mutual lust, I will consider making an exception. On a case-by-case basis because I am fair.
Good? Good. Below, the biggest horndogs of 2021, in order of appearance.
Megan Fox and Machine Gun Kelly
Admittedly a love that first reared its head in 2020, Megan Fox and Machine Gun Kelly's romance really revved up around the time live-audience UFC matches returned. This year, we learned about the blood necklace. We watched Fox and MGK make out at cage matches, on social media, and on various red carpets. We saw them take home the informal prize for Best Tongue Collab at the Billboard Music Awards, celebrated with a preemptive crotch grab in front of all of us, and we saw them orchestrate a co-makeout in a restroom for posterity. We have wondered why they chained themselves together by the pinkie nail and what those leeches were for. It's all a lot to take in, but we are happy that they are happy, no? MGK used to have a poster of Fox on his wall in high school; now, he is dating his all-time celeb crush and doing double dates with the Blink-182 guy and a reality-TV star. (Wait for it!) Congrats to all involved.
Katie Holmes and the Sexy Pasta Scion
Another holdover from 2020: Katie Holmes and her sexy pasta scion, seen making out all over the damn city for months and months and months. (Approximately seven of them, in fact.) For a while there, the kissing was so gleeful and pedestrian — we're talking sidewalks all over Manhattan; in Soho, on Wall Street, and in and around Central Park — that "Page Six" dubbed Holmes the "queen of public makeouts," while the Daily Mail's sources complained that Holmes was acting like "a teenage girl in love." "So what!" we said. All the gorgeous, slutty pasta you can eat! But sadly, the sexy pasta scion (Emilio Vitolo Jr., presumptive heir to Emilio's Ballato, the family restaurant) was out of the picture by May. Still, we will always have the memories. (Piles and piles of paparazzi pics ft. these two laughing into each other's mouths.)
Kourtney Kardashian and Travis Barker
Not unrelatedly: Kourtney Kardashian and Travis Barker. Cast your brain way back to the start of the year — these two weren't even a couple yet. Or at least not a confirmed couple; they soft-launched their rumored union on Instagram ca. Valentine's Day and made it official a few days later. Their progress was swift and uncompromising. First came what looked like ringside finger sucking at a UFC match. Then came finger sucking on main and the custom orgasm candle and the repeated touching of tongues for the cameras and a total overhaul of one party's personal aesthetic to fully embody goth GF. And now they're engaged, bitch! Really gives you perspective re: how much can change in a year. Just think, in 12 months this could be you and your Calabasas neighbor. Dare to dream:
Daphne Bridgerton and Pete Davidson
The fact of Regency-era hottie Daphne Bridgerton (Phoebe Dynevor in modern-speak) romping with tall rogue Pete Davidson became widely known in April when the Daily Mail published approximately 57 photos of them getting groceries and messing around in a field. This momentous occasion came coupled with the news that they wore matching "PD" necklaces — they share initials — and were "really into one another." More proof of that statement emerged at Wimbledon when photographers snapped them kissing and cuddling in the stands. Unfortunately, they broke up about a month later. Good-bye to all the tabloid pics of them petting in public. But Pete's year in PDA didn't end there — keep reading, please!
John Mulaney and Olivia Munn
I will grant that John Mulaney and Olivia Munn, while being very unexpected as a pairing, are not the most outwardly horny couple in this bracket. I'm pretty sure the only photo of them that exists in our database is the above snap from a lunch they once ate at an L.A. burger place. But this couple earns a spot on our list for implicit horniness: In May, reports of their budding romance followed immediately on the heels of news that Mulaney was divorcing his wife of about seven years. For months, the public (me) wondered if they actually even knew each other — you know, in a deeper sense than having chatted at a wedding many years ago, which, according to one of Munn's old interviews, is how they met. Well! Joke's on me because Mulaney and Munn just had a baby together. While it is unclear if they remain horny for each other, they definitely were at one time, so … welcome to the roundup, friends.
Ben Affleck and J.Lo
Want to feel old? Okay, great: When we started 2021, Ben Affleck was still dating his partner in conspicuously staged pap walks, Ana de Armas; meanwhile, Jennifer Lopez was still engaged to marry Alexander Rodriguez. But then Affleck and de Armas broke up, and around that same time, rumors of A.Rod's alleged infidelity emerged. Reports of rockiness in the J.Lo-A.Rod household followed shortly, leading to a split confirmed via joint statement in April. This made A.Rod outwardly sad but cleared the way for Affleck's seduction, which he reportedly accomplished via flirty emails. Soon enough, J.Lo was having her banner ex delivered to her door, then accompanying him to his favorite romantic spot (Montana). Then we were all banging our greedy little fists on the table, clamoring with escalating urgency for them to please, give us a little kiss … and they did! They had a full-on makeout session at Nobu in Malibu, where they surely knew we would see them, and suddenly it was 2003 again. Here's Ben touching Jen's butt on a yacht — again. Here's Jen kissing Ben with masks on — again and again. Bennifer's back to doing what Bennifer does best: extremely public PDA, seemingly staged for the cameras. Never change.
Rita Ora and Taika Waititi and Tessa Thompson
This brings us to the end of May, a very important month for three-way kissing. May is when the paps caught Rita Ora, Taika Waititi, and Tessa Thompson making out at Waititi's house after a party. (The Daily Mail published a boatload of pics if your memory needs jogging.) Then, the day after the party, Thompson went on to enjoy what the tabloids deemed "a flirty stroll" with a male model. Apparently, the actor and the model "could hardly keep their hands off each other" and "were seen smooching passionately as if no one was around." Displays of outward horniness x 4, please clap.
Rihanna and A$AP Rocky
So Rihanna and A$AP Rocky have probably been dating for at least a year now — rumors that the longtime friends had become regular lovers surfaced last fall and were seemingly confirmed when Rihanna brought A$AP Rocky home to Barbados for Christmas — but their first public kiss wasn't captured on-camera until June. Rihanna is Santa, so she did it up big for the pair's first bar makeout, selecting a large and fluffy pink hat for the occasion. Since then, they have been seen touching each other in locations around the city and showing up many hours late to the Met Gala, which … good. A$AP Rocky also considers Rihanna the "love of his life," and we are rooting for them. Let's keep up this energy through 2022.
Megan Fox and Kourtney Kardashian
Some full-circle shit, as Machine Gun Kelly would say: In September, Skims mogul Kim Kardashian dropped a sexy photo shoot with openly horny girlfriends Megan Fox and Kourtney Kardashian, a.k.a. Kim's older sister. They didn't make out with one another but seemed always about to, leading me to believe they were trolling us with all this crossover content. So many double dates! So much making out in the bathroom at the big event as a staged tableau. Give the people what they want, and if that turns out not to be two-for-one groping photos, well then … do it for the 'gram, I guess.
Kim and Pete
Speaking of Kim: Knott's Scary Farm. It's time to strap in for a roller-coaster ride with Kim Kardashian and Pete Davidson, who were first spotted holding hands while on a Halloween double date with Kravis (see above). AaaaaaaAAaaah is correct. Days later, Kardashian went to Staten Island to enjoy private rooftop meatballs with the borough's king. Then came a Skims-sponsored birthday party for Davidson, ft. Kris Jenner and Flavor Flav. Now they are giggling in cars! Now Pete has an apparent hickey! Now it's Thanksgiving together and, now, the movies! I bet you did not expect this to be happening, but I will say Kardashian deserves it, having gotten the ball rolling on a divorce from Kanye — now just Ye — West on the eve of the Capitol riot. (My God, we feel ancient.) A tangled web for sure, but anyway, it's Kim and Pete's fling to close out the year. Cheers!