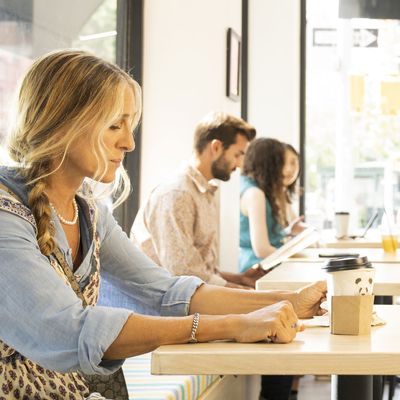 Welcome to the Cut's recap series for And Just Like That …, from the brains behind pop-culture museum Thnk1994. Spoilers ahead.
Dear Samantha,
Guess what happened at Starbucks. Charlotte went into Miranda's bag to get a phone charger and it was filled with empty mini Tito's bottles. Something even more insane happened at Chalait, Jessica Seinfeld's favorite UWS matcha spot: Carrie walked in on Natasha (Bridget Moynahan) trying to pee in the bathroom and then scalded her hand with the coffee she bought so that she herself could pee. Something even crazier happened at Miranda's house: We found out she doesn't soak her chia seeds.
These are just some of the major developments in episode three of And Just Like That … We have learned through a statement made by Dr. Suzanne Steinbaum, a cardiologist on Peloton's health and wellness advisory council, that Big's death was a direct result of his "extravagant lifestyle." The case is still ongoing, but what's important is that Peloton is on everyone's lips again; you know better than anyone that you cannot buy publicity like that, unless they did and this was an elaborate scheme. Bethenny Frankel was so impressed she tweeted that this is how true business people handle a situation. Samantha, are you handling their PR?
Carrie is still in mourning, which she is expressing by trying to hack into Big's computer, redeeming his Pinkberry punch card, and walking around Central Park at 6 a.m. in a dress that Instagram users accused of being fast fashion. Every move is being watched! This stage of the grieving process was instigated when Carrie learned that Big left Natasha $1 million in his will. Later at brunch, Charlotte makes a really good point when she says that after taxes, it's only $450,000. That's not a lot to Big; he's in finance.
Speaking of this brunch, it's kind of historical. For the first time ever, Stanford is there, and we learn that he is in therapy over his lack of brunch invitations throughout the years; this is revealed after Charlotte tries to disinvite him on the spot. Apparently, she wasn't expecting him and she booked a three-top and she doesn't want to be difficult because there are very few restaurants that won't remind Carrie of Big and/or you. Even though upscale orgies attended by nutritionists in the Meatpacking District are back, New York is still dead without you. Stanford shares that he was once a host at the Odeon and knew Bret Easton Ellis, so his lack of invitation does seem egregious at this point. One page of this brunch-scene script leaked in July. On this page, it was revealed that there was "unfinished business" and that Miranda was having red wine at brunch. Who could have known this meant Big was leaving Natasha literally $5 in his will and that Miranda is an lgBtq alcoholic now?
The Q in LGBTQ, as it turns out, stands for Rose, who is now questioning her gender identity. This revelation comes after Charlotte calls Rose her "baby girl," but not in the Valerie Cherish way. Rose tells Charlotte, "I never feel like a girl." This news makes Charlotte fall off of the bed and into Anthony's rented kitchen for the bread-making business, Hot Fellas, he started during the pandemic, to do some of her own questioning. While she made a practical choice by finding the nearest gay person, she probably shouldn't have turned to someone who thinks kids are stupid. She is being very Charlotte about the whole thing, but if we learned anything from her conversion to Judaism, she will soon be on the cover of The Advocate.
Samantha, remember when Carrie said that comedy clubs are the modern-day equivalent of hell on earth? The women attend a joke-free stand-up show at Webster Hall performed by Carrie's podcast boss, Che. It is the most erotic experience of Miranda's life and it's a beautiful thing to see. She hasn't had sex with Steve in years, so she lies about going back to Brooklyn and sneaks in to the after-party, where Che shotguns weed into her mouth. On the Uber ride home, Charlotte tries to bring up that she's been noticing Miranda's drinking, which Carrie doesn't want to hear, so she tells her to stop noticing things.
Truly, though, the star of this episode was Natasha. When it leaked that she was returning, we had imagined a season-long arc, and all of that was jam-packed into this pivotal episode. Carrie found out about Big keeping Natasha in the will, emailed, DM'd, stalked, got blocked, and had a full reckoning (which included third-degree burns), all before the climax. In the end, they decided they shouldn't follow each other on Instagram and Natasha walked out in peace, back to her life of luxury cashmere and giant paintings of sheep while Carrie walked home, but home home. Her apartment.
So Samantha, if you send mail to the apartment she shared with Big, please know that SHE WILL NOT GET IT. She is at her old address now and probably going to be staying there while she sorts herself out. As Vogue once famously said, Carrie Bradshaw is single and living in New York.