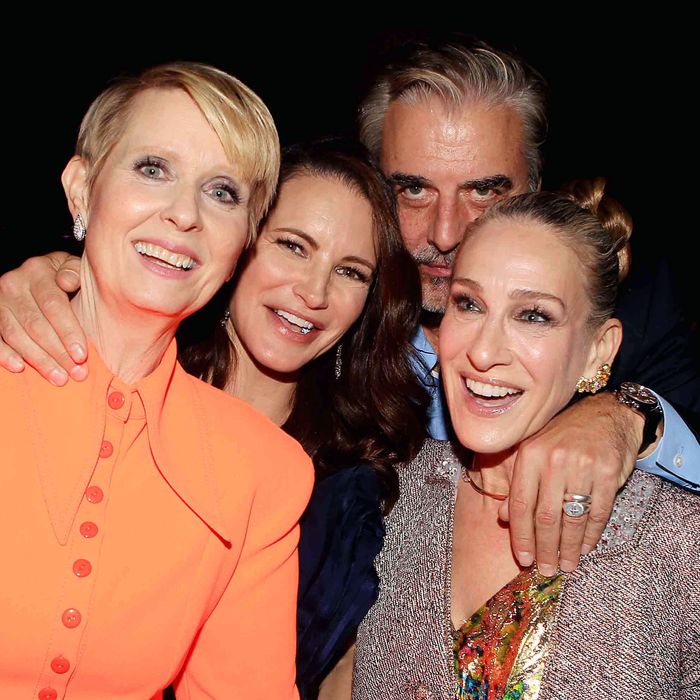 A reunion.
Photo: Dave Allocca/Starpix/Shutterstock
"I was so nervous," Sarah Jessica Parker told me at the former Barneys, which had been masterfully brought back to life — complete with two-tone pink carpet and glass cases full of Fendi bags and candied Manolo Blahniks — ten months after shuttering its doors, as a venue for the after-party of HBO Max's And Just Like That … premiere. A very fitting location. "Did you like it?" she asked.
Parker was referring to the fact that about an hour earlier, and a bus ride across town, the premiere of the series being billed as a "new chapter" of Sex and the City had just been shown to a select group of about 400 people at the Museum of Modern Art. I was her "guest."
On the red carpet, Parker's other guests were her husband, Matthew Broderick, and their son, James Wilkie, making his adult red-carpet debut (he was last on a red carpet when he was 12, he told me) after first appearing on SATC inside his mother's belly throughout the fifth season. Broderick and James Wilkie wore Thom Browne.
Earlier that night, around 8 p.m., SJP glided into the pre-reception in her custom Oscar de la Renta gown, and heads didn't just turn — they did a full Linda Blair. The faint sound of muffled screaming? That, I'm afraid, was all me, trying with modest success not to reveal my outlier status in a room full of somebodies. "She's kind of our Jackie Kennedy," the late Willie Garson's Stanford Blatch said of his best friend, Carrie Bradshaw, in the second episode. He might have been talking about the New York Star columnist turned — wait for it — podcaster, or he might have been talking about SJP herself.
Christopher John Rogers, who outfitted Cynthia Nixon in her habanero dress from his 008 collection, joined me at the bar, where we sipped on Cosmopolitans (couldn't not, y'know?) with Christie Brinkley (as one does), who had driven in last-minute from the Hamptons after scoring an invite (again, as one does). Michael Kors interrupted us to say his hellos to CJR as I gazed out into a crowd that included Gayle King, Andy Cohen, Amy Sedaris, Jonathan Groff, Victor Garber, Boris Kodjoe, Bridget Everett, and Desus Nice, among a sea of others.
About 25 minutes later, we hustled into the theater, past Anna Wintour and Huma Abedin, and assembled in a room brimming with nervous excitement. Nervous to find out the fate of our beloved Samantha. Nervous that the show's legacy might be tampered with. Nervous that the show couldn't clear the high bar of expectation. But excited to have the ladies back on our screens. Excited to find out what they'd been up to in the 11 years since we'd last seen them. Excited for the fashions.
Then the lights flickered, and Michael Patrick King, the show's creator, appeared before us. "Without further ado, on behalf of everybody who wanted to see Carrie, Miranda, and Charlotte back in this hilarious city — and just like that, here we are." Lights down and there they were, like no time had passed at all. (And if you don't want spoiler alerts, I would stop reading now.) Addressing the Sam Jones–shaped elephant in the room happened early on. A few scenes later, when we learn that Carrie fired Samantha as her publicist "and then fired [her] as her friend," it really felt like SJP was talking about Kim Cattrall. "I always thought the four of us would be friends forever," Carrie says, acknowledging what felt like the audience members and a desire we've held on to since the series ended. In episode two, Samantha sends flowers to cover Big's casket. Carrie is clearly very touched. The show certainly has left room for Cattrall to reconsider her stance. I couldn't help but wonder, Will Kim watch the show? How can she not?
About that Big moment that ended the premiere episode: A prolonged hush fell over the audience as people came to realize what was happening at varying beats throughout the scene. Some knew from the outset where this was headed, while others didn't catch on until he collapsed to the floor; others were still in denial until Carrie arrived home and rushed to his on-the-brink-of-lifeless body, the Manolo Blahnik blue Hangisi shoes he gifted her in the first film drenched from the shower Big was attempting to take before his heart attack.
On the dance floor at Barneys, a quick hello and happy birthday to Mario Cantone and a beeline to watch Nixon channel her inner Gloria Gaynor as she danced to "I Will Survive." Grabbed some French fries that were affixed to parasols being maneuvered throughout the space before snapping some selfies with Hari Nef, who had changed from her fringed Ami Paris to a Fleur du Mal. Did she complete the look with Carrie's signature fur coat? She did. And to quote Julia Roberts's character in Stepmom, another fashion-industry fixture: "Thank God for that." And don't even get me started on that truffle pasta. I could write a whole dissertation on the hot-food station's impact, but I'll spare you.
Was I secretly hoping Cattrall would roll up at the afters, suddenly convinced she'd made the wrong decision and ready for cameras on a season two? Well, of course.