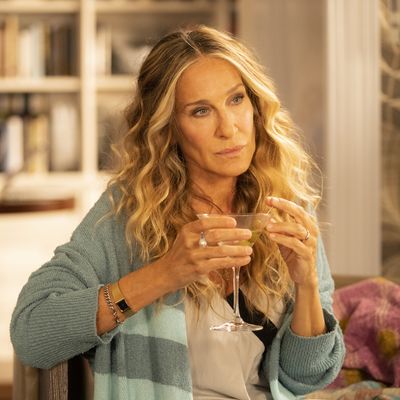 Welcome to the Cut's recap series for …And Just Like That from the brains behind pop culture museum Thnk1994. Spoilers ahead.
"Samantha isn't a part of this story, but she will always be a part of us. No matter where we are or what we do. X"

— Sarah Jessica Parker via Instagram



Dear Samantha Jones (and also Kim Cattrall),
Those were wonderful flowers you sent to Big's funeral after he had a heart attack on a Peloton bike a day after Carrie watched him masturbate. Though you are far away in London, we feel your presence everywhere. It's in the colorless window panes where Sushi Samba once stood. It's on the trip from the Port Authority Bus Terminal to Caesar's Palace in Atlantic City, where the SATC slot machine is always warm. Most importantly, it is in the women whose stories we are watching unfold on … And Just Like That, which premiered at 3 a.m. ET this morning and is definitively the best show on television. We know there was a falling out between you and Carrie after she fired you as her publicist because of the changing nature of the book-publishing industry. This is something we learned in the first episode as Carrie and Miranda walk past the News Corp. building, Carrie now on her way to record a podcast. We can only assume the Christmas tree that was set on fire outside of this building a few days ago, at this very spot, was a message from you. A burning effigy of your presence in the midtown area and beyond. Know that it was heard. Since you aren't as Charlotte says, "with us," let us fill you in on what is going on with your estranged friends.
Miley Cyrus, whom you know, once sang, "No one stays the same / You know what goes up must come down / Change is a thing you can count on." That is so true with the women of … And Just Like That. So much has changed! When the first images from the set started to hit the internet, most, if not all, of the comments on Instagram centered on the color of Miranda's hair. It's gray now. Charlotte, like all Instagram users, wants Miranda to change it back to red, but as Miranda points out, "We can't just stay who we were." To that end, Miranda has quit her job and is pursuing a master's degree in human rights. It seems the Trump presidency was hard on her. While a roaring subway goes by, she shouts in the face of her professor Dr. Nya Wallace (Karen Pittman) about how wearing the pink pussy hat wasn't enough. In class, she is accused of being a little "quick with the pronouns." She consistently puts her foot in her mouth when talking with anyone who isn't Carrie or Charlotte. She rips shots of bourbon and Chablis at 11 a.m. and may be flirting with Carrie's podcast co-host, Che Diaz (Sara Ramirez), after threatening to get them arrested. At the end of the second episode, she whips a rabid Chucky doll across the face with her textbook on the subway. Change really is a thing you can count on.
Carrie is also trying to navigate the new world. She started a fashion Instagram where she films people passing by her in fun hats, and since she joined the podcast, it has become "a thing." It seems that she had finally gotten into the groove of being in a marriage (quarantine had conditioned her to Big's music collection). Other than the absence of you, Samantha, things were going really well, but now Carrie has to be strong. Big's death came right after her podcast host told her she needed to "step her pussy up," so suffice it to say we wouldn't want to be in her shoes, no matter how beautiful they are. Charlotte has been spotted around town crying a lot. People (Carrie) are saying she's making Big's death about her, but we all know Charlotte just gets emotional sometimes, and when it gets down to it, it's really about Peloton. Samantha, you wouldn't believe it — the kids are all grown up. Charlotte's daughter Rose is out of the "terrible twos" but still hates her mom, while her oldest daughter, Lily, is really good at the piano. Miranda's son Brady is 17 now, and he's kind of the new you, in that he's having the most sex of anyone on the show. Charlotte also has a powerful new friend named Lisa Todd Wexley (Nicole Ari Parker), who shares some wine that Miranda brings in her purse to a children's music recital.
The more things change, the more they really do stay the same, and some familiar faces have been popping up as we spend time with our friends. Bitsy Von Muffling (Julie Halston), whose husband, Bobby, died during the lockdown, is everywhere. Susan Sharon (Molly Price), who, like you, has unresolved issues with Carrie, makes an appearance at Big's funeral. There is even an appearance by Gloria (Brenda Vaccaro!), Big's secretary (she likes to be called that). This is the first time we've met her, though she has clearly been in the shadows since day one. These ghosts from Carrie's past, now appearing in her present, let us know what her future holds: a reckoning. One major figure has yet to officially appear, but we all know she's coming. Her name is Natasha, and we will spend the coming days in preparation.
Like Carrie when she passed the La Perla store and texted you, we will continue to reach out with any updates and major developments; we still think of you and a possible future where you return. In the meantime, enjoy London and the teapots at Harrods!