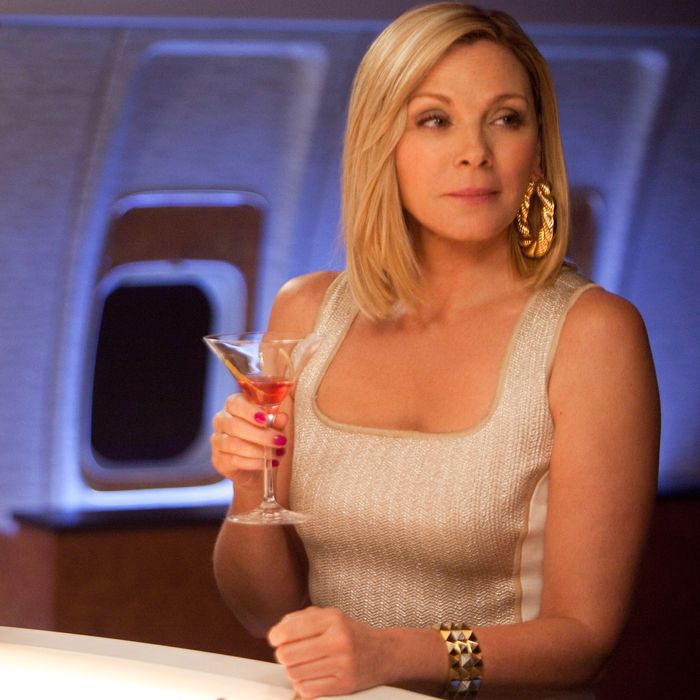 Photo: New Line Cinema/Hbo/Village Roadshow/Kobal/Shutterstock
And Just Like That …, HBO Max's revival of Sex and the City, is finally here. The first two episodes, which dropped on Wednesday night, held many revelations, including the fact that (spoiler alert) Big dies and it did indeed happen on a Peloton. More importantly, though, the series provided a little more detail about why Samantha is absent (which in real life is the result of some drama between Kim Cattrall and the rest of the SATC cast). Actually, a lot of detail. For a character purported to not be in this show, Samantha is in this show … quite a lot. So much so that I think And Just Like That … misses her even more than it misses Big, who (correctly) gets called a prick at his own funeral.
Samantha's heavy involvement in And Just Like That … suggests that maybe the show writers believe Cattrall could still come back. HBO has made no secret of the fact that they want her on board, and they certainly seem to have steered the plot in that direction. Exactly how hopeful is the And Just Like That … team that Samantha will return? Let's count the ways.
Within minutes of the first episode, Bitsy von Muffling asks Carrie, Charlotte, and Miranda where Samantha is. Charlotte says, "She's not with us," in what I guess is a nod to the early rumors that the show would kill off Samantha. Miranda cuts in to clarify that she's just in London.

After brunch, Carrie ruminates on Samantha's departure with Miranda, revealing that the catalyst for the falling-out was that she dropped Samantha as her publicist. Apparently she's been ignoring all three women's texts.

Samantha goes thankfully unmentioned for the rest of this episode until Big's funeral in episode two, where Carrie becomes enraged that someone put flowers all over his coffin. The venue owners tell Carrie that the flowers arrived that morning, and they show her the note that came with them, which reads: "Love Samantha."

After the funeral, Carrie opens up her texts to Samantha to thank her for the flowers, giving us an unfortunate little peek at all her previous unanswered texts. One opens with, "Hey London lady," and another says, "Walked by La Perla today, thinking of you." Frankly, even if I hadn't been fired by my best friend, I would not respond to these texts either. Isn't Carrie supposed to be a writer?
Somewhere, Kim Cattrall is turning off her TV to have drinks with her How I Met Your Father co-star Hilary Duff, another actress unfairly burned by her own show's reboot. Maybe they can write their own SATC spin-off where Lizzie McGuire moves to New York and has sex? Now that I'd watch.