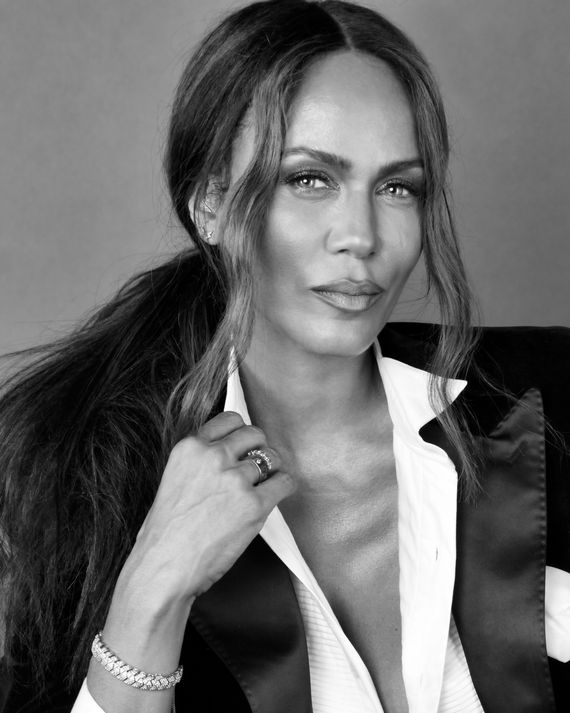 Before we even meet Nicole Ari Parker's new character on Sex and the City's highly anticipated reemergence, And Just Like That …, she's introduced as a set of initials — LTW. She's Lisa Todd Wexley, also known as LTW to Charlotte and the other moms on the parent school board. "She's just so cool," Charlotte says to her two besties over lunch. Lisa is a documentarian, humanitarian, and on top of that, a line on the International Vogue Best Dressed list, boasts Charlotte. She buzzes by the table, making her debut to Miranda and Carrie (and of course, us), and everything Charlotte says sounds completely believable. She humbly asks for a French fry from the basket on the table, and now on top of perfect, she's also relatable.
Nicole Ari Parker is equally so cool. Mostly, it seems, because she's really not trying all that hard to be. She whizzes into the Smith on the Upper West Side and sits down, already providing sound bites before I've even started recording. Thanks to the buzz of And Just Like That …, she's been running around New York doing the ultra glamorous things one might only imagine a SATC girl would do. "There's lots of events and press and fittings and decisions," she says almost at once upon sitting down at our table. "Sarah Jessica Parker and Kristin Davis and Cynthia Nixon have brought the city back in their own way and everyone is activated. Every store, every designer, every jeweler, every shoe, every bag. And being one of the new characters, we're all part of the groundswell. The excitement and so it's very hectic right now."
She's dressed in her own version of the uptown New York uniform: a sleek updo, a dark peacoat, fitted jeans, and boots. Maybe it's the confidence in her posture, or maybe it's the buoyancy of the SATC excitement, but even in her rushed state, she commands attention. She's immediately amused by the fact that there are already fries on the table when she arrives. "It's like you knew," she says, like it's an inside joke she can't wait for everyone else to be in on. This all happened right before the show premiered, right before anyone else could be in on the jokes. The fries, the being uptown near Central Park, the endless appointments, the sheer glamour — it's as though New York has been maneuvering itself around Parker, creating avenues for her to experience the Lisa Todd Wexler moments in real life.
Parker, now 51, first came to New York at 17 for college at NYU. And even though her acting career took her out of the city, she's back in New York with the bright eyes of a college freshman. ("I'm naturally a city girl. I walk, I'm a pedestrian. I take the subway. I hail taxis. I meet people in cafés. I eat French fries," she says. "I'm just … I'm in heaven.") She's surrounded by an energy that makes it clear that she's feeling nothing but joy these days: that her schedule is busy in the best way, that she's being swept up by New York's magic, that life exists to be is all about. And the reboot wastes no time to impart the revolutionary idea that women live with passion, exploration, growth, and curiosity even when they get older. And if anyone's unable to suspend their disbelief, Parker's own personal New York world is real life proof.
Before this, Nicole Ari Parker was booked and busy. She's been acting nonstop in film, television, and even a role on Broadway since the early '90s, with credentials like Soul Food, Murder in the First, and Empire. With her new role, Parker is inheriting a position in one of pop culture's most iconic fan communities. And that comes with certain pressure. Back when there were rumors that her character would be taking the place of Samantha following news that Kim Cattrall would not be returning for And Just Like That …, fans made their displeasure known. "Everyone feels like they have to explain their position," she says. "Everyone is excited to explain how they feel about the new show. The handful of people that are very upset that Samantha's not back, and I understand, because that character was iconic and she's irreplaceable."
Sex and the City was an important piece of media for so many reasons, but mainly that for its time, it was groundbreaking to see a group of women who loved their careers, loved their sex lives, and loved their friendships with each other. It gave way to so many other shows about women and their lives. But for all its legacy, the team behind And Just Like That … isn't afraid to admit where the original series missed the mark. Sex and the City was a show about white women, and the new series aims not to be. Lisa Todd Wexley is one of four new recurring characters in the series. The new slate of diverse talent seems to serve as a solution to Sex and the City's straight white problem. Parker's character on the show surrounds herself with other high-achieving Black people. Her husband is thinking about running for mayor. Her children are fluent in French. Her luxury apartment is filled with enormous works of art by legendary Black artists. Lisa and Charlotte seem like an unlikely pair, but there's something rewarding about the friendship they find in one another.
"I think that all the friendships that happen on the show in this new iteration are natural," she says. For her, this series continues the spirit of what the original show was about: "heartbreak or job changes or big choices. If you had a group of girlfriends, you could hash it out with, and now you have this new batch of friends and you're seeing that same dynamic, which I think is what I think we need right now in terms of female friendship, female empowerment."
And while we meet very little of the new slate of cast members in the first two episodes, what we do see of the new class? Carrie and Miranda both getting schooled by the new kids on sexuality and advocacy, areas where they were once voices of progress. Charlotte interrogates questions on gender and parenting. We may have all gotten older, but no one is too wise to give another point of view their undivided attention. And if that's the momentum these story arcs are carrying, we're curious to see the full swing.
For Parker, being part of the new guard is about common ground. "[It's about] reaching across and realizing that there's a space where outside of the history of this country and outside of our current climate, there's a place where women of all colors can rely on each other, and we're connected with each other, at least that. No one has to be best friends, but there's a place where we all remember that we all get wet when it rains."
And then, "And we all paid for a really killer blowout that day."