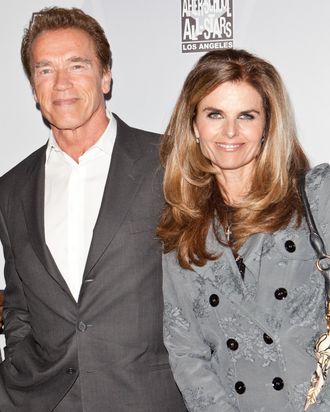 Shriver first filed for divorce from Schwarzenegger in 2011.
Photo: Chelsea Lauren/FilmMagic
More than a decade after their initial separation, Arnold Schwarzenegger and Maria Shriver have officially finalized their divorce. On Tuesday, per Reuters, the two reached a settlement which finally ended their 35-year marriage.
Shriver first filed for divorce in 2011 after Schwarzenegger admitted to fathering a child with a member of their household staff. The child was born about a week after his fourth child with Shriver, Christopher, was born. In addition to the affair he had with the staff member, which occurred around 1997, Schwarzenegger also admitted to having an affair with his Red Sonja co-star, Brigitte Nielsen, in 1985.
In the years since, Schwarzenegger has been publicly apologetic for his affairs, particularly the one with his household-staff member. In one interview with Good Morning America following the initial news of his affair, he said keeping the son he fathered a secret was the "worst thing" he's ever done: "Not just the worst secret, the worst thing." At the time he said he hoped to reunite with Shriver, with their joint separation statement reading: "We are living apart while we work on the future of our relationship. We are continuing to parent our four children together." They specified it was a decision they'd reached together. Shriver filed for divorce a couple months after the statement was released.
It's unclear why the divorce took so long to finalize, and details of their settlement have not been made public. As reported by NBC News, neither will owe the other any spousal support. However, both reserve the right to seek spousal support through the court in the future should they want to.