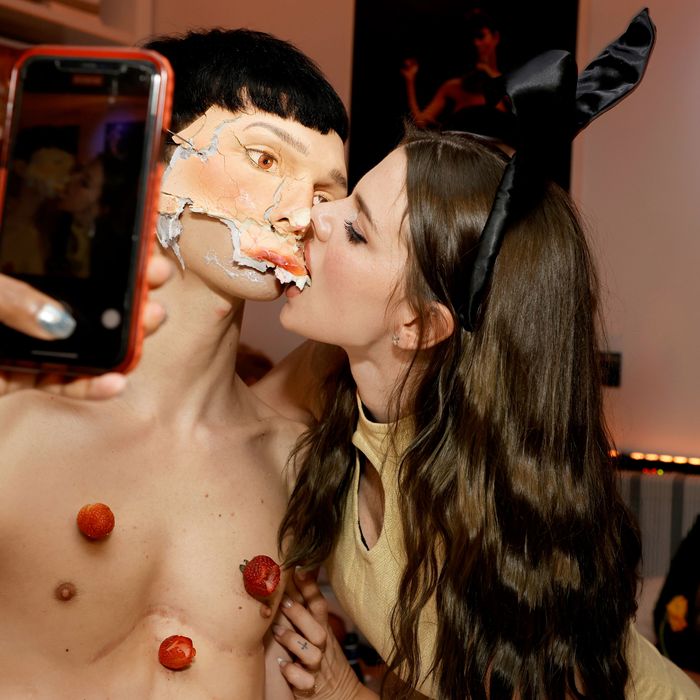 Julia Fox eating cake off of a performer at Playboy's BIGBUNNY launch.
Photo: Frazer Harrison/Getty Images for Playboy Enterprises International, Inc.
There is no $120,000 rotting banana that takes this year's Art Basel by storm. Throughout the week, people can be seen lining up for several hours to get a colorful newspaper from a Saint Laurent activation on the beach and/or carrying the Ruinart tote featuring David Shrigley's worm painting. At the fair, there are a handful of dumb art pieces that seem to get close to being the item du jour — the banana guy has returned with a bunch of expensive dead pigeons, another man is trying to sell cups of coffee for $1,000 a pop, and a third actually does sell a gold-plated avocado bagel for $2.9 million ("I wanted to make a sculpture that froze the zeitgeist," said the 29-year-old artist in a press release).
But the thing everyone seems to be talking about is NFTs. The well-established artists I speak with throughout the week seem to all but sneer at the idea — "I'm staying away from all of that," Kehinde Wiley tells me, his expression wary, while Judy Chicago barks a laugh and says "not interested." Still, an explanation of the whole thing eludes me, and while my assignment isn't technically to learn about NFTs, I figure now is as good a time as any. All week, I've been getting invitations to things like the "Bitchcoin Salon" and "metaversal immersions" — events boasting a close gathering of leaders in "tech, philanthropy, and art," which sounded terrible.
Determined to avoid parties hosted by crypto exchanges and VC firms, I find myself on Thursday night at a $34 million home on Sunset Island. All of the famous people are sequestered in a dark corner of the garden. Karli Kloss towers over Josh Kushner, who is drinking a Blue Moon and glancing slantwise at Rita Ora. (Kloss is an investor in W magazine, whose party this is, even though everyone is calling it the Burberry party, in spite of the fact that W has branded everything from the napkins to the pool floats.) Security guards duck and weave through the crowd, which is a self-conscious 10 p.m. blend of fashion people and influencers.
One of those influencers, who I believe is named Camila Coelho, looks dazed when I mention NFTs, but soon I bump into my friend Chris*, the perfect person for my inquiry. He has a babyish, cherubic face, mostly wears Louis Vuitton tracksuits, and is always in the market for the next big thing. (He is vague about his line of work but owns a lot of Rolexes and Ferraris.) Chris knows "absolutely nothing about NFTs" but wants to buy one, has a budget of $10,000 ("little baby has a mortgage"), and when I ask him what he'd get for $10,000, he says "a picture on a screen" and seems pretty satisfied with that.
A bit later, Jared Leto comes in wearing Gucci and the pensive air of someone who meditates a lot. This is one of three times I'll see him at a party this week, and each time he does the exact same thing: enters with a polite but detached expression that falls into a sort of wistful disappointment, as if he had been expecting to meet a friend and been stood up. No one notices him, and he leaves after ten minutes.
There's no food here — Miami parties don't seem to have snacks like New York parties — so I leave after hearing David Zwirner's fête on the Freedom yacht still has passed canapes. I'd Googled this Freedom yacht and had reason to believe it was a giant boat, but it turns out to be the kind of wood-paneled barge that they put restaurants in. The bathroom line is long, with people emerging every five minutes or so looking very awake, so I pass the time speaking to a Navy Seal who tells me that "NFTs are the future." When I ask, "The future of what?," he says "everything" and shows me a pixelated doodle he purchased that week for a price he won't disclose but looks sick about.
I eventually give up on the bathroom and head to the Big Party at Soho House. Hosted by luggage brand Rimowa, I hadn't planned to go because why would I go to a suitcase party? Nevertheless, several people I spoke to this evening said it's "going to pop off." When I arrive, I see the door is blocked by a heaving crowd of influencers (who are now called "creators"), and I get very tired. A publicist who attended later tells me that it was "a lot" with a significant look. That, and there were no suitcases.
Given that Thursday was a bit of a disappointment in terms of NFTs, a lot is riding on Friday night. I have high hopes — Playboy is throwing what they called a "surrealist bash" at Casa Tua, which seems to be in celebration of Cardi B's appointment as its new creative director in residence. When I get there, most people are packed into a tiny room on the restaurant's top floor, which is decorated with Playboy prints, giant fake clouds, and bunnies milling about in silk pajamas.
A tattooed man mistakes my boyfriend, Jay, for Salt Bae. Jay goes with the bit for a few minutes, but the tattooed man is really nice, and so Jay comes clean about his identity. The guy plays it off like he knew it was a joke all along, but the disappointment in his eyes says otherwise. His name is Alligator Jesus, and he makes gem-set grills and these fantastic silver rings in the vein of Elsa Peretti's bone cuffs. He's been investing in NFTs since 2017 and explains that we're all moving towards "a digital universe of decentralized communication," anyway.
Cardi B enters with her posse and everyone who isn't recognizably famous is kicked out to the first floor, where two mostly naked people are sitting on and also eating a life-size, woman-shaped cake. Outside, a dancer dressed like a sexy alien is thrashing and moaning in a fountain as celestial music throbs in the backdrop. (I see her in the elevator of my hotel the next morning dressed like a schoolteacher, and she says she had a nice time but that her neck is sore.)
Around 2 a.m., the party starts to wind down. An older white man puts on the cake woman's wig and dances alone in a corner, and I catch up with Aric Chen, the former curatorial director of the Design Miami art fair, who says that NFTs have a lot of potential in terms of solving "issues with tracing and ownership and authorship in the digital realm," but that "right now they're just making a bunch of PDFs really expensive." Asad Syrkett, the editor-in-chief of Elle Decor, jumps in, explaining that what you're purchasing with an NFT is an authentic item. "So if it's a meme of Adele saying that she's not collaborating with Peppa Pig, you have purchased the original artifact — the video, the MP4 file — of Adele saying, she's not collaborating with Peppa Pig."
"You own that artifact," he continues. "Even if somebody copies it, what you own is the original version of that." I ask him if there is a tangible financial incentive for this, and he smiles, uncertain. "I don't think so. I'm almost positive that it's a one time purchase." So what's the advantage? "Control," he says, with a shrug.
Saturday morning begins on a Dom Pérignon "Yacht Concierge" cruise around Biscayne Bay. I learn a lot of interesting things about Champagne during the ride, like that Dom Pérignon was actually a French monk and what happens when you drink 14-year-old wine on an empty stomach. I forget to ask anyone about NFTs.
That evening, after a Lizzo concert where the artist invited Drake, through song, to "cry in the pussy," I hit the last party I can handle, the launch of Cardi B's Whipshots, her "groundbreaking" alcoholic whipped cream.
The invitation promised a gathering of Cardi's "closest friends and industry partners" but I arrive to a crowd of 300 random people texting on daybeds and drinking something called the "Bronx Mule" (vodka, lime, bitters, ginger, vanilla whipshot, and orange peel), a real ??? of a drink. A young woman wearing deer antlers says it is "the worst alcoholic beverage" she has tasted in her life, but Chris says "the Whips is so good, get the vanilla flavor," even though he grimaced while drinking it. I play it safe and order a tequila soda, but it turns out they are serving Kendall Jenner's 818, which I'd recommend to people who like the taste of candles.
A kid named Ray Mancini who "finessed" his way into the party by jumping the fence tells me he's getting his dad, Ray Mancini Sr. (the former boxer known as "Boom Boom Mancini"), into NFTs. "There's a company that wants to make NFTs for fighters, so I go, Pops, we're going to do this. He has artwork made of him. Action shots. So they want to collaborate with that and somehow just make an NFT. You know the whole situation about NFTs, right?"
I say no and he elucidates: "It's a digital art. It's never physical. So if I put it at $1, someone buys it from you for $1, they can flip it to $1.50. Flip, repeat. Flip, repeat. Flip, repeat. So, it's for collectors that can make easy profits, but it's also for artists who get residuals off every transaction." How this converts to actual, tangible profit is unclear, he says, but has to do with bitcoin. I thank him, since this is the first time someone has explained NFTs in a way that makes even a small amount of sense. My plane leaves in a few hours, so I head back to the hotel, feeling a little wiser.
On my way back to New York, I meditate on something Chen said: "All of our economies are based on illusions. What's interesting about NFTs is the extent to which they make us realize this. Our world runs on systems of trust and consensus. A wineglass is worth whatever it's worth because we agree that this is how much a wineglass is worth. But it really has no intrinsic value. Very little has real intrinsic value."
This is true for NFTs, but also seems to me a metaphor for the whole affair of Art Basel and perhaps the art industry at large, with its golden bagels and dead pigeons — it's all cool and expensive because some folks say it should be, and we, the whipped-cream-dazed masses, go along with it. As for these NFTs, the realest, most accurate thing about them was said by my friend and fellow writer Diana Tsui: "You know, I don't know what the fuck an NFT is, and that's probably why I'm going to be poor for the rest of my life." Cheers to that.
*Names have been changed.