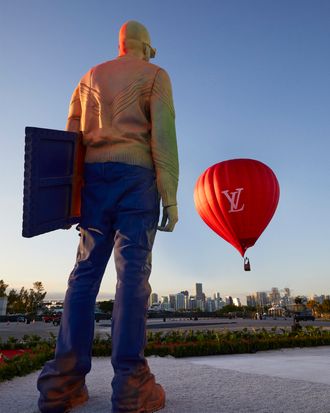 Photo: Courtesy of Louis Vuitton
"It's an honor to be here and witness all of the hard work and creativity that he put into this brand," said Pia Davis of No Sesso, a queer and Black-owned brand, as she stood in a crowd of 1,500 people who had gathered at the Miami Marine Stadium for the Louis Vuitton menswear show — the last show to be designed by Virgil Abloh. "We get to witness his last show, and it feels like such a privilege."
Abloh, the artistic director of menswear for Louis Vuitton, died at the age of 41 after a private battle with a rare form of heart cancer. This show wasn't meant to be a tribute, but at the time of his death, the brand was planning a men's runway show in Miami, and earlier that week, Michael Burke, chairman and CEO of Louis Vuitton, said in a statement that the show would continue, "per Virgil's wishes."
At around 4 p.m., guests arrived at the Yacht Haven Grande Miami, greeted with hors d'oeuvre and white wine before boarding four-story yachts to make their way to the show. The mood felt far from a tribute, at first, but turned more somber as people mingled, laughed, and hugged. Celebrities arrived by gray speedboats emblazoned with the LV logo and monogram in teal along with the number 7.2, representing that this was the second time the collection, Abloh's seventh for the brand, would be shown (it debuted in June in a video).
Fear of God designer Jerry Lorenzo and Kanye West embraced before taking their seats. West sat next to his daughter North and near Kim Kardashian West. Other guest included Rihanna, A$AP Rocky, Pharrell Williams, Bella Hadid, Venus Williams, Joe Jonas, Ricky Martin, 21 Savage, Jeremy Pope, Joan Smalls, designers Jonathan Anderson and Kerby Jean-Raymond, the entire Arnault family (whom Ivanka Trump arrived with), and more. Industry figures such as photographer Juergen Teller, stylist Gabriella Karefa-Johnson, and Luar designer Raul Lopez were also in attendance.
"Boy, oh boy. This is the hardest speech I have ever given," said Burke as the sky turned dark blue. He recalled how he was first introduced to the designer in Tokyo 15 years ago, before Abloh and West interned at Fendi when Burke was the chief executive at the brand. He contextualized the collection, which was based on a coming-of-age narrative, "important to Virgil because inspiring and empowering younger generations defined who he was.
"Virgil's passing remains inconceivable to me," Burke said as his voice cracked. "He was born the same year as my oldest child, and I considered him like a son. But I know that through his work, his genius vision, and his profound sense of humanity, this great man's legacy will endure."
The runway show began with narration from Abloh speaking about "getting adults to behave like children again" so "they go back into the sense of wonderment" and "start using their imagination." With a soundtrack of drum and bass, rap, jazz, and bossa nova, models including Kid Cudi and Offset wore 72 looks from the men's spring 2022 collection along with ten additional looks, representing some of the best of Abloh's work — tailoring in neon hues, streetwear, and mirrored briefcases.
The late designer's team closed the show with a group bow, and visible tears, to a standing ovation.
As the lights went dark, a red hot-air balloon lifted into the sky with its bright flame while Abloh's voice said, "Life is so short that you can't waste even a day subscribing to what someone thinks you can do versus knowing what you can do." Some audience members wiped tears from their eyes as fireworks blasted above in the dark, warm Miami sky.
The crowd slowly made its way to the after-party area, where a three-story statue of a rainbow-colored Abloh holding an LV case greeted them. Once everyone had gathered, a drone show lit up the night, beginning with a red paper plane circling the sky before the letters VA appeared and ending with a sentence: "Virgil was here."