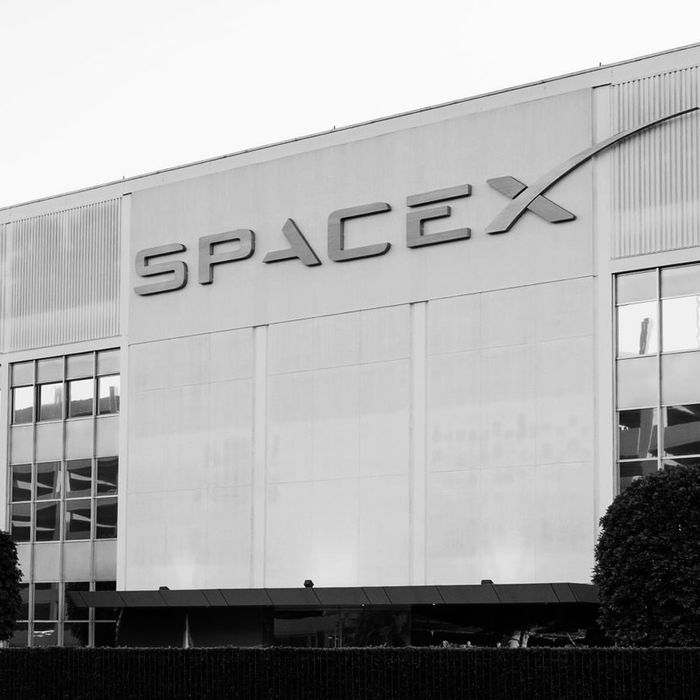 Photo: AaronP/Bauer-Griffin/GC Images
Earlier this week, Elon Musk — Grimes's ex-boyfriend, the pancake-haired chief executive of Tesla and SpaceX and also the man who joked about starting a "TITS" University on Twitter — was named Time's Person of the Year for 2021.
Also earlier this week, four women who worked at SpaceX spoke out about sexual harassment they say they faced at the company. Ashley Kosak, a former mission integration engineer at SpaceX, detailed the alleged harassment in an essay for Lioness, which, she said, came from fellow interns and men in more senior positions.
Kosak started as a SpaceX intern in 2017 and became a full-time engineer two years later. In her essay, she recalls a fellow intern groping her butt as she washed dishes. Kosak claims she reported the incident to a superior and a colleague, but it was never escalated to HR. Over her next two years as an intern, Kosak says she faced "countless advances" from male co-workers and alleged that supervisors and SpaceX HR did nothing about the incidents when Kosak reported them.
Kosak, who is Asian American, also claimed she experienced racial and gender bias at SpaceX. After submitting a message to the SpaceX ethics and compliance tip line, Kosask says HR reached out with "invasive questions" despite having previously promised anonymity. Kosak says she met with Space X's COO and head of HR, who allegedly told her they had never heard about her harassment claims despite the fact that she says she'd been filing them for years.
Eventually, Kosak resigned, writing that the "only remedy" for the misogynistic culture of SpaceX "is for women to leave." Three other women and former interns — one who went on record and two who spoke anonymously — told the New York Times they had witnessed or experienced harassment that echoed Kosak's experience.
It's not the first time that Musk's companies have been accused of harassment and toxicity. In October, a jury ordered Tesla to pay $137 million to an employee who endured racist treatment at a Fremont factory. In November, the Washington Post reported that Jessica Barraza, who worked at the same factory, filed another lawsuit against Tesla, citing three years of daily sexual harassment from male co-workers. Barraza called Tesla's working conditions "nightmarish" and like "a "frat house." In her suit, she alleged supervisors failed to address her complaints and even perpetuated the harassment. In December, a woman at a different Tesla factory filed a lawsuit over her manager's inappropriate behavior and a "continuous and pervasive" culture of sexual harassment.
Although SpaceX hasn't commented on Kosak's allegations, according to the Times, the COO sent an email to SpaceX workers this weekend — just before Kosak's essay was published — saying that harassment claims had to be filed in a "timely" manner in order to make SpaceX "a great place to work." The COO added: "Can't fix what we don't know."
In any case, if anyone's wondering what life on Mars would be like, Kosak has an educated guess. "Probably much like life at SpaceX," she writes. "Misogyny is rampant." Given that Blue Origin, Jeff Bezos's rocket company, has also been accused of sexism, that sounds about right.