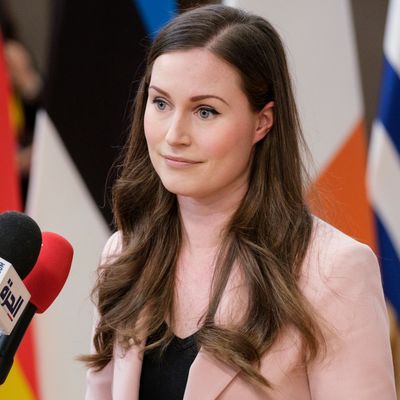 Photo: Thierry Monasse/Getty Images
Sometimes the only solution to the existential dread of being alive is to put on a going-out top and dance away your sorrows. Such, I imagine, was the case for Finland's prime minister Sanna Marin, who had a nice little night out with the girls last weekend only to find out the next morning that she was supposed to be isolating after coming in contact with a positive case of COVID. Can you imagine a worse hangover surprise?
After taking a COVID test the next morning, which came back negative, Marin told reporters that her secretary of state had let her know her foreign minister had COVID and said she didn't need to quarantine because she was fully vaccinated — instructions that match Finland's national COVID guidelines. Apparently, someone later sent a text to her work phone telling her she should actually avoid social contact, which she missed because she was at a club in Helsinki until 4 a.m. To which I say, respect.
Marin immediately came under fire for the mishap and posted an apology on Facebook for "not understanding that I needed to do that." But frankly, this seems like the result of some confusing COVID-19 guidance and her own healthy work-life boundaries. Who brings their work phone out clubbing?
I suppose it is challenging for some people to wrap their heads around the idea of a 36-year-old prime minister living her best life. But consider this: She is young (the youngest prime minister in the world, actually), has great eyeliner, and probably has a very stressful job. I'd say, good for her. Not to mention, she's managed to keep Finland's COVID levels lower than most other European countries. Maybe we can let her live?