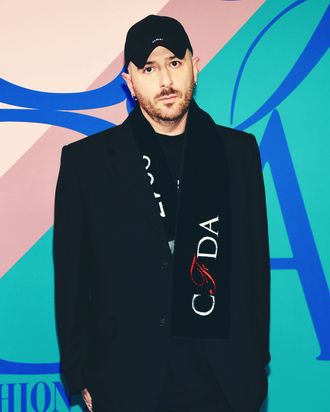 Photo: Dimitrios Kambouris/Getty Images
On Wednesday, Balenciaga revealed that its creative director, Demna Gvasalia, has decided to make a personal change. No, he's not leaving the brand. Don't worry. But he is leaving a part of himself out of it. "From now on, Demna uses only his first name, distinguishing an artist title from a birthname and therefore separating creative work from personal life," read an "IMPORTANT NOTE" in the brand's fall 2022 show notes. "In all press going forward, he chooses to be referred to simply as Demna."
Okay, then! He's not the first fashion designer to go by his first name only. Valentino Garavani, for example, is often referred to simply as Valentino. Kenzō Takada went by Kenzo. (Cristóbal Balenciaga himself was also best known by just his last name.) But their names were also their brands, so it was arguably natural for them to become one and the same. Gvasalia — sorry, Demna — is perhaps the first fashion designer to actively request that the press call him something different.
It could be a practical decision. A lot of people in the industry just call him Demna anyway, perhaps because they're unsure of how to pronounce his last name. (It's deem-nah vas-ah-liyah.) But his reasoning — "separating creative work from personal life" — is also in line with his recent output. He attended the Met Gala with Kim Kardashian West wearing a spring 2022 look that covered his face, and many assumed he was her (ex?) husband. (Kanye West, who collaborated with Demna for his recent Donda tour, has also taken to shrouding his visage and legally changed his name to Ye in October.) If anything, though, Demna seems to be pulling a Sia — using anonymity for self-preservation in a world where privacy is a luxury and as a way to cheekily mint his image as a pseudo pop icon. His fall 2022 collection, released today, is an embodiment of the idea that less can be more.
Few designers working today are more in tune with the mechanics of popular culture than Demna. It's fair to assume he knows that, in making this request, he's entering the chat with the likes of Madonna and Prince and Beyoncé and Zendaya — and that it's all perhaps a bit of a stretch. We also know he has a good sense of humor. So I'll take this news with a wink and a nod and be glad that cultivating a work-life balance is literally the coolest thing you can do right now.