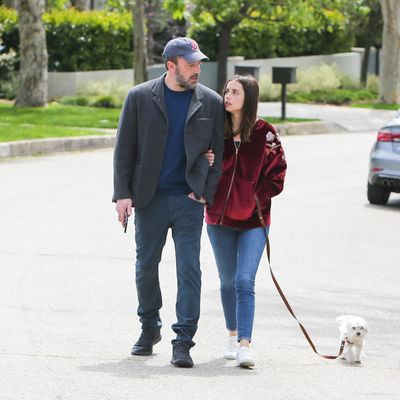 Photo: BG004/Bauer-Griffin/GC Images
Not all great love stories have great endings. Case in point: Ben Affleck and Ana de Armas. Theirs was a quarantine romance for the ages, with all the dog walking and Dunkin' one could wish for. But, alas, it wasn't meant to be. The two reportedly split in January of 2021, and now, adding insult to injury, Disney has pulled Ben Affleck and Ana de Armas movie that started it all, Deep Water, from theaters.
On Monday, December 13, Deadline reported that instead of getting a wide theatrical release, Deep Water, an adaptation of the book by Patricia Highsmith, would be released on Hulu in the U.S., and Amazon Prime internationally. Disney has not yet confirmed the move, but given the buzz around the film — thanks in large part to Affleck and de Armas' infamous walking dates — it would make sense that the movie would be released in some shape or form, even if it never makes it to theaters.
The studio originally announced the pivot to streaming on Thursday, December 9. Deep Water had previously been planned for a January 14, 2022 release. At the time, Disney gave no reason for the move, but Deadline has reported that it was simply due to the growing trend of underwhelming box office numbers for adult-geared films like West Side Story.
Billed as an "erotic thriller," Deep Water is about a man (Affleck) who gives his wife (de Armas) permission to take on lovers as long as she doesn't leave him and what happens when her loves start turning up dead. Based on the plot and the fact that it's directed by Adrian Lyne, known for Fatal Attraction and Indecent Proposal, I'm hoping that this abrupt switch to streaming has something to do with NSFW scenes.
I saw too many photos of Ben and Ana walking their dogs in front of paparazzi for this to all have been for naught. The world owes us an R-rated Deep Water or, at the very least, a lifetime supply of Dunkin' Donuts.