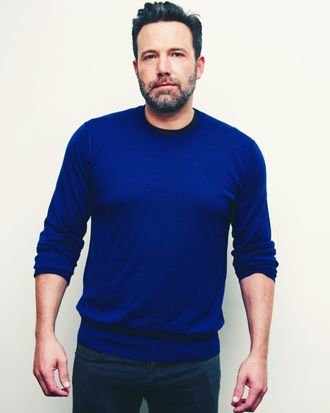 Photo: Vera Anderson/WireImage
I don't know if you've heard, but Ben Affleck is doing really well. And sometimes when you're happy, in love, in a good mental space, and finally releasing the erotic thriller you filmed with your pandemic fling, you fly a little too close to the sun and say something regrettable during an interview with Howard Stern. You know?
On Monday, Affleck went on the Howard Stern Show, where he had a candid conversation about his long and very public struggle with alcohol addiction. Unfortunately, in the course of the interview, he implied that he would "probably still be drinking" if he hadn't separated from his ex-wife of ten years, Jennifer Garner. Here's the full quote:
Part of why I started drinking was because I was trapped. I was, like, "I can't leave 'cause of my kids, but I'm not happy. What do I do?" What I did was drink a bottle of scotch and fall asleep on the couch, which turned out not to be the solution.
Unsurprisingly, the comment immediately set off a wave of backlash calling out Affleck for blaming his addiction on his ex-wife. The fallout was bad enough that Affleck addressed his comments a few days later during an appearance on Jimmy Kimmel Live. "I would never want my kids to think I would ever say a bad word about their mom," he said, pointing out that he also spent a lot of time during the Stern interview talking about how much he and Garner respected and cared for each other and their family throughout their separation. The quote about his drinking, he said, "made me out to be the worst, most insensitive, stupid, awful guy" and was the "exact opposite of who I am, what I believe."
To be fair, Ben's struggles with addiction date back to before his marriage to Garner. He first checked into rehab for alcohol abuse in 2001, four years before they got married, and after they separated in 2015, she appears to have remained involved in his recovery, including dropping him off at a rehabilitation center in 2018, the year they finalized their divorce.
Though Garner hasn't spoken publicly about Ben's new relationship, some outlets have reported that she's supportive. And so far, Jennifer Lopez seems to be integrating into the family smoothly enough: This past Halloween, she went trick-or-treating with Ben, Garner, and their kids. Though after the Stern interview, there were initial reports that J.Lo was "pissed" her current partner expressed ill will toward his ex, she's since denied being mad about Affleck's comments. "This story is simply not true. It is not how I feel," the current -ennifer to his Bennifer told People, adding, "I couldn't have more respect for Ben as a father, a co-parent, and a person." Here's hoping Ben will be at peace with both the Jennifers in his life soon enough.
This post has been updated.