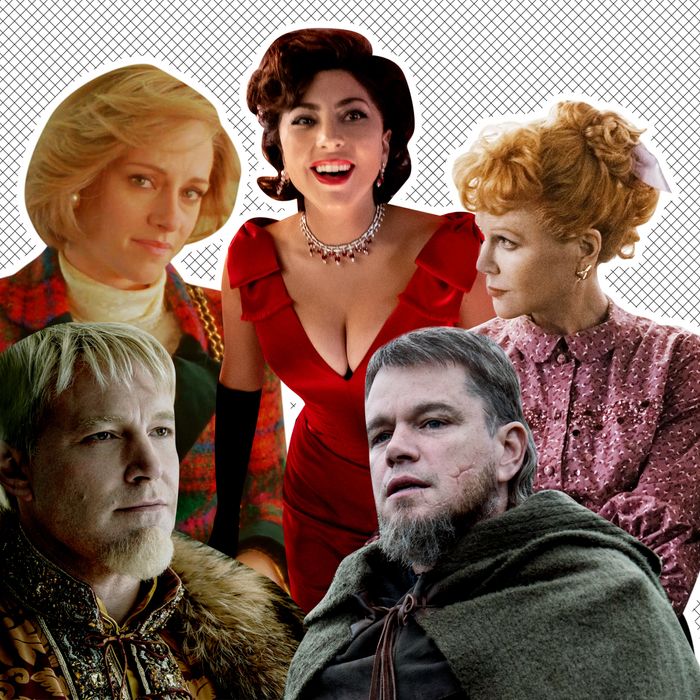 Photo-Illustration: by The Cut; Photos: Amazon Studios, MGM, 20th Century Studios, NEON
It has, apparently, been a whole year? Did the Earth once again revolve around the Sun or are calendars, Spotify Wrapped, and best-of-year lists lying to us? It was such a weird, chaotic time that it's hard to tell — that is unless you count the passage of months by the passage of wigs across our screens, burned into our collective memory, like I do.
The year 2021 has been the Year of Wigs, and we will show them proper respect.
Wigs are an art form that can transform an actor into a cult leader, a gross medieval man, or a British princess. They can even turn Stefani Germanotta into a full-blooded Italian woman, again. And I, a person who gained expertise in wigs the one time I wore one for Halloween in 1999, am here to answer important questions such as: Did the wig wear the actor, or did the actor wear the wig? Most importantly, I'm here to show some respect to 2021's most notable wigs, from the good, the bad, and the so bad it's good, actually.
Nicole Kidman, Being the Ricardos
Although Nicole Kidman has practically lived in wigs for the past two decades, there are still some that even she can't transcend. In Aaron Sorkin's Being the Ricardos, the light strawberry-red wigs that recreate Lucille Ball's iconic 1950s updo control Kidman in the same way Adam Driver controls me. The wig tells her what to do, not the other way around. This is at no fault of the hair and makeup teams, however. The wigs themselves are good and even look like they could be Kidman's real hair even though we know it's not. It's just Kidman isn't pulling them off, but this isn't her fault either. I am choosing to blame writer-director and Jessica Chastain's friend Aaron Sorkin.
Nicole Kidman, Nine Perfect Strangers
"She's in!" is what I imagine Nicole Kidman's agent replies all when they find out that the role she's been offered requires a wig. In Hulu's Nine Perfect Strangers, Nicole Kidman demonstrated that she is, in fact, capable of successfully wearing a wig. And it's not just any wig. It is a wig as long as Lee Pace is tall. The long, white, blond wig with waves no sea-salt spray could create is as absurd as Kidman's accent, and for that, I'm grateful.
Timothée Chalamet, Don't Look Up 
Unfortunately for me (but fortunately for some, I'm sure), Lord Chalamet's wig in Netflix's Don't Look Up is giving "guy from high school who played hacky sack in the parking lot before school, after school, during lunch, and on weekends." Chalamet isn't in the film much, but the wig makes an impact and pairs perfectly with his character's name. His name is Yule.
Matt Damon, The Last Duel
No, that is not the boy who sat behind you in third grade in 1998! One of the best things about Ridley Scott's The Last Duel, a period piece, is that it never tries too hard to be a period piece, instead focusing its careful storytelling on unpacking modern toxic masculinity and gender disparity through a medieval perspective. And its wigs are about as low effort as the admirable work its American male stars put into their kind-of-British-but-mostly-American-and-a-bit-French-if-you-squint accents, which is what makes them so good. Damon's ugly blunt-banged mullet is brilliant here because his character, Jean de Carrouges, is a stiff, unfashionable, violent, relentless, and very stupid man whom historians might call a pain in the ass. In other words, Jean de Carrouges would absolutely have the dumbest haircut medieval France could offer. The goatee completes the look and cements Jean de Carrouges's status as one of the biggest douchebags in medieval France. Bon travail, everyone!
Lady Gaga, House of Gucci
As you already know, Gaga went full method for House of Gucci: She spoke in an Italian-slash-Russian accent for nine months and lived her everyday life as Patrizia Reggiani to prepare for the role. But she did not go as far as to dye her hair brown. As a result, Gaga wore many wigs in House of Gucci, the most iconic being the full '80s perm she wears in the scene in which she improvised "father, son, and house of Gucci" in front of Jared Leto. The small curls and the wispy bangs shouldn't work on anyone. They never did, and they will never work on anyone else except Lady Gaga, who can pull off anything from a meat dress to a performance alongside Adam Driver to, apparently, a perm. I'm a bit mad that they didn't just give Gaga wigs made out of spaghetti to really celebrate the Italian of it all, but I'll accept this for now.
Kristen Stewart, Spencer
At this point, I have been so exposed to Kristen Stewart's Spencer wig that I feel like I live inside it. I hereby proclaim squatters rights to this $6,000 wig! My net worth just peaked. Instead of going for Diana's signature short haircut, Spencer director Pablo Larrian had best actress front-runner Stewart wear a longer bob that features the Princess of Wales's iconic feathered hair that I tried to recreate once when I was a kid and I almost set my hair on fire. Stewart transforms into Diana in her performance, and the wig helps Stewart disappear into the role. For a brief period this fall, this wig had me convinced that I, a naturally dark brunette, should go blond. The power of cinema!
Ben Affleck, The Last Duel
And finally, another blond wig that nearly had me bleach my head. This man should teach a MasterClass on wig acting. Ben Affleck's performance as the frivolous Count Pierre d'Alençon in The Last Duel is just like his Backstreet Boys–inspired wig: unexpected, ridiculous, dazzling. At one point in the film, Affleck asks Adam Driver to take off his pants (by the way, I was trying to mention Adam Driver in this blog as little as possible, but it's hard, and I won't apologize). Not even this ridiculous bleach-blond wig with disastrous choppy bangs could stop Ben Affleck from giving us one of the best performances of the year that will, one day (and possibly thanks to me not shutting up about it), go down in history. If I were Jennifer Lopez, I'd have Ben wear this wig on weekends.