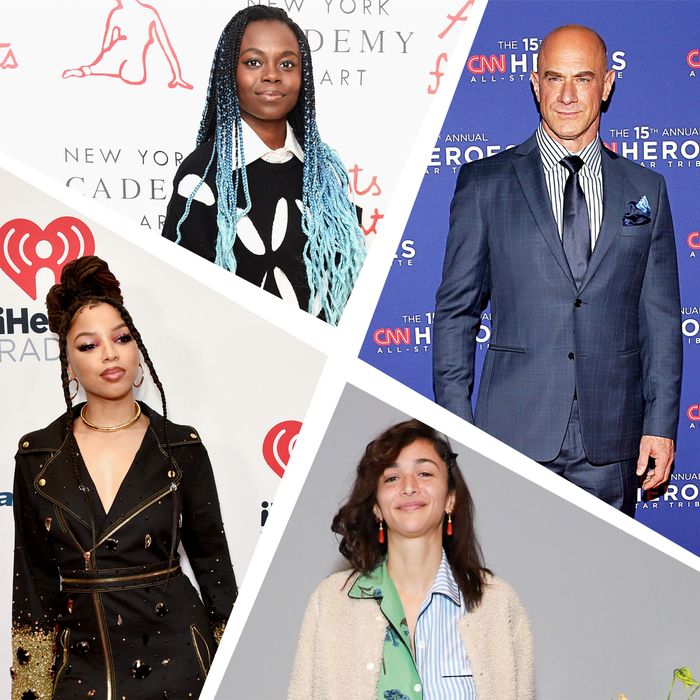 Before New York experienced a rapid and terrifying COVID-19 spike this week (thanks, SantaCon), parties felt like they had finally hit their stride again. Let's travel back in time (say, a week, when we were all feeling confident in our boosters and winter social lives) to the glamorous events that happened before Omicron began spreading faster in New York and New Jersey than anywhere else, and let's hold them tight because who knows how long it'll be before we have any more party looks to call the best. It was a time when Chlöe Bailey wore a wonderful black-and-gold zippered dress and Christopher Meloni blessed the world with an amazing suit. To see them all, scroll below. And remember as always: safety first, parties second.
Best details
It's not often you see Bailey without her sister, Halle. Unsurprisingly, she looked stunning while walking the red carpet solo.
Best stripes
Brown looked great (and certainly NYC appropriate) in a striped black suit and black boots.
Best flare pants
Flare pants can do no wrong, and Brosnahan took the memo and pulled out a bold pair to prove it. I love the shine, plus the pleating adds some interesting texture.
Best mismatch
Pajama sets are still in whether you like it or not, and Gohar paired a top with some mismatched bottoms in a way that screams "too cool to try." Plus pairing them with loafers adds an instant boost that takes it from schlumpy to chic.
Best color
Swarup looks amazing in this color, and the ruching of the dress is interesting and playful.
Best layering
I love layering in the winter, and Ross-Sutton did it best. Wearing black sheer tights (classic) with a cool patterned knit over a white collared dress, she made this look her own. And I love the wintry pop of color her blue braids provide.
Best sparkles
Who doesn't love a sparkly scarf?
Best suiting
Meloni knows how to wear a suit, and we thank him for it.
Best all-black
In classic New York style, Kalani paired different textures and styles of all-black pieces to create a fit that is nothing close to boring.