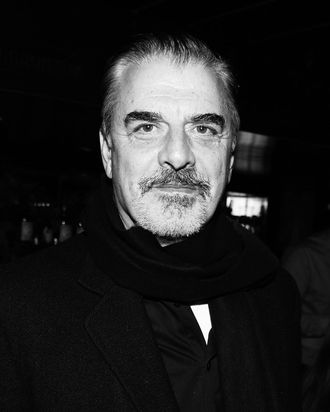 Photo: Paul Bruinooge/Patrick McMullan via Getty Images
In the past week, Sex and the City star Chris Noth has been accused of sexual assault by three women. Now, Page Six claims to have obtained a restraining order that model Beverly Johnson filed against Noth around the time that they dated, in 1995. According to the outlet, the petition, which Johnson filed on August 1, 1995, alleges that Noth punched Johnson and threatened to kill her and her dog. Per Page Six, the filing reads, "Chris Noth punched me in the chest and ribs, injuring my ribs, making it difficult to breathe, punching and bruising my face and body in which I had to have medical attention." Johnson also allegedly wrote that Noth had at one point called her 25 times in one day threatening to kill her and "destroy my face."
According to Page Six, Noth also filed a restraining order, and both of them agreed not to contact each other. Though no expiration date was listed on the restraining orders, the outlet says the case was closed in 2017. Neither Noth nor Johnson has commented publicly on the documents, though Noth has denied all the allegations of sexual assault.
The restraining orders appear to be the same documents referred to in an old National Enquirer clipping that started circulating on Thursday after the allegations were made public. The 1995 feature also detailed court documents allegedly filed by Johnson, who dated Noth between 1990 and 1995.
After the allegations against Noth were made public last week, actor Zoe Lister Jones recalled him behaving inappropriately on set in 2005, and he was subsequently dropped by his agency and the CBS show The Equalizer.