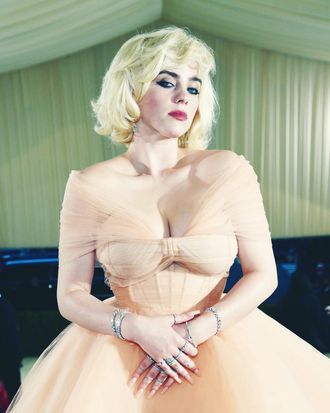 Photo: Kevin Mazur/MG21/Getty Images For The Met Museum/Vogue
Every year, when a flurry of famous people flock to the Met Gala, I can't help but wonder, What does this mish-mash of celebrities discuss? Do they have anything in common aside from the fact that they are all very rich and incredibly famous? Is it as socially uncomfortable as the fake seating charts make them out to be? Well, Billie Eilish has given us all the answers we seek. In short: Yes.
During a recent interview on SiriusXM's "The Howard Stern Show," Eilish talked about the 2021 Met Gala, which she co-hosted alongside Timothée Chalamet, Amanda Gorman, and Naomi Osaka. Already an odd little grouping! Even to someone with the sort of international renowned as Billie Eilish, the experience was surreal. "It's nuts," she said. "It's famous people famous people-ing." An apt summation of the event!
"The main thing that night made me feel was how famous people are just like literally nobodies. Just randos, and it's so weird," she said. "I was like, 'Wow, all these people are just somebody that's in class with you,' and you think this person's kinda annoying, you really like this person, you get along with this person, and everybody's just, like, embarrassed and insecure about what they're doing and saying." So, there you have it: The Met Gala is like the most extravagant high school cafeteria where everyone is popular, and, therefore, no one is popular.
"I definitely felt really stupid for the first hour or so because I was like, 'What the hell am I doing here?'" Eilish said. However, she said she was relieved to discover that the feeling was incredibly mutual: "What's nice about other people that are in the same kind of world that you're in is they're not getting their phone out and shoving it in your face because they don't want that themselves, and that is really relieving."
Regardless, Eilish said the gala was "amazing," adding, "It was just beautiful in there." And I'm sure it was! What could be more gorgeous than watching Chance the Rapper talk to Horse Girl Kim Petras? Is there anything more exquisite than the prospect of Rihanna publicly ignoring Kendall Jenner? Hollywood's most glamorous night, indeed!