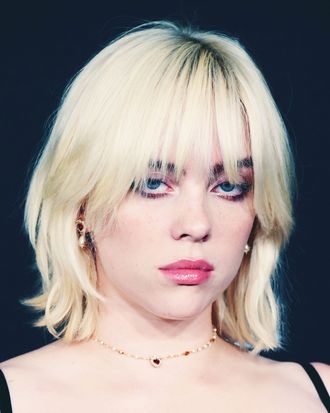 This hair color? She doesn't have it anymore.
Photo: Steve Granitz/FilmMagic
Welcome to a little game I like to call "Guess Which Hair Color Billie Eilish Has Now." The last time we gathered, you'll recall that Eilish chopped her hair and dyed it platinum blonde. Then she wore a wig to hide it. Fun! Remember how fun that was? Some might balk at the importance of Eilish's hair color. To that I say, fine. That means you don't get to see what her new hair color is. You are dismissed.
Now for those of you who care about arts, culture, and hair, let the game commence! What color do you think Eilish dyed her hair this time? Did she to go back to black and green, a classic look that made parents across America go, "I don't get it."? Did she go all black, perhaps an homage to it getting dark at 4:30 p.m.? Remember when Eilish had bright blue hair? Did that make you think you, too, could pull off blue hair? You didn't actually try though, right? Well, I will give you a hint: It's none of these colors.
So allow me to list a few more colors for you: purple, pink, yellow, orange, lilac, chartreuse, the dingy brown you get when you mix together all the colors, beige. Her hair could be any one of these many colors, but it is not! Are you ready to see what Billie Eilish's new hair color is?
It's brunette, baby! Did you guess correctly? Was that fun? Do you think everyone is going to go brunette now? Impossible to say!
Okay. Well … bye!