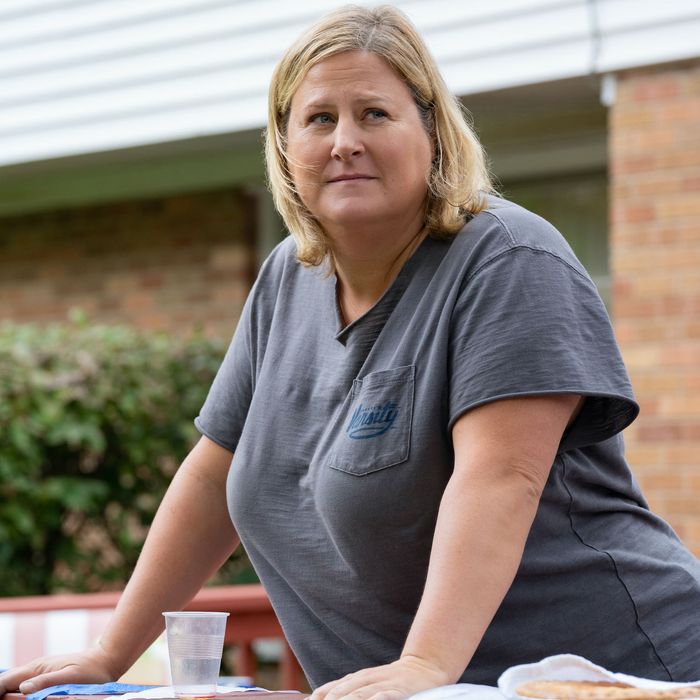 Those of us in New York have long known that the world needs more Bridget Everett. Everett, whose raucous shows have dotted (or maybe splotched) the cabaret and comedy calendars of the city for years, is a performer (singer, comic, fire hazard) whose raw verve needs to be seen to be believed, a no-bullshit chanteuse of original songs like "Titties." ("Put 'em in the air!") Beastie Boy Adam "Ad-Rock" Horovitz collaborated on her shows; so did Hairspray music-and-lyricists Marc Shaiman and Scott Wittman. Who else can say that?
It's taken the wider public some time to pick up what Everett is putting down. Over the years, she's been frank about pushing forward on her performing dreams while waiting tables. But slowly, it started to happen. Maybe you know Everett from her scene-stealing turns on Inside Amy Schumer. Maybe you saw her as the gorgon mother in the Sundance indie hit Patti Cake$. The appetite's been whetted. Give us more!
Finally, HBO is about to. In January, the network (and its streaming platform, HBO Max) will debut Somebody Somewhere, an original comedy starring and executive produced by Everett which is inspired by her own life. She created the show with Hannah Bos and Paul Thureen, writers from HBO's High Maintenance. Sex and the City it is isn't; Somebody Somewhere follows Sam (Everett) home to Kansas, where she struggles with the loss of her sister and attempts to find her voice (keep an eye out for fellow New York nightlife habitué Murray Hill as a university soil scientist turned razzle-dazzle emcee). Here below, the Cut brings you an exclusive trailer preview.
Everett in Kansas is still the Everett we've known — the line "nice underpants" comes about 15 seconds in. It's a superhero origin story told on the prairie, the promise of a dream finally fulfilled. The road may have been long, but here we are. As Everett told this magazine a few years ago, recommending Q-tips, "You have to keep those ears clean so you can hear your dreams coming true."
Somebody Somewhere premieres on HBO and streams on HBO Max on January 16, 2022.