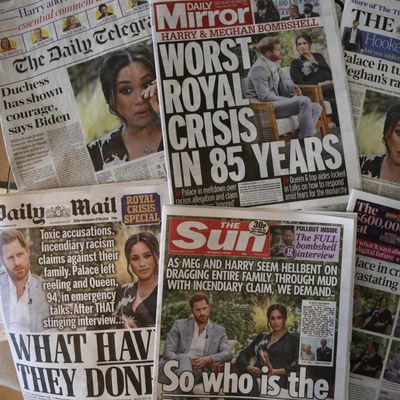 Photo: Hasan Esen/Anadolu Agency via Getty Images
Revenge is a dish best served on the front page of the newspaper that wronged you. After losing their case against Meghan Markle not once, but twice, Mail on Sunday appears to have accepted defeat, publishing a public admission of the loss on Saturday, December 25.
Markle sued Mail on Sunday and Associated Newspapers for copyright infringement after the British outlet published excerpts of a handwritten letter she had sent to her father — the letter was written in 2018, and published in 2019. In May of 2021, Markle won her case via summary judgment by the High Court in London.
In his summary judgment, Judge Mark Warby ordered that Mail on Sunday issue an official notice in the paper under the headline "The Duchess of Sussex," to read in part, "Associated Newspapers infringed her copyright by publishing extracts of her handwritten letter to her father in The Mail on Sunday and in Mail Online." The judge ordered that the statement be present online for one full week, and that it include a link to the full judgment. According to royal reporter Omid Scobie, the judge also specified the exact font size to be used in print.
Of course, Mail on Sunday wasn't going to go down that easily. Associated Newspapers appealed the decision and requested a full blown trial, which would have allowed them to put Markle on the stand. Unfortunately for the company, earlier this month the Court of Appeals in London found in favor of upholding the original judgement. At the time, a statement from Associated Newspapers said it was "considering an appeal to the Supreme Court in the United Kingdom," but it looks like the powers that be decided against it.
"This is a victory not just for me, but for anyone who has ever felt scared to stand up for what's right," Meghan wrote in a statement following the December decision. "While this win is precedent setting, what matters most is that we are now collectively brave enough to reshape a tabloid industry that conditions people to be cruel, and profits from the lies and pain that they create."
This may be a win for Meghan in her fight against the tabloids, but Mail on Sunday seems dead set on being as petty as possible. As many British reporters have noted, December 26 is traditionally a slow day for newspaper sales, and the story is very well hidden online. You can read the full statement here.