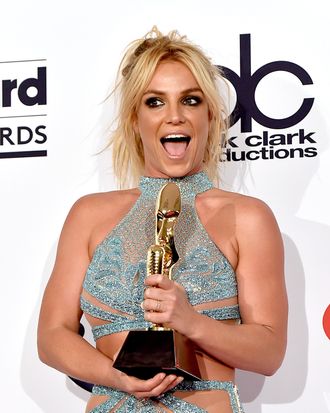 Photo: David Becker/Getty Images
Santa, can you hear me? I might not have been so good this year, but all I want for Christmas is Britney Spears to release new music.
In an Instagram post shared on Wednesday, Spears teased that new music may be coming soon. "New song in the works," she wrote. "I'm gonna let you know what I mean." She hasn't released an album since 2016.
The video accompanying the tease features Spears singing her heart out in the bathroom, thumb tucked into the waistband of her low-rise jeans. I'm embarrassed to say I cannot for the life of me make out what she's singing, but part of it sounds like "I want you to know …" Given her caption, it seems to be a message for her estranged family.
"I just realized this today guys… after what my family tried to do to me three years ago… I needed to be my own cheerleader!!!! God knows they weren't," she wrote, adding that she looked herself up to give herself a boost of confidence. (Three years ago, in 2018, Spears abruptly stopped her Las Vegas residency. She recently claimed in her July court testimony that her father, Jamie Spears, had isolated her at the time and then sent her to a "rehab" in Beverly Hills, where she was forced to work and had no privacy or contact with her children or boyfriend.)
As to her sudden return to singing, she wrote, "I'm reminding myself and the world of who I am!!!!" She continued, "I'm here to remind my white 'classy' family that I haven't forgotten what they did to me nor will I ever forget !!!!"
This isn't the first time Spears has called out her family on social media since her conservatorship was terminated in November. But it is the first time she has expressed interest in resuming her singing career. In an Instagram post shared on December 13, Spears wrote in a since-deleted caption that she wasn't sure she would ever want to tour or perform again. Sounds like she's changing her tune, and I can't wait to hear what's next. To quote Britney herself, "Santa, that's my only wish this year."