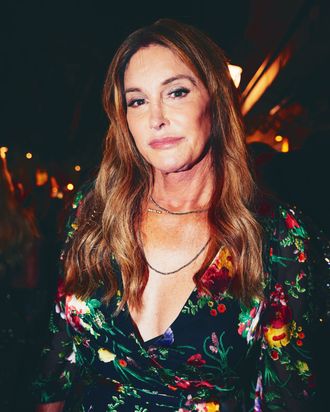 Photo: Thomas Niedermueller/Getty Images
Beauty is pain, and fashion is getting kicked out of your favorite restaurant. Caitlyn Jenner found that out the hard way this week when she was allegedly turned away at the Beverly Hills Hotel Polo Lounge for wearing ripped jeans.
"Fuck your horrible service for not letting me have lunch with this tiny rip in my jeans," Jenner wrote on her Instagram Stories Monday, December 13, per HuffPost, directly tagging the Beverly Hills Hotel and the Dorchester Collection. "Shame on you. Disgusting," she continued, saying she will not be coming back. "I have been a patron for decades. No longer." Oh, no. How will they ever recover?
For us normies unfamiliar with the Polo Lounge, a look at the menu might give you some idea of just how fancy a place we're talking about. The soup of the day runs $22, according to the lunch menu, and entrées and salads are all over $30. So it's not surprising that the posh restaurant has a strict dress code, which Jenner apparently violated. The Polo Lounge's official website specifically asks that guests not wear "casual hats, ripped denim, crop tops, nightwear, swimwear, and men's sleeveless shirts." (There are also no flip-flops, Birkenstocks, shorts, or sportswear allowed past 4 p.m.)
In an article about the incident, TMZ pointed out that the Polo Lounge website says "we encourage" guests to "dress for the occasion" and called out the establishment for allegedly allowing guests to take photos with Jenner, despite a no-photo policy. Jenner posted these excerpts from the article to her Instagram. But the Polo Lounge is standing by its decision.
Sorry, Caitlyn; it seems no one is immune to the Beverly Hills Hotel's exacting standards, not even a former candidate for California governor.