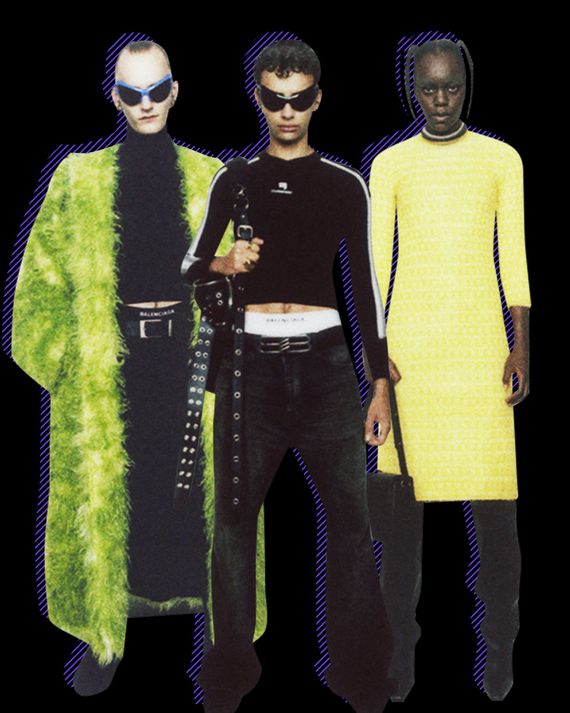 Photo-Illustration: by The Cut; Photos: Courtesy of Balenciaga
Sometime in late 1996 or early 1997, Josephus Thimister left the house of Balenciaga, where he had been creative director for five years, to start his own label in Paris. Thimister, a baby-faced Dutchman who kept a menagerie of taxidermy in his elegant apartment, had brought Balenciaga some attention with his well-crafted minimalism. It was because of his designs that Barneys New York picked up the label. But a full-scale revival was unlikely, given how much the Balenciaga name had faded over the decades — and given what else caught the eye in 1997.
Let's see: Martin Margiela created his landmark collections based on the Stockman dress form; Raf Simons launched his first runway show, the so-called School Boy collection, featuring suits as well as hoodies in a ratty Paris nightclub; John Galliano staged his first shows for Dior; Hedi Slimane was burning up the runway at Yves Saint Laurent Homme; Helmut Lang was preparing to leave Vienna and resettle in New York, where he would shake things up; and in Milan, both Miuccia Prada and Tom Ford of Gucci endorsed the trend of plain tailoring and monochromatic black for the fall of 1997.
It's safe to say that nobody noticed that Balenciaga, without a designer, skipped that season. An unknown Nicolas Ghesquière was about to take over. Demna Gvasalia was still 18 years off in the future.
But what if …
"They're ready for you," Robin Meason, Balenciaga's worldwide PR director, said, standing in the doorway of my dressing room. It was around noon on November 18, an overcast day in Paris, and at the invitation of Gvasalia, I was about to step through the looking glass, back to the year 1997. Gvasalia had come up with the time-trippy idea of imagining that lost Balenciaga season, or as he would call the show — released today — "The Lost Tape," since VHS tapes were the standard video medium then. He wanted some writers and other front-row types to participate, essentially be themselves, play along with the groupie extras, and I thought, Why not?
Demna, as everybody calls him — as, indeed, he now prefers to be known — is the most critical, wayward thinker there is in fashion. He brought the banality of power dressing into people's minds with his 2019 "parliament" show, staged in an all-too-real government chamber. He immersed his audience, almost literally, in a watery disaster-scene a season later, just as COVID-19 engulfed the world. He's created some of the best digital alternatives to a live show, including a video game. In October,  he turned his audience into red-carpet celebrities and interlopers alike and, as a bonus, gave us a hilarious film of The Simpsons in high-fashion Paris. And, partly to break the pace, to mentally slow things down and remind himself that great fashion is still about pinning and draping cloth, as it was Cristobal Balenciaga's day, he reintroduced haute couture in July.
Now, in the same sound stage he has used many times before, Demna was making a video about a moment in the 1990s — that is, before Google, before social media, when everybody dressed up for the shows and the backstage still felt like the coolest place on the planet, befogged with cigarette smoke. Plus, Harmony Korine was directing. Harmony, since we're on a first name basis here, is probably best known for writing and directing the movies Spring Breakers (2012) and The Beach Bum (2019) and writing the script for Larry Clark's Kids (1995). So that promised something at once normal and strange, which happens to be the feeling that Demna's Balenciaga generates so well.
I followed Robin into the larger backstage dressing area, where we were joined by Diane Pernet, a former designer and one of the earliest fashion bloggers, who was turned out in her customary long black ensemble and mantilla with dark shades. The Balenciaga crew, as organized as an army, had provided me with a rack of vintage looks, and I chose a black Marcel Marongiu wool coat with a wide collar (very '90s) to go over my black turtleneck and trousers. We left the dressing area and walked a short distance to the set, a process we and the models would repeat several times over the next eight or nine hours.
In Spring Breakers, one character says to another, before committing a robbery, "Act like you're in a movie or something." Actually, this was no problem. The moment Diane and I entered the darkened set — the runway made of compacted dirt — there were five or six cameramen, plus others with still cameras, flocking around us, in our faces, as we made our way to our assigned seats. Meanwhile, the entire secondary cast — mostly local fashion students who made up the bulk of the audience — were dressed and seated. It felt like I was late for a party. Or: that I had popped through the back of the wardrobe and landed in the past.
At one point in the middle of the hubbub, a Harmony assistant asked Diane and me if it was normal for guests to stand in the middle of the runway before a show and talk. If only the guy knew … Diane and I laughed and gabbed away.
Those scenes and no doubt many others did not make the final cut. What is striking as I look at the video is how much it feels like an artifact, as though the "lost" tape had degenerated in the years since it was first made (and without the technical wizardry of today). The lighting is far grainier than it appeared during the filming, to the point where you can hardly see the details of the clothes. In that respect, the video also has the quality of a memory. It's the scraps and fleeting images that people who were around then remember. It's not the whole, and it can't be. To this day, 35 years after I first walked into the tents in the Cour Carrée of the Louvre, where the majority of  designers once showed, I can still hear the tromp of feet on the wood floor. Harmony and Demna also infer, without moralizing, how much smaller the fashion world was then and in a way how much more easily delighted.
I asked Demna during a moment in the backstage (the smoky set version) if, in terms of design, his aim had been to suggest the style of Thimister, who died in 2019, and anticipate the early Balenciaga designs of Ghesquière, and he said, "Not at all. I did what I love about the '90s."
It's not much more complicated than that. Demna's main influences have been the deconstruction of Margiela and others in the late '80s-'90s avant-garde and their various anti-fashion expressions. But the difference today is that he has sharpened those ideas. The proof is in his acclaimed haute couture show and in much of this fall 2022 collection, notably a black blouson jacket with a matching ankle-length skirt and a similar version in white but paired with trousers. The look is obviously a takeoff on a tracksuit, yet the style tips toward the elegant. Also in that casual-elegant vein were a series of new (for Balenciaga) knits in a clingy, trompe l'oeil tweed. The black and yellow versions are all wool, while a pink ladylike dress is cotton.
And it doesn't matter that the dress buttons up the back, because, as Demna said, "You just pull it over your head, like a T-shirt."