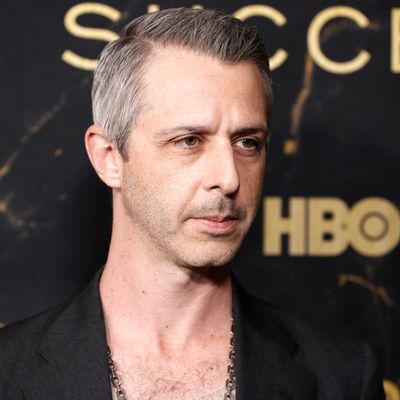 Photo: Arturo Holmes/WireImage
It's been a week since the Jeremy Strong New Yorker profile was published, and I'm calling it: The time has come for the Jeremy Strong discourse to die.
In case you've somehow avoided this saga, here's a quick recap: It started with a profile in which the Succession actor described his approach to acting as follows: "I can't work in a way that feels like I'm making a television show. I need, for whatever reason, to believe that it's real and commit myself to that sense of belief." How does he "commit," you ask? There are plenty of examples in the article, like the time he hurt his leg jumping off a stage while filming season three of Succession (the take wasn't used), or how he fractured his foot running around in Tom Ford dress shoes even though it wasn't necessary for the shot.
Of course, the most shocking anecdotes went the most viral: the story about him showing up on the set of The Judge for a funeral scene, walking around and crying loudly despite not actually being on the call sheet; the request to be sprayed with tear gas on the set of The Trial of the Chicago 7. Some thought it was funny — proof that Strong was the Emmy-winning actor version of Kendall Roy himself. Others thought it was extreme and made him sound difficult to work with. But what we could all agree on was that the profile provided a few fun days of online discourse with wild quotes from our favorite Succession train wreck. And then, the celebrities got involved.
First, Jessica Chastain tweeted her defense, saying in part, "The profile that came out on him was incredibly one sided. Don't believe everything you read folks. Snark sells but maybe its time we moved beyond it." She later clarified that, as a friend and co-worker, she felt that the profile "in no way represents the man he is." She continued, "All the quotes chosen felt 'cherry picked' to create the image the writer was putting forward." Three days later, she shared a long statement from The Trial of the Chicago 7 director Aaron Sorkin, who wanted to relay his entire back and forth with the writer of the profile, Michael Schulman. "I think I helped Mr. Schulman create what I believe is a distorted picture of Jeremy that asks us to roll our eyes at his acting process," he wrote, publishing their email Q&A in full.
It's unclear to me what exactly Sorkin hoped to accomplish by releasing the full exchange. For example, the quote used in the profile about the tear gas — "I don't like saying no to Jeremy, but there were 200 people in that scene and another 70 on the crew so I declined to spray them with poison gas" — isn't really lacking any context other than the fact that Sorkin confirmed the anecdote. However, the writer-director did add some clarification to his initial statements, saying, "Let me be clear, Jeremy would never suggest endangering a member of the cast or crew or anyone else. It was something he mentioned in passing and I was telling the story affectionately and as a way of demonstrating his commitment." Seems like something he could have said without accusing the author of the profile of creating "a distorted picture of Jeremy," but sure.
Once Sorkin's statement was picked up by news outlets, then others joined in. On Saturday, December 11, Succession co-creator Adam McKay tweeted, "Jeremy is not only a lovely guy but a brilliant actor who was cast in Succession precisely because of his passion the New Yorker writer mocks." Later that day, Anne Hathaway sent "some love" to Strong on Instagram, writing in part, "He is an incredibly talented and inventive artist who is fully engaged and committed on set, as well as a passionate, open person in life. I find all of these things inspiring."
Now it's Sunday, December 12. A full week has gone by since the profile was published, and I am begging celebs, please make this end. I understand that Strong's friends and collaborators want to defend him, but at this point, every defense of Strong only keeps the discourse going. It's exhausting and thoroughly uninteresting. Please, for the love of Kendall Roy's hat, let it die so we can enjoy the Succession season finale in peace.