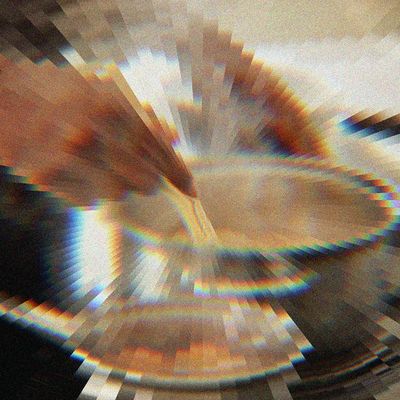 Photo-Illustration: by The Cut; Photos: Getty Images
Chef Kia Damon honed her skills alongside the women in her family, following the long tradition of great Black chefs and food historians who came before her, and now she's showing them off on our phone and desktop screens in a new cooking series for … Pinterest. That's right. The self-taught chef and "proud Floridian woman" is creating pin-worthy food porn in her new series, Southern Cooking With Kia Cooks. "I've been trying to convert the girlies," she says, laughing. "I'm like, 'Listen, y'all, we are going back to 2010, and we are on Pinterest.'"
Damon's culinary career thus far has included taking over as an executive chef at a buzzy Manhattan restaurant at just 24, becoming Cherry Bombe magazine's first culinary director, and being named one of 16 Black Chefs Changing Food in America by the New York Times and making Forbes' 30 Under 30 in Food and Beverage for 2021. She is also the founder of the Kia Feeds the People program and co-founder of Auxilio, two nonprofit organizations dedicated to combating food apartheid.
But even rising stars had to endure 2021 and all the stops-you-in-your-tracks unease that came with it. And it's her humor, warmth, and refreshing authenticity about all that that really makes her shine — from candid conversations about the industry's inequities to choosing to divest from grind culture to build a norm that caters to her needs. "This is something I need to be honest and transparent about, because I know other people are moving in the same way or feeling the same way," Damon says of her signature candor. "When you think about it and remind yourself of that, it helps. You can release that shame and it feels normalized. That's where I've been."
The Cut spoke with Damon about the impact that living with anxiety has had on her relationship to cooking, grocery shopping, and eating.
Have you ever been in a place where the anxiety is very real, and maybe you don't want to leave the house, or get dressed, or even do dishes — but you still have to eat and nourish yourself?
That's so funny because I'm literally — it's not that I've been in the place, I've lived in that place, I currently live in that place where I'm struggling a lot, especially this year.
In the last seven or eight months, I found myself being unable to regulate. I tried to explain it to my boo the other day — it just seems like my brain is going a thousand miles per hour about everything that needs to be done, but then my body can't figure out which thing needs to be done first, or what's the most important. And my body is also just really tired. In the middle of all of that, nothing gets done. Next thing I know I'm hungry, and I'm tired, it's been hours and nothing has happened.
As a chef, how do you cope? 
It's been really tough; I can't even manage to feed myself most of the time. The cycle of stress, shame, and depression that I've been running through the last eight months gets even more compounded by the fact that my work is about food. What I've been doing with the help of my wonderful licensed therapist — we've been together as long as I've lived in New York, which is three years — is trying to go back to the basics and trying to reparent myself. Like, Okay, right now my mental capacity, my anxiety and depression, my pending adult ADHD diagnosis, all of these things are really making it difficult for me to have a capacity beyond the most basic of activities. So I'll tell myself, "I'm going to make my bed, and I'm going to brush my teeth, and I'm going to make oatmeal, and I'm not going to think about pancakes or hash browns or anything like that. What can I do that's just going to take one to two steps, and then I'm eating?"
That chronic anxiety and fatigue is something else. 
We all have to be realistic. I have to make a shift, and most of that shift is really around how I feed myself, and just stripping it down. It'll maybe just be in a simplified way, and maybe won't feel as exciting, or glamorous, or as involved and creative as I want to feel, because of the projection of my work and my career, but I can commit to doing it in this way in hopes that if I stick with it long enough, I can kind of get back into the groove. Or a new groove.
It's like, "Okay, well, I do this during the week, but on Sundays I will find something that I'm really excited about, and take time to do that." Then I won't feel so drained and incapable, because I've been eating roasted potatoes, and kale, and rice, and oatmeal all through the week. So on Sunday I can make this really involved lasagna, and it's going to be a lot of fun.
What sort of foods have you been leaning on?
When I say basic building blocks, I mean, I get root vegetables, and roast them, and that's it. Sometimes I'm just eating a big bowl of roasted potatoes with tea and I'm like, We did it, Joe.
Any other go-to favorites when it comes to making low-energy, convenient food?
My favorite is definitely boxed mac 'n' cheese with an ungodly amount of freshly cracked black pepper. Delish! My mom used to make it, and I don't know why she did it, but I'm grateful that she did. It's very delicious.
Sometimes I do rice in my Hello Kitty rice cooker, and a piece of fish that I put in some foil, and just cook that, and put that fish right on top of the rice. Maybe sautéed kale on the side, if I'm feeling adventurous. Sometimes I like to roast a whole thing of cauliflower. Olive oil, salt, pepper, and cook it until it browns real deep and the inside is just custard. It's so good. I also eat oatmeal often, every day. Like, I had it for breakfast, lunch, and dinner one day.
Are you into making food in the microwave? 
Absolutely. I don't have the counter space for one in this apartment, but when I did, I would go in on an Amy's burrito. Multiple Amy's burritos. They're good for when you're looking to use the microwave, but you also want to feel like you're really doing something? You know what I mean? They've got breakfast burritos, vegetarian burritos, and vegan burritos — I'm not above frozen foods. We need convenience, because everything else is such an inconvenience.
Let's talk about grocery shopping.
I'm going to be honest, I have gone to team delivery for our groceries. I use FreshDirect a lot for things that I like to keep in the kitchen and in the freezer, and things that I would normally have to trek to different stores for.
Before, I'd have to go to a butcher for this, and then I'd have to go somewhere else for that, so I'm just like, "No." Now when I go to the grocery store, it's not about the staples that I need consistently in the house, it's just more about what I'm feeling in the moment. It helps put less pressure on myself to get it all done because I feel so overstimulated by the grocery store.
You have a new cooking show on Pinterest, Southern Cooking With Kia Cooks — how's that been going?
I have free rein to just make southern dishes that I really enjoy, and put them out there. It feels like I moved to a new town where no one knows me, and I have the opportunity to reset the kind of energy that I want to exchange in the space, and who I want to know, and who I want to see, and who I want to learn from, and who I want to collaborate with.
A lot of people have been coming out of the woodwork as Pinterest lovers, and they're like, "I'm finally ready to be honest, I love Pinterest." I love Pinterest, too! On Pinterest, I don't have to tell you nothing about what's going on in my life, and I don't have to present no kind of way, because all you see are my hands and the food that I put out there. It feels like I have an opportunity now to consider how I really would like to show up in this world. I feel like I have a chance to start anew. I've been trying to convert the girlies, like, "Listen, y'all, we are going back to 2010, and we are on Pinterest." I love it.
Let's end on self-care: What's one way you've been practicing it lately?
Putting my phone on "do not disturb" for about 90 percent of the time. The best way to care for myself is to limit access to me. I put the phone on DND, and I just leave it somewhere. I know everyone that I need to either be answering to or communicating with. If you are outside of that realm right now, then we don't need to be talking. That's honestly my favorite thing, swiping that phone up, and hitting that moon, and it's 11 in the morning.
Of course, there's obviously friends and things like that, but you know sometimes even with the homies, I'm just like, "Ain't no reason to be calling me, I'll hit y'all up later."
This interview has been edited and condensed.