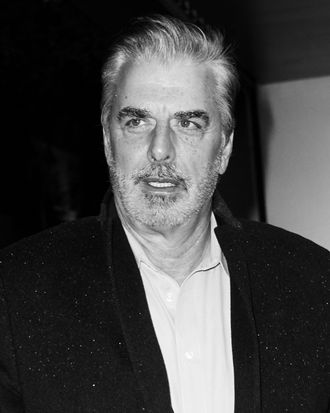 Four women have now accused Sex and the City star Chris Noth of sexual assault. On December 16, The Hollywood Reporter published accounts from two accusers who'd reached out to the publication earlier this year, prompted by the impending release of And Just Like That …, the Sex and the City reboot. The revival, which premiered December 9, is centered largely around the death of Noth's character, who plays a prominent role in the first episode. On December 17, the Daily Beast published accusations from a third woman, and on December 23, published another accusation from a fourth.
The first woman in THR's report, "Zoe," said she worked at a "high-profile firm" where Noth "did business" in 2004, when Sex and the City was in its sixth and final season. She claimed Noth flirted with her at work, eventually inviting her to the pool in his West Hollywood building. According to her account, he kissed her, at which point she says she tried to leave. Instead, she alleges Noth started raping her from behind in front of a mirror. By the time she made it to a friend's apartment, Zoe said she refused to say what had happened, at which point the friend took her to Cedars-Sinai Hospital. Zoe claims two police officers came, but she refused to identify her assaulter.
A second woman, "Lily," told THR she met Noth in 2014, when she was a server in the VIP section of a New York nightclub. After inviting her to dinner, she says, Noth met her at a restaurant whose kitchen had already closed and then asked her to come to his Greenwich Village apartment to continue the date. She claimed he kept trying to kiss her, which she "cautiously entertained," and says he then suddenly started raping her, also from behind and in front of a mirror.
Both stories are backed up by multiple sources, including the friend Zoe visited after her alleged assault, her former boss — whom Zoe called the same day to tell her what had happened — and a counselor at the UCLA Rape Crisis Center, where she was treated two years after the incident. A friend of Lily's, who says Lily called her from her Uber home, says that Lily told her Noth had "pretty forcibly" had sex with her, and said that she listened to a voice-mail Noth left the next day making sure Lily "didn't take it the wrong way."
Noth denied the allegations in a statement to THR, claiming that the accusations are "categorically false" and that both encounters were consensual. "No means no," he wrote. "That is a line I did not cross." He also wrote that he found it "difficult not to question the timing" of the stories.
The same day THR's report went live, actor Zoe Lister-Jones accused Noth of sexually inappropriate behavior while on the set of Law & Order, where she was a guest star.
Following the original allegations against the actor, another woman has come forward to accuse Noth of sexual assault. The woman, who goes by the pseudonym "Ava" in the Daily Beast's report, claims the assault took place in 2010, when she was a hostess and singer at a New York restaurant. After one shift, Ava said Noth, who frequented the restaurant, went back to her manager's office, where Ava had gone to collect her pay. There, she claims Noth groped and digitally penetrated without her consent. She says he only stopped when she told him, "Not here," and "convinced him that I would meet him somewhere else." Though she alleges Noth texted her asking for her address after he left, she says she didn't respond. In a statement to the Daily Beast, Noth's publicist says the actor "denies this as ever happening and has no idea who this woman is." Like Zoe and Lily's accounts, Ava's story was corroborated by friends who say she reached out to them after the assault occurred.
On December 23, singer-songwriter Lisa Gentile came forward to accuse Noth of sexual assault. Speaking at a press conference with attorney Gloria Allred, as reported by The Daily Beast, Gentile claimed that Noth kissed her without her consent and groped her in 2002. According to Gentile, she and Noth first met in 1998, and were casual acquaintances until a night in 2002, when he allegedly gave her a ride home and asked to come up to her apartment. Once in the kitchen, she claimed Noth pushed her up against the countertop and kissed her, forcing his hands up her shirt. Gentile further claimed that once she was able to get away from him and tell him to stop, he called her a "tease" and a "bitch," and that he called her the following day, threatening her career if she told anyone.
"I was afraid to come forward because of Mr. Noth's power and his threats to ruin my career," Gentile said. When reached for comment by the Daily Beast, Noth's publicist stated that the actor "denies this as ever happening and has no idea who this woman is."
But Gentile was not the only woman to come forward on Thursday with allegations of misconduct against Noth. Heather Kristin, who worked as a stand-in on Sex and the City for four seasons, published an on-ed in The Independent Thursday, accusing the actor of "toxic behavior" and being inappropriate on set. In the piece, Kristin accused Noth of groping her on set, claiming he "slid his hand down my back and over my butt." She also alleged that he once pointed out another stand-in and said, "I want that one tied up, gagged, and brought to my trailer." Noth has not yet responded to these allegations.
Since the accusations, Noth has been dropped by his agency, A3 Artists. The Peloton ad he was featured in was pulled, and an estimated $12 million deal to acquire his tequila brand will no longer be moving forward. The Equalizer, a CBS drama starring Noth, which is currently in the middle of its second season, announced that Noth will no longer be filming new episodes.
This post has been updated.