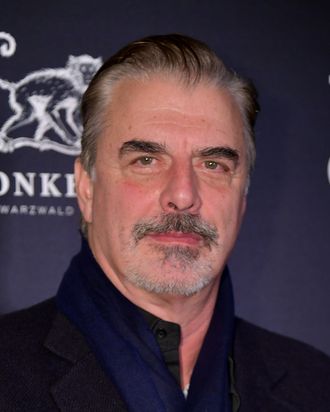 Photo: Michael Loccisano/WireImage
On Thursday, December 16, two women publicly accused Sex and the City star Chris Noth of sexual assault. Mere hours after the allegations were published, the Chris Noth Peloton commercial was pulled from rotation and scrubbed from social media. Just like that.
In the past week, Noth has become something of a Peloton celebrity: First, on December 9 — spoiler alert — his character, Big, died after riding a Peloton in the premiere of the SATC sequel series, And Just Like That …; then on December 12, Noth popped up in a surprise Peloton ad that became a viral response to the plot twist. Now, he and Peloton are making headlines again, with the exercise-bike company pulling its ad following the accusations of sexual assault against the actor.
"Every single sexual-assault accusation must be taken seriously," a spokesperson for Peloton told The Hollywood Reporter. "We were unaware of these allegations when we featured Chris Noth in our response to HBO's reboot." The spokesperson stopped short of severing all ties with him but said that until the allegations were further investigated, the company would not be promoting the ad.
The accusations levied against Noth and published by The Hollywood Reporter include two separate claims of assaults that took place nearly a decade apart — one in 2004, the other in 2015. Both, however, are eerily similar. The women, who were identified under the pseudonyms Zoe and Lily, both alleged that Noth had raped them from behind in front of a mirror, and they reportedly reached out independently to THR after seeing increased coverage of Noth's return in the new HBO Max show. 
The actor, who is also currently starring on CBS's The Equalizer, denied the allegations in a statement to THR, saying in part, "The accusations against me made by individuals I met years, even decades, ago are categorically false." He also claimed that "the encounters were consensual" and attempted to cast doubt on the timing of the reports: "It's difficult not to question the timing of these stories coming out. I don't know for certain why they are surfacing now, but I do know this: I did not assault these women."
Noth's attorney, Andrew Brettler, told E! News that he was unaware of any official investigation into the allegations. "No one from any law-enforcement agency has contacted Chris or any of his representatives. Obviously, if anyone does reach out, we will cooperate fully," he said.