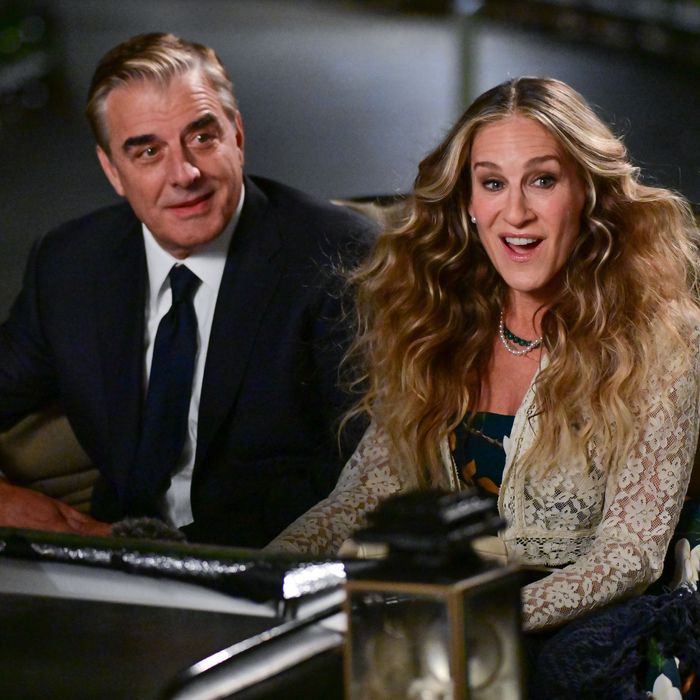 Photo: James Devaney/GC Images
Watching Chris Noth in an ad for Peloton, I couldn't help but wonder … was this all just some big stunt? After — spoiler alert — meeting his end in the season premiere of And Just Like That …, Big has been resurrected in a new Peloton ad. That's right, Big is doing commercials in the afterlife for the exercise bike many have blamed for his death. And he's doing it with famous Peloton ad rival, Ryan Reynolds.
The ad, released Sunday, December 12, features Noth — who, it should be noted, is still very much alive — and Peloton instructor Jess King, who appeared as a Peloton instructor in the first episode of the Sex and the City reboot. The two sit by the fire, celebrating "new beginnings" while surrounded by Christmas decorations and two Peloton bikes. "Shall we take another ride?" Noth asks, "Life's too short not to." Coming from the man whose iconic character just died of a heart attack following his 1,000th Peloton ride, that's saying something.
Then, the Ryan Reynolds voice over kicks in: "And just like that … the world was reminded that regular cycling stimulates and improves your heart, lungs, and circulation, reducing your risk of cardiovascular diseases. Cycling strengthens your heart muscles, lowers resting pulse and reduces blood fat levels. He's alive."
The ad appears to have been produced by Reynolds's digital marketing company, MNTN (Reynolds linked to the company website in the description box of the video he uploaded to YouTube), and recalls Reynolds's Aviation Gin ad from 2019. Following the viral "Peloton Wife" ad, which featured a wife getting the exercise bike for Christmas (every woman's dream), Reynolds hired the same actor, Monica Ruiz, to star in an ad for his Aviation Gin. The ad, which also included a toast to "new beginnings," went viral while Peloton's stock prices took a dip.
This Chris Noth–Peloton–Ryan Reynolds ad comes days after Peloton defended itself against accusations that the Bike had murdered Big. It even echoes some of the same talking points. "Riding his Peloton Bike may have even helped delay his cardiac event," Peloton cardiologist Dr. Suzanne Steinbaum, said in part earlier this week. Speaking with BuzzFeed, a spokesperson for Peloton denied having any knowledge of how the bike was going to be used in the episode, which some experts told the New York Times could give the company the right to sue. However, thanks to this new ad, fans are questioning whether or not this wasn't just a product-placement stunt all along.