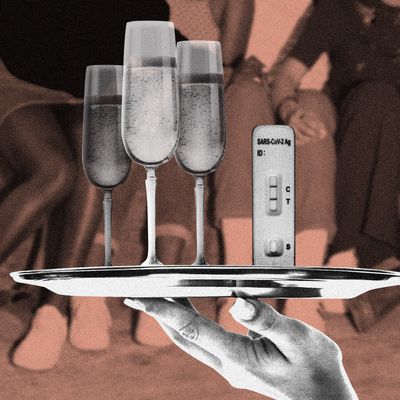 Photo-Illustration: TheCut; Photo: Getty
It's peak party-planning season, and with hosting come all the requisite anxieties: What if we run out of food? What if my running-group friends and my office friends don't get along? What if nobody gets along because nobody shows up? In the COVID-19 era, there's even more to consider. Namely: Will my guests let me swab their nose at the door? With COVID-19 spreading everywhere from sweat-soaked dance parties to intimate dinners, a sizable (albeit select) group of panicked publicists and 30-something gatherers are asking to see both proof of vaccination and negative rapid test results (or if they're feeling generous, just the results) before they'll let you in the door. Some are using rapid-testing-kits on-site or distributing them ahead of time as a "pre-party favor."
Over the summer, when the Delta variant and waning vaccine immunity caused a surge of breakthrough cases, many of these pro hosts hit the brakes on gathering altogether, but now, amid the realization that COVID-19 is likely to become endemic, they're developing a (new) new normal to party safely. Though this micro-trend of pre-party testing started before the Omicron variant emerged, Thursday's unveiling of a White House plan to expand at-home testing next year means it could catch on and become an actual trend at house parties and non-holiday family dinners too.
Though a rapid test only checks for contagiousness (and not the presence of the virus), they provide hosts and other guests with the peace of mind that they (hopefully) won't get sick from one another's aerosols. But it's not without awkwardness — some guests would prefer to skip the test, thank you very much.
For the past 12 years (except for 2020, obviously) Ashley* and her husband have hosted a 40-person (they have a lot of friends) holiday extravaganza at their home in Boston. It's a whole thing: There's a potluck, a Yankee gift swap, and a dress code of cozy sweaters, slippers, and stretchy pants "so guests can stuff their faces." Every year, she sends guests home with poinsettias and shirts with a cheeky quote from a holiday movie.
It's a time to bring together people she doesn't get to see regularly, Ashley says, like the folks who attended her wedding but don't live nearby. This year, she agonized for weeks over the decision to host it at all and finally landed on a sort of middle-of-the-road approach. She sent last-minute invitations asking for potluck food, a gift for the swap, and proof of either vaccination or a negative COVID-19 test. Less than half of her usual guest list RSVP'd yes. For her unvaccinated friends, Ashley says, "I think a lot of them were like, We're not going to do that. Pretty much anyone who is not vaccinated is choosing not to come because they don't want to have that test."
New York's own deputy photo editor Emily Denniston found herself getting her nose swabbed outside a pizza place in upstate New York ahead of a friend's 13-person party over the summer. Instead of having a cocktail hour, the host asked guests to meet nearby for COVID-19 tests, using kits she purchased in bulk for less than $1 each (yep) while traveling in Europe. She mixed the mucus samples with a solution, spread them onto cards, and waited 15 minutes for the results. With the Delta variant picking up momentum, the host wanted to be extra safe, since most of her vaccinated guests had unvaccinated small children and worked entertainment-industry jobs that required them to be COVID-19 free. Plus, she had a big art show coming up. "It became a fun thing. We were having drinks, and she was sticking these things up our noses," Denniston recalls. "We were all joking in the group thread that she should wear a sexy-nurse costume."
Corporate and branded events, too, are adding a testing requirement this winter. Publicist and Black in Fashion co-founder Sandrine Charles will be sending out rapid COVID-19 tests ahead of a Depop dinner at Indochine, even though proof of vaccination is required to enter the restaurant. "We just wanted to ensure that we extended that extra layer of safety for these guests," Charles says. "Considering other people's safety when you're gathering is still top of mind for me because you don't know where people go after work or after the gym or who they come in contact with." Melody Serafino, co-founder of The No. 29 Communications, says all of her agency's upcoming events — mostly "intimate dinners" — will require a negative rapid test in addition to the vaccine. "It's probably the most reliable thing we can do," she tells me. "So many people are approaching their six-month mark with their initial vaccines and slowly getting their boosters."
Brock Colyar, New York's resident party reporter, has seen a handful of "high society" events offer same-day testing, including Bette Midler's Halloween gala. "But in terms of actual clubs and bars and proper parties, I haven't seen a single instance of it," Colyar says. They believe that publicists planning public-facing events have become hypercautious because "they don't want to be a super-spreader event. No event really wants to be the one that everybody afterward is saying, 'Ugh, I think I got sick from that party.'"
So far, I've only attended one gathering where I had to submit test results (or test onsite), and it was a launch event for Bookclub.com around the time Delta came on the scene. I'm in my mid-20s, and I haven't yet heard of someone my age asking for test results ahead of a party. I also asked a handful of people who are really social, and no one has heard of this happening outside of work events. ("Seems like a Boomer thing?" one person said.)
Colyar isn't convinced early-20-somethings would actually use at-home tests, even if they were as widely available as fentanyl test strips for cocaine. "Their tolerance for risk is just so much higher," Colyar says. "They don't live with family, they usually live with themselves or with one or two other like-minded roommates. I just don't think that they jump through all of these mental hoops when they're thinking about going to a party." Colyar points out that many 20-somethings in New York partied throughout lockdown, got vaccinated, and continued going out through the wave of Delta cases this summer. "I don't think anyone is really concerned because they've kept up the party this whole time. So why start taking these precautions now? Especially if they're going out and getting booster shots." Not to mention: "Do they use the fentanyl strips either? No!"
For those who do want to test before a gathering, at-home COVID-19 tests are both expensive and hard to find — a luxury party favor, if you will, for the rare social butterfly with plenty of disposable income. Which explains why you're not seeing it everywhere-everywhere just yet. Denniston ran into roadblocks when looking for a test before an overnight gathering this past summer. Several pharmacies were sold out, and the tests she did find at CVS cost $40. As a result of that experience, she says of the pizza-place tests, "It felt so amazing that we were getting these tests from her that were like $1. And that's commonplace in Europe."
It's true, according to Dr. Amesh Adalja, assistant professor at Johns Hopkins's Bloomberg School for Public Health, that "these are not ubiquitous tests. These are not available. Everywhere you look, it still takes some effort." Even with Thursday's White House announcement, Americans will still need to submit their receipts to private insurers to get reimbursed or obtain a free test at a health clinic starting in January (which in some cases might defeat the purpose of an at-home test).
The reason for all this red tape, Dr. Adalja says, is the United States' regulation of at-home COVID-19 tests as "full medical diagnostic tests, not public-health tests." As a result of this designation, he says, "there are a lot of regulatory costs that get passed on to customers." If the U.S. were to regulate at-home COVID-19 tests as public-health tests similar to a fentanyl test strip, "then you could see a very cheap version of this."
In Ashley's case, "I would have loved to be able to purchase a bunch of tests to have people take before they come in," she says. After deciding to host the holiday bash, she quickly researched at-home tests in the U.S. and came across only one affordable, FDA-emergency-use-authorized option, for $6.99 a pop. "If I were to do this again, I think I probably would just buy those and offer that," Ashley says. "It's hard to find a place where you could order tests in bulk as an individual." Even so, most people might not be willing or able to fork over that $280 every time they want to party with their 40 friends.
Ultimately, the decision to test or not to test this winter comes down to risk tolerance. In New York State, according to data collected by the New York State Department of Health, only 1.4 percent of fully vaccinated New Yorkers 12 or older have experienced "laboratory-confirmed breakthrough cases of COVID-19. "I don't think there's a one-size-fits-all type of recommendation," Dr. Adalja tells me. "You have to sit down and say, 'What are your goals? Are the people going to be at this event vaccinated or unvaccinated? Because if they're all going to be vaccinated, a breakthrough infection is likely to be mild and not that big of a deal."
Omicron is obviously not the last concerning COVID-19 variant we'll see, and hosts will probably tighten and relax their party guidelines accordingly. "COVID is still going to be a threat and infectious disease threat that causes infection 60 years from now," Dr. Adalja says. Party on.
*Names have been changed to protect the subjects' privacy.