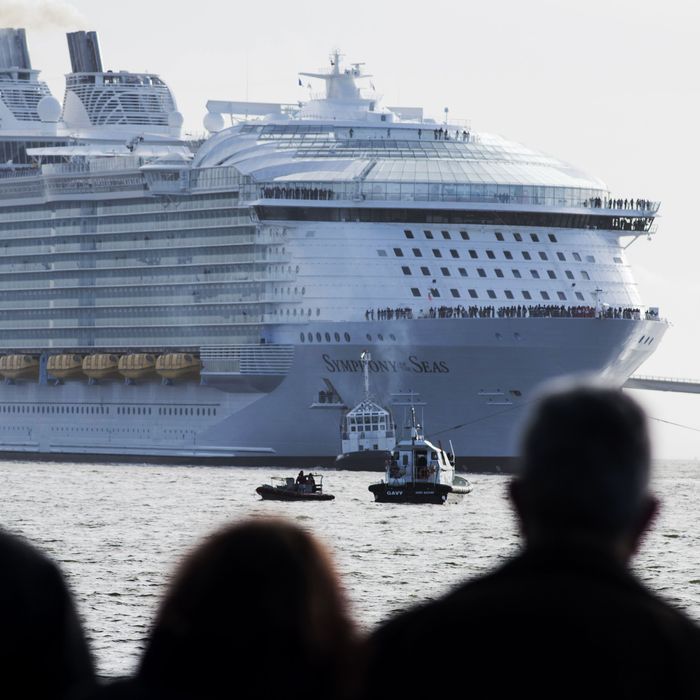 Photo: Sebastien Salom Gomis/Sipa/Shutterstock
Is it just me, or have we done this before? It's December 2021, and breakthrough infections are surging. Your holiday plans are canceled, or they feel increasingly like a looming disaster. The testing lines at the nearest CityMD stretch around the block. Thankfully, we've learned some things since 2020 — we're masking up, boosting, and rapid-testing — but apparently, not enough. Case in point: A Royal Caribbean ship, a.k.a. a floating petri dish, docked in Miami this weekend with 48 confirmed COVID-19 cases onboard.
According to the Washington Post, the ship left Miami on December 11, embarking on a seven-day trip with stops in St. Maarten and St. Thomas. To be fair, it did try to take some precautions. As per Royal Caribbean policy, passengers over the age of 12 had to be fully vaccinated and provide a negative rapid test before boarding. (You may be wondering why cruise ships are sailing in a pandemic at all, given their history. It's a good question, and for a while the CDC was advising Americans to avoid cruise travel altogether. But in October 2020, the agency lifted its no-sail order, reviving the cruise industry with updated safety protocols, including mask-wearing, quarantine for infected passengers, routine cleaning, and contact tracing.)
Unfortunately, and unsurprisingly, even with updated safety protocols, it seems cruise ships are no match for the virus. Of those infected on the Royal Caribbean cruise, 98 percent were fully vaccinated, according to the New York Times. After one passenger tested positive, the other 47 cases were discovered through contact tracing while onboard the ship, and those infected were isolated from the rest of the passengers. Royal Caribbean said that those infected either experienced mild symptoms or were asymptomatic.
A spokesperson for Royal Caribbean told USA Today that the cruise staff "was able to handle all cases on board" and that the crew followed all protocols for testing and quarantine. Passengers seemed to get another impression, claiming that medical protocols weren't adhered to and calling the experience "overwhelming" and "confusing."
Maybe you're scratching your head: Isn't this how it started last time? Yup: Cruise-ship COVID outbreaks are just one more example of how 2021 is shaping up to be the worst kind of déjà vu.